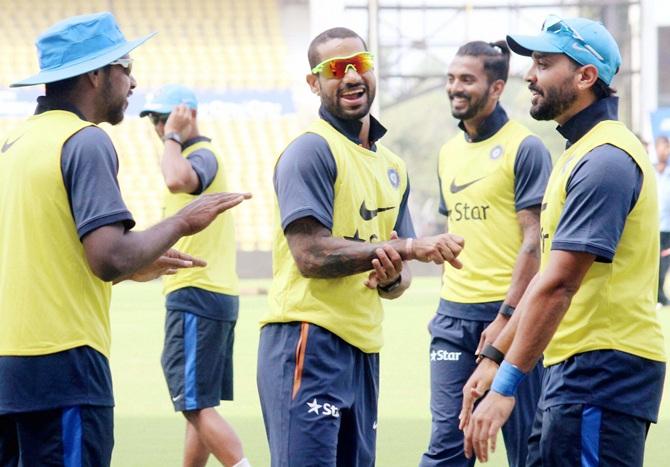 IMAGE: India's Shikhar Dhawan, centre, interacts with teammates during a practice session in Nagpur, ahead of the third Test against South Africa. Photographs: PTI
An enviable nine-year overseas record of 10 Test series victories in 14 rubbers by South Africa is under serious threat from India when the two teams face-off in the third and penultimate game of the current series at the VCA Stadium, in Jamtha, Nagpur, from Wednesday.
After the 0-2 reverse to Sri Lanka in 2006, South Africa haven't lost a Test series away from home, and the list includes two wins over mighty Australia in 2008-09 and 2012-13, other than victories in one rubber each over England (2008), the West Indies 2010), New Zealand (2011-12), Pakistan (2007-08), Sri Lanka (2014), Bangladesh (2007-8) and Zimbabwe (2007-08).
- 'Not having Dale in the team is a setback'
Significantly, during this period South Africa – who trail India 0-1 with two Tests left in the current rubber – haven't won in the latter's backyard on the two visits they made prior to the ongoing one -- in 2007-08 (three-Test series) and 2009-10 (two).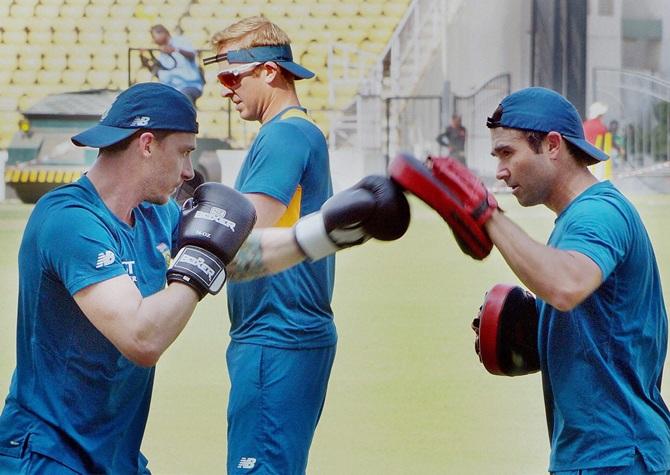 IMAGE: The South African cricketers during a practice session in Nagpur. Photographs: PTI
On both occasions, South Africa drew 1-1 with India. Their other drawn series in the last nine years were against Pakistan (0-0) in the United Arab Emirates in 2010-11, England in 2009-10 (1-1) and Bangladesh (0-0) in 2015.
In fact, South Africa had won only one Test rubber in five visits to India, in 1999-00 under Hansie Cronje before the match-fix saga.
The Proteas lost in 1996-97 (1-2 in the three-Test series) and 2004-05 (0-1 in the two Tests) before drawing with India in 2007-08 and 2009-10.
If India surge to victory in Nagpur, on what promises to be a spin-aiding track, South Africa will be confined to only their third series defeat in six Test rubbers on the Indian soil.