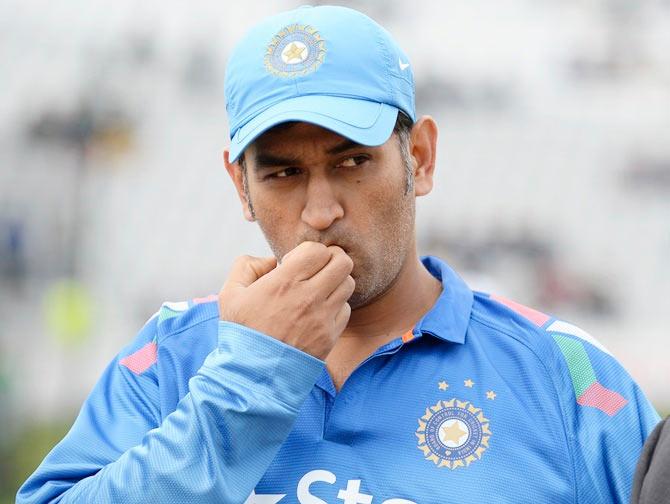 IMAGE: India's ODI captain Mahendra Singh Dhoni. Photograph: Philip Brown/Reuters
Citing Mahendra Singh Dhoni's lack of form, former India captain Mohammad Azharuddin says India's ODI skipper is "no longer the player he used to be".
"He (Dhoni) is the captain and there will be tremendous pressure on him. If he doesn't perform, selectors will have to think about him. He is not the player he used to be. Obviously, to make an impact he has to come up the order. Once the dressing room finds captain doing what he is required to do, others will follow him," said Azharuddin, during an interaction on sidelines of Delhi's Ranji Trophy match at the Feroz Shah Kotla on Sunday.
India lost the first ODI against South Africa in Kanpur on Sunday by five runs despite Rohit Sharma scoring 150 and Ajinkya Rahane 60, as Dhoni failed to finish off the match.
Asked about India having lack of finishers, Azharuddin said the term finisher is "overrated".
"I don't understand what exactly does this word finisher mean? Everyone needs to have match-finishing skills. Do you mean, you require 50 runs to win and someone batting on 70-plus should leave it on someone else? If you are at the crease then it's your duty to finish the game for India."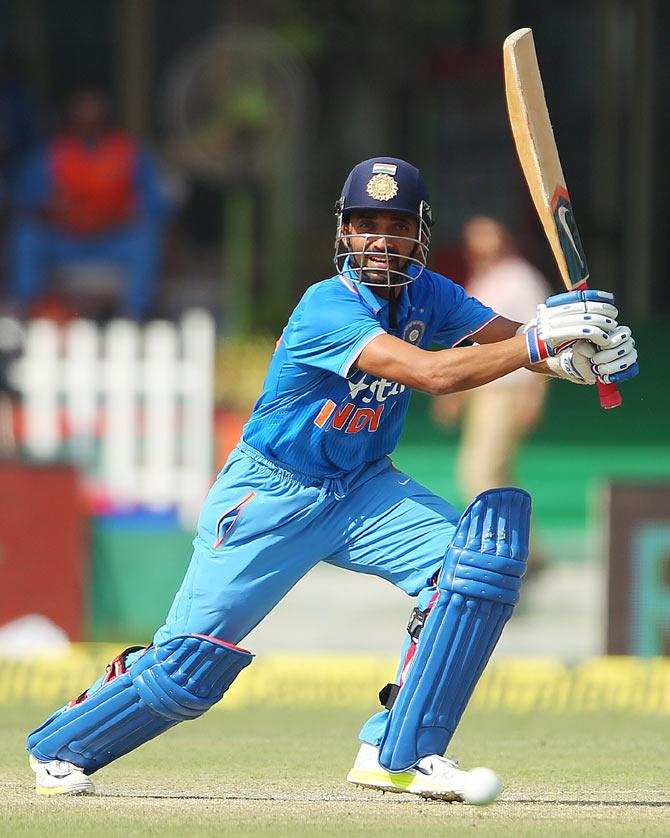 IMAGE: Ajinkya Rahane. 'There is absolutely nothing wrong with his technique or temperament,' says Mohammad Azharuddin. Photograph: BCCI
The veteran of 99 Tests and 334 ODIs was also critical of Indian team management's decision to bench Rahane during the 0-2 Twenty20 series defeat against South Africa, terming him as a far better player than Ambati Rayudu.
"There is absolutely nothing wrong with Ajinkya Rahane's technique or temperament. It was the most unfortunate thing that he had to sit out during the T20 series. When he was finally picked, it was too late as series was lost. With due respect to Ambati Rayudu, Ajinkya is a far better player. How can you bench your best batsman after Virat Kohli," Azharuddin said.
"Rahane is an attacking player and has all the shots. He has to bat up the order," he added.
The former captain also does not read too much into the split captaincy issue.
"Look, once Dhoni leaves, Virat, who is your best player, would lead the side. Other countries have three captains because a lot of their players are not automatic choices in all formats. Virat is slated to lead in all formats. As far as pressure is concerned, there won't be any as this is his age to take pressure. Ab nahin karega toh kab karega (if he doesn't do it now, when will he do it?)."
On India's forthcoming Tests against the Proteas, Azharuddin reckons it will be difficult to take 20 wickets against the visitors.
"It will be extremely difficult to get 20 wickets against South Africa with players like AB (de Villiers) and Hashim Amla. Lot will depend on nature of tracks, whether it offers turn or is low and slow."