Virat Kohli's golden run with the bat sees him lead the MVP rankings in the IPL, with his RCB team mate AB de Villiers a distant second.
Srinivas Bhogle and Purnendu Maji analyse the players' performance in Rediff.com's Most Valuable Players ratings.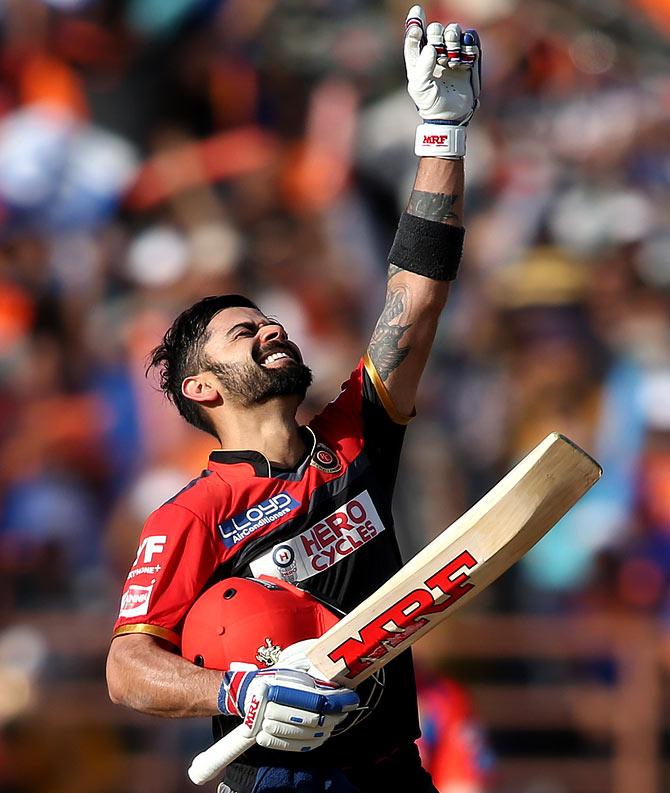 IMAGE: Virat Kohli celebrates scoring a century against Gujarat Lions. Photograph: BCCI
Royal Challengers Bangalore captain Virat Kohli has been scoring a lot of runs, at a strike rate of over 140, in an Indian Premier League season that hasn't seen as many big totals as in the past.

Therefore, it's no surprise that the Indian batting sensation is the most valuable player at the moment in the ongoing ninth edition of the IPL with a MVPI of 430.

If you notice that we have also added columns for the paisa vasool or player value index (PVI), both in US dollars and Indian rupees.

Kohli -- one of the highest paid cricketers in the IPL -- earns $1549 or over a lakh of rupees for every 'run' he scores.
His team mate AB de Villiers, who has scored 269 runs at a strike rate of 170, is a distant second with a MVPI of 369, earning Rs. 72590 for every run scored.

Mumbai Indians all-rounder Krunal Pandya is a surprise entrant at 10th position with a MVPI of 202.

Playing his first season in the IPL, he has 105 runs at a strike rate of 187, while picking up six wickets, with an economy rate of 6.6, offering a PVI of $739 or Rs. 49505.

Players who score a lot of runs at high strike rates; take a lot of wickets at a low economy rate; and also take catches or participate in run-outs have the highest MVPI. The MVPI collapses a player's batting + bowling + fielding performance into a 'run equivalent'.

The table below indicates the MVPI and the PVI for the top 90 players in IPL9:



(The data has been updated after the 21st match of the IPL between Kings XI Punjab and Mumbai Indians on April 25, 2016.)