The Gujarat Lions-RCB game -- featuring Virat's magnificent century -- earned the highest amount.
Haresh Pandya reports.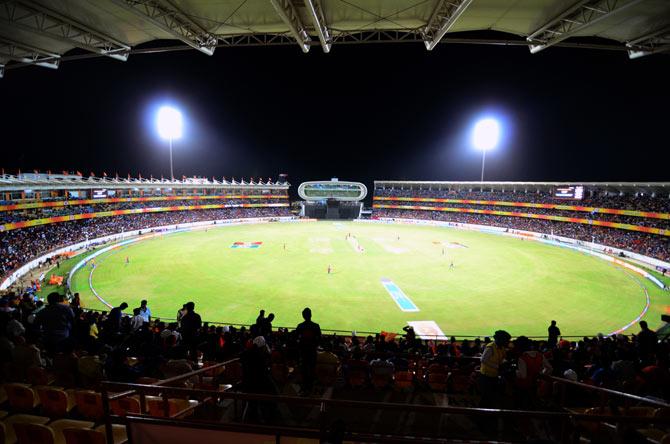 IMAGE: The Saurashtra Cricket Association stadium in Rajkot. Photographs: BCCI
Tickets worth nearly Rs 100 million were sold during the five Indian Premier League matches involving home team Gujarat Lions at the Saurashtra Cricket Association stadium in Rajkot.
The information was provided by franchisee owner Intex Technologies (India) Limited in reply to a query by the Rajkot district collector's office.

It was alleged that most of the tickets of the high-profile April 24 encounter between the Gujarat Lions and the Royal Challengers Bangalore were 'cornered' and hundreds of cricket enthusiasts willing to buy tickets at any price were left to curse their luck.

This led to several complaints lodged with the then Rajkot district collector, Manisha Chandra, who has since been transferred along with many IAS officers in a major reshuffle by the Gujarat government.

The district administration swung into action and ordered the Saurashtra Cricket Association and Intex to provide details of the sale of tickets.
Chandra also proposed to the state government that an entertainment tax be levied on the IPL games in Rajkot as they were packaged with cheerleaders, loud music and such razzmatazz.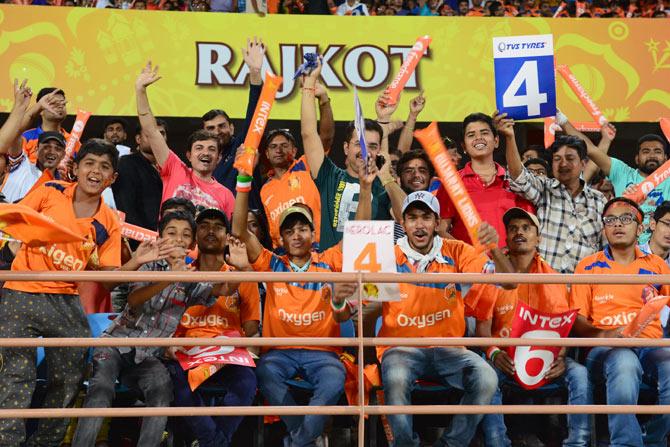 IMAGE: Gujarat Lions fans during an IPL game in Rajkot.
The Saurashtra Cricket Association Stadium has a capacity of 28,819 people.
According to Intex, 21,262 tickets of the April 24 game were sold. An additional 6,234 complimentary tickets were distributed.
Though the stadium was still not packed, the gate-money -- Rs 36,042,550 -- collected from the fixture in which Virat Kohli hit a magnificent 100 was the highest of all five games in Rajkot.

According to Rajkot district Additional Collector Harshad Vora, the Intex authorities declared that in all 82,586 tickets were sold for Rs 98,225,450 during the five IPL games in the city.
A further 40,656 complimentary tickets were distributed.
If the state government gives the go-ahead to collect entertainment tax, the Gujarat Lions will have to cough up Rs 1.96 crore (Rs 19.6 million) on the sale of these tickets.
Details of the tickets sold and the income generated during the five matches in Rajkot:

Date Contestants Tickets sold Income (Rs.)

April 14 Gujarat Lions vs Rising Pune Supergiants 17,277 1,81,24,850

April 21 Gujarat Lions vs Sunrisers Hyderabad 12,351 1,00,63,900

April 24 Gujarat Lions vs Royal Challengers Bangalore 21,262 3,60,42,550
May 1 Gujarat Lions vs Kings XI Punjab 13,153 1,45,09,800

May 3 Gujarat Lions vs Delhi Daredevils 18,453 1,94,84,350