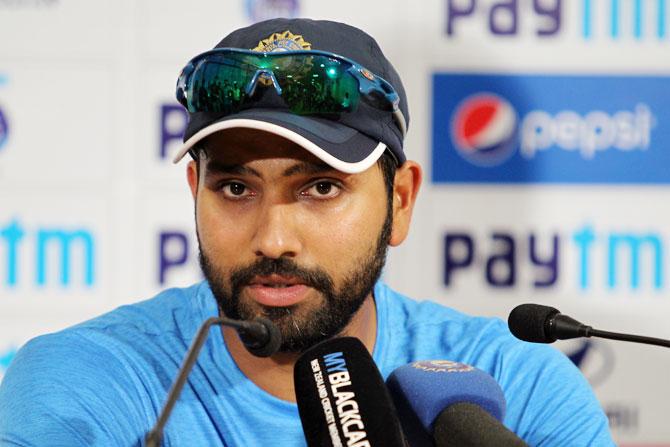 IMAGE: Rohit Sharma speaks to the media after the third day's play in Kolkata on Sunday. Photograph: BCCI
Middle-order batsman Rohit Sharma, who top-scored for India in the second innings, said the re-laid EdenGardens wicket kept the Indian batsmen on their toes right throughout the match.
- Day 3: Rohit shines as NZ pushed on back foot
- 2nd Test PHOTOS: Rohit special puts India in command against NZ
Rohit made a fine 82 off 132 balls, striking nine boundaries and two hits over the fence, to guide India to a healthy 339-run lead over New Zealand at the end of the third day of the second cricket Test in Kolkata on Sunday.
"You may have seen this in the last two days. They have re-laid the wicket. It's not a typical Kolkata wicket what it used to be. There's uneven bounce. At no point could batsmen relax or take it for granted. Every ball you played, you had to make sure that you gave 100 per cent," Rohit told reporters at the post day's press conference.
"Condition was never easy. Once the ball got softer, there's not much for the bowlers. If you put the ball in the right areas you will get odd bounce. There's something in the surface throughout the day, not just in the morning, afternoon or evening. You just could not relax," he added.
The flamboyant Mumbai batsman has often been criticized for falling short in Test cricket despite having enormous talent.
But Rohit, has somewhat, dismissed his detractors, having hit his second successive half-century in the series.
"There is no pressure. It only comes from the media that I'm under pressure. You may have seen that on the field. Did I look under pressure in the first or this Test?" he shot back.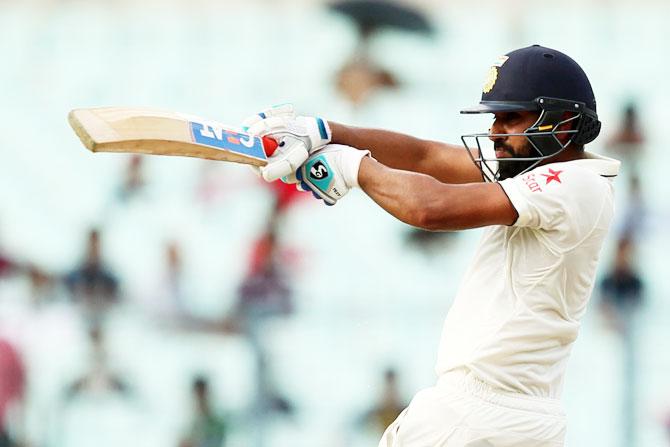 IMAGE: India's Rohit Sharma plays a pull shot on Day 3. Photograph: BCCI
Having bundled out New Zealand for 204 in their first innings, India were in a spot of bother in their second essay at 43 for four when Rohit made his entry in the middle. He first shared 48 runs with Virat Kohli (45) for the fifth wicket before stitching 103-run seventh-wicket partnership with Wriddhiman Saha (39 batting), to take India to 227 for eight at close.
"You have to play each ball on its merit and cannot think too far ahead. We kept focused at every ball thrown to us. It was all about building partnerships. There have been quick wickets and it needed one or two batsmen to get you out of trouble," Rohit said.
"From the team's perspective, that 100-plus partnership with Saha was crucial. We could put pressure back on New Zealanders."
The Eden Gardens has always remained a happy hunting ground for Rohit.
"It's a ground where you will get runs if you take the shots. It's a matter of getting the initial balls, getting your eyes set and you can accelerate," Rohit said.
Rohit said the key to negotiate variable bounce lies in playing the ball as late as possible.
Citing the example of the two Trent Boult deliveries that rose sharply with one hitting Shikhar Dhawan's thumb in the bottom hand, he said: "The ball pitched right in front, kicked off from there, when Shikhar got hit. You can't go onto the front foot completely. You have to make sure you're balanced in the middle and play as late as possible.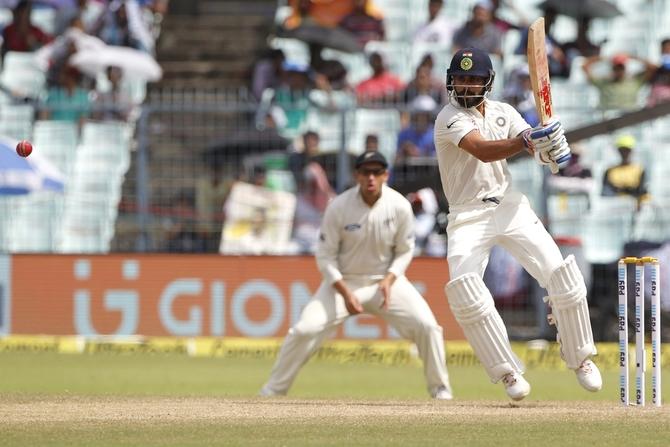 IMAGE: Virat Kohli of India plays a shot against New Zealand on Day 3. Photograph: BCCI
"It's all about adjusting to the conditions. The ball does a quite a bit in the first session and maybe after tea."
Rohit also hailed skipper Kohli's knock under pressure.
"Virat (Kohli) is an aggressive player and he played some wonderful shots which were good to see from the non-strikers end. But he got out to a pretty unfortunate delivery which probably will happen once in 10 times. Nothing wrong with that, it's the nature of the wicket," he said.
"Even the New Zealanders also got some pretty heavy balls which kept low."
Though somewhat satisfied, Rohit hoped the remaining Indian batsmen could add another 50 runs on the board come Monday morning.
"At the end where we stand right now we are pretty happy. Let's hope we get 50-plus runs in the morning, that will be good," he said.