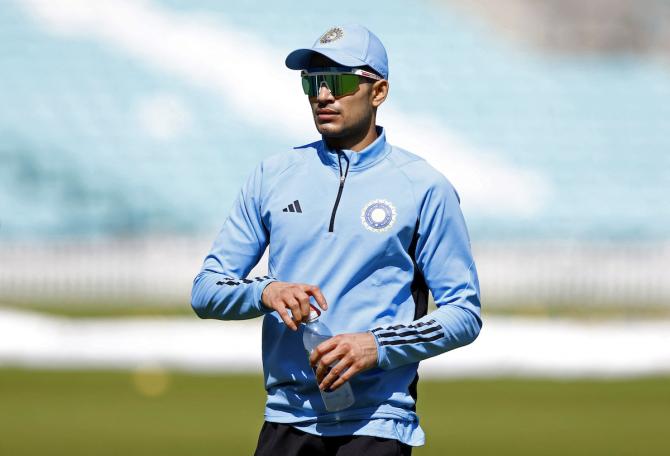 Shubman Gill is the "next big thing" in Indian cricket and Indian batting stalwarts Rohit Sharma and Virat Kohli are keen to help the 23-year-old grow.
Gill has had a dream run across formats in the last one year which has prompted his national team captain Rohit to term him as the "next big thing".
"Shubman Gill has got so much potential. Without a doubt in my mind, the next big thing in Indian cricket," Rohit told the ICC on the sidelines of the World Test Championship final against Australia.
"He has got everything required to get success at this level. I just hope he continues this good run of form," Rohit added.
If the skipper was effusive in his praise, his long-time teammate and Gill's idol Kohli wants to help the youngster with all his knowledge acquired during his 15 years of top-flight cricket.
"What I know, he has told me that he has looked up to my career when I was coming up the ranks, he speaks to me a lot about the game and I am keen to help him grow," Kohli said.
Gill's cover drive has an uncanny resemblance with Kohli's execution and the maestro is fully aware.
Kohli's fans known as 'Viratians' call him 'King' and now Gill, the heir apparent, is being termed as the 'Prince'.
"All these tags of King and Prince are great for the public but the job of any senior cricketer is to help any youngster groom youngsters and give them insight that you have experienced throughout your career, so that they can manage their ups and downs.
"He is a lovely kid, he is playing amazingly well and I wish he continues that in this (ongoing Test match) as well," said India's No. 1 batter of last decade.
In 17 matches for India in 2023, Gill has five centuries across formats, amassing 980 runs.
The Indian and Gujarat Titans opener is fresh from a stupendous IPL season where he topped the run chart, with 890 runs at 59.33 with three centuries.
Gill was always special since U19 days: Dravid
Head coach Rahul Dravid has seen him and nurtured him through his junior cricket days and is happy that he has come up the ranks.
"I saw him during U-19 World Cup in 2018 and you could see he was earmarked to be a special player for India," Dravid said.
"He has come over really well in the last one year, he has been through ups and downs, been through injuries and in and out of team," Dravid said.
"He (Gill) has always not been a certainty in Test or ODI side. He has come together beautifully in last 14-16 months where we are getting to see a great player and hopefully, Shubman will have many great years for India," the 'Wall' added.
Terming Gill a superstar in the making, Indian frontline pacer Mohammed Siraj said the batter has plenty of time at his disposal before executing a stroke.
"People hit bouncers towards square leg and he hits in front of wicket towards mid-on, he has plenty of time," Siraj said.
"When I saw him first, I knew he was a superstar in the making. We made our Test debut together and seeing him get so much success makes me very happy," Siraj added.
© Copyright 2023 PTI. All rights reserved. Republication or redistribution of PTI content, including by framing or similar means, is expressly prohibited without the prior written consent.