In hindsight it is good to have left-hander but guys being given chance scored lot in past year, says Rohit Sharma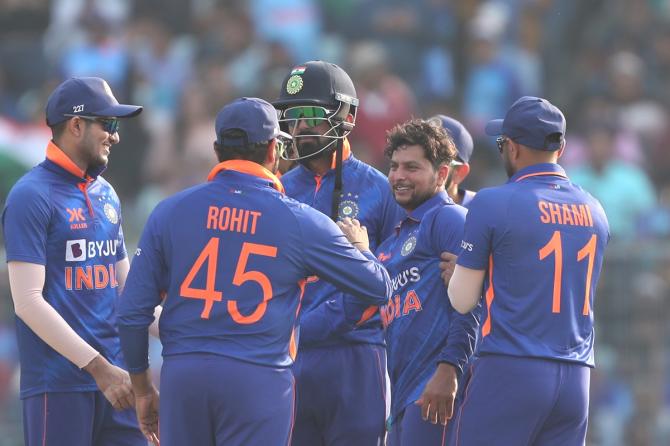 India captain Rohit Sharma agreed that a left-hander in the top six would add variation but asserted that he isn't too keen on changing some of the in-form batters just for the heck of it.
India clinched the three-match ODI series against Sri Lanka by winning the low-scoring second ODI by four wickets but a top six with only right-handers is indeed making this line-up predictable.
Ishan Kishan, the fastest double centurion in ODIs has been benched as the team management wanted to give Shubman Gill a long run for showing consistency during the whole of 2022.
"In the hindsight, it will be nice to have a left-hander in the top-order but guys who are being given the chance have got a lot of runs in the last one year," Rohit didn't beat around the bush about the fact that Kishan will have to wait for his next opportunity.
"Ideally, we would like to have a left-hander but we know the quality of our right-handers and are quite comfortable with that at the moment," Rohit was even more precise in his next statement.
He did praise KL Rahul, the man whose inclusion is keeping both Suryakumar Yadav and Kishan out of the XI. In a low-scoring chase, Rahul's 64 off 103 balls turned out to be decisive and the Indian captain was pleased as punch.
"It was a close game but games like these teach you a lot. KL has been batting at 5 for a long time now, it gives you that confidence when an experienced batter is batting at 5. It was a good display of batsmanship."
Rohit didn't give any information if he is looking to change the combination in the next game.
"We will have a look at the pitch for the third ODI, and another ODI series is coming up as well. So we will see if we need to make any changes."
© Copyright 2023 PTI. All rights reserved. Republication or redistribution of PTI content, including by framing or similar means, is expressly prohibited without the prior written consent.