The secret to Virat Kohli's phenomenal success, says Dhruv Munjal, lies in his fitness and a tenacious urge to be the best.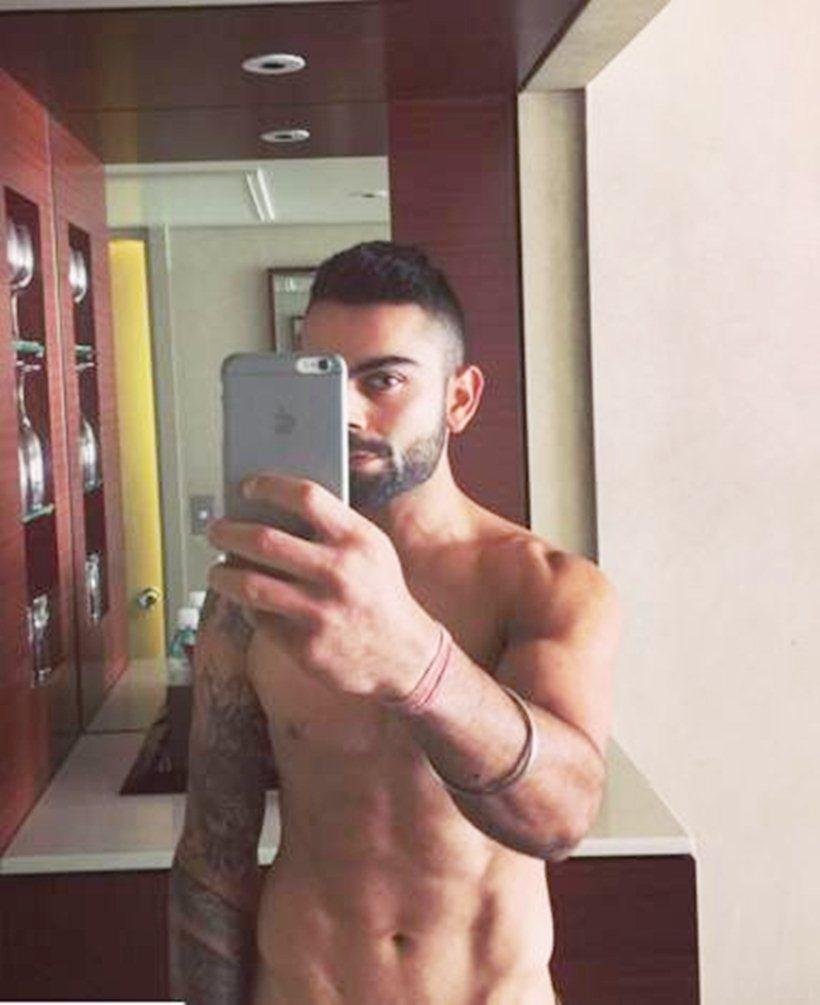 IMAGE: Virat Kohli takes a selfie during a gym session.
Earnestness is enthusiasm tempered by reason: Blaise Pascal
Look around. Go as far as your mind allows you to -- from the dustbowls of Mumbai to the green tops of England and the backwaters of Jamaica. To try to think of a batsman who is better than Virat Kohli right now is akin to a trivial attempt at spotting a polar bear in the Atacama Desert. Yes, it's that futile.
After the seemingly paranormal A B de Villiers helped Royal Challengers Bangalore storm into the final of the ninth edition of the Indian Premier League earlier this week, Kohli said that the 'who's the best' debate had been settled.
'It's 'AB,' announced the RCB skipper. However, despite the amicable show of reverence for his new bromance partner, even Kohli, deep down, would acknowledge that he is a ravaging beast who is currently operating on a level that borders on the absurd. Naturally, there are no peers in sight.
On commentary a few nights ago, former West Indian fast bowler Ian Bishop spoke about the intractable purpose that accompanies everything Kohli does. With Kohli, a single is taken with the same ardor as a six that is deposited out of the stadium.
To think that Kohli has notched up four hundreds this IPL season is a remarkable testament to this unyielding intent, and more strikingly, the man's fitness.
Post the single-handed decimation of a dumbfounded Australian side in the ICC World T20 in March, Kohli confessed to the hard yards he puts in the gym. At Mohali on that whirlwind evening, it invariably showed.
Along with the calculated blitzkrieg that sent the Aussies tumbling out, Kohli ran between the wickets like Hicham El Guerroj on turbocharger. His fitness, after all, has allowed him to master the art of making fine margins count.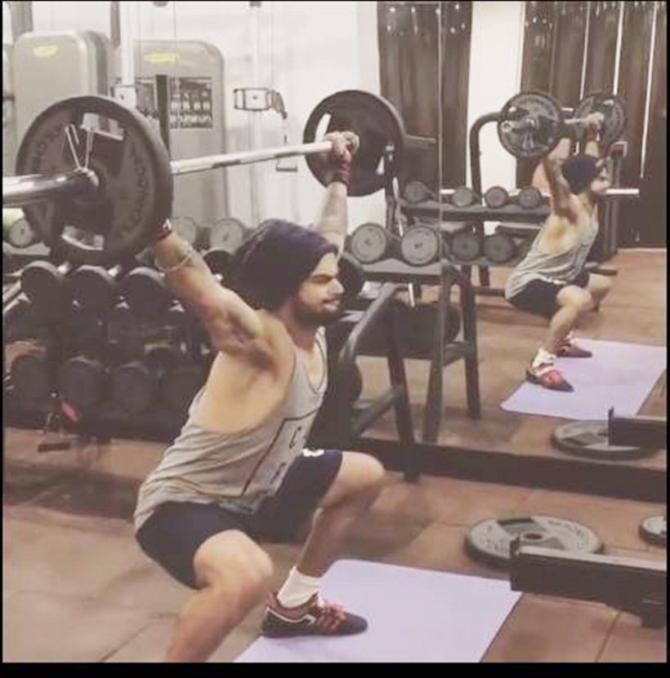 IMAGE: Virat does weight-lifting in his home gym.
Pradeep Sangwan, Kohli's former junior cricket teammate, says that his transformation has been unreal. "He has incredibly hard on his fitness. You don't get so good without working on all aspects of your game, and fitness is his priority," he says.
As a teenager, Kohli was chubby with erratic food habits. When he first made it to the Indian team, the extra weight had been shed but he lacked the wholesome strength that is such an intrinsic part of his game today.
"When he started playing for India, he realised the need for greater fitness," says Rajkumar Sharma, Kohli's coach for over 10 years now.
"The talent was always there. His fitness has helped him take his game to the next level."
Kohli works out in the gym five times a week, with the major focus being lower-body strength; that's what gives him the explosive power in his legs. Working on his upper body, though, does not figure very high on his priority list.
RCB insiders say that you seldom see Kohli eating anything. "Forget about sweets, he won't even touch anything that is even remotely likely to add calories to his body," says a teammate. "His biggest asset is immense self-control."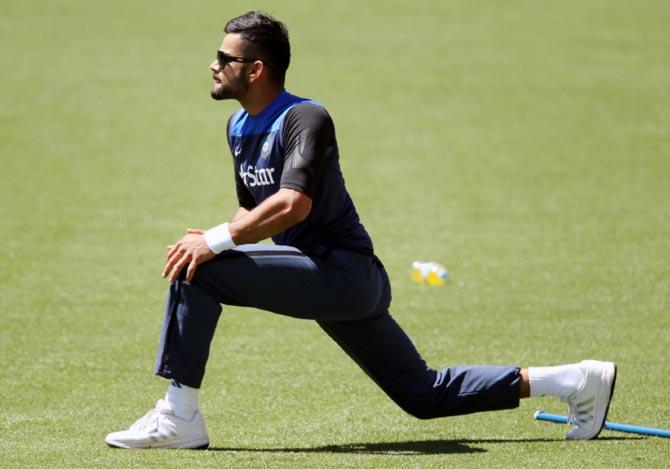 IMAGE: Virat stretches during a Team India training session. Photograph: Morne de Klerk/Getty Images
RCB's strength and conditioning coach Shankar Basu, who also works with the Indian team, has been the catalyst for Kohli's astounding transformation. Often, Basu makes Kohli do more than 100 squats in one session. His exercise routine is a mix of cardio and strength training -- the ideal way to build the right muscles.
And Kohli would do anything to be the fittest player in the team. Earlier this year, he started using a high-altitude mask, which makes the workout more productive and helps in conditioning the lungs.
Kohli, in the past, has also put to test the Technoshaper, an apparatus that works around the midriff -- speeding up fat loss and ensuring firmer skin.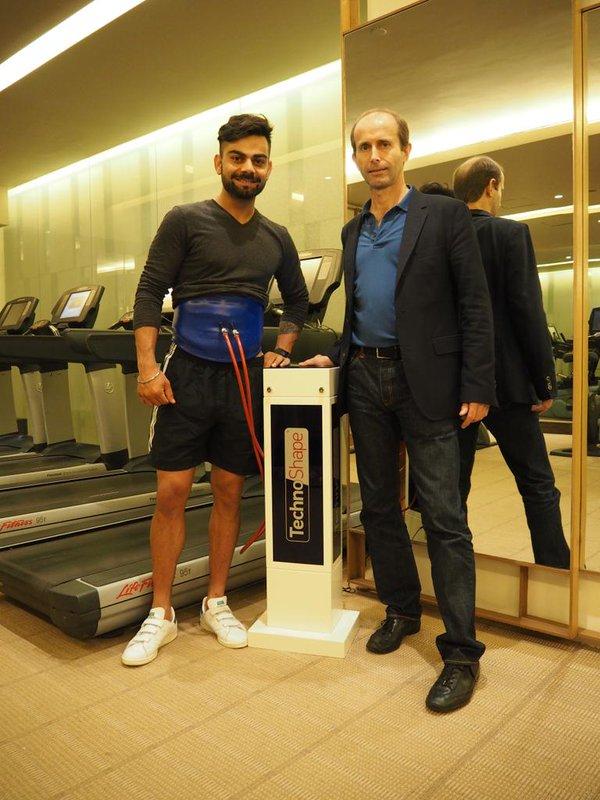 IMAGE: Virat with the Technoshaper, a gadget to burn up fat.
Even on the field, the Indian Test captain is the first man to arrive for training. During RCB's pre-match football games, Kohli -- in his resplendent orange and black football boots -- is easily the most enthusiastic player on the pitch.
"He takes all these things seriously. Any sport and he's up for it. This is what separates him from the rest," says Sangwan.
IMAGE: Virat uses a high altitude mask for better stamina and improved energy levels.
It's not only the fitness schedule but also the diet that has undergone a massive change. Sangwan reminisces how Kohli could easily devour plates full of chicken tikka and tandoori chicken. Now, the focus is firmly on salmon and lamb chops.
"Kohli makes sure he consumes a lot of protein; you need that for strength," says Sharma.
For all his metaphysical exploits this year -- first the World Cup, now the IPL -- Kohli's name does not feature in the team that is headed to Zimbabwe next month. Right now, he will happily agree to run a marathon without even batting an eyelid, or say yes to playing a grueling 90-minute football match.
But even men blessed with his kind of endurance need rest. For once, the selectors must be happy leaving him out.