Will we see the likes of him again?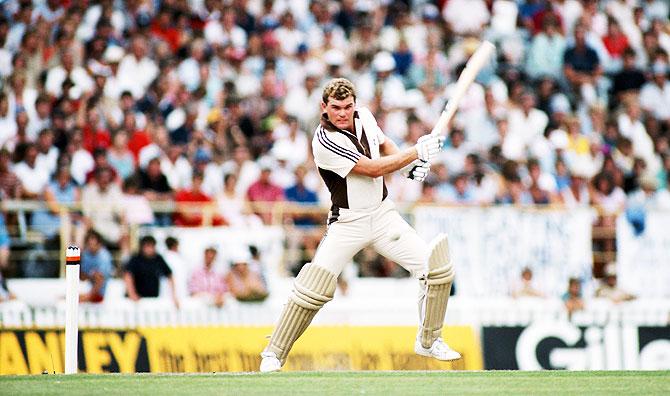 IMAGE: Martin Crowe cuts the ball during his unbeaten 105 during the 3rd ODI between New Zealand and England at the Eden Park, in Auckland, New Zealand, February 25, 1984. Photograph: Adrian Murrell/Allsport/Getty Images
Described as New Zealand's finest batsman, Martin Crowe's cricketing life was defined by one innings, one tournament and one seriously damaged knee.
Tributes flowed for Crowe on Thursday, March 3, after he lost a second battle with lymphoma. He was 53.
Crowe was born into the game. His father Dave was a stalwart of the Cornwall cricket club in Auckland while his elder brother Jeff followed him into the New Zealand side.
Fluent at the crease with all the time in the world to play shots, he broke into the Auckland team as an 18 year old where he scored 51 in his first innings against Canterbury.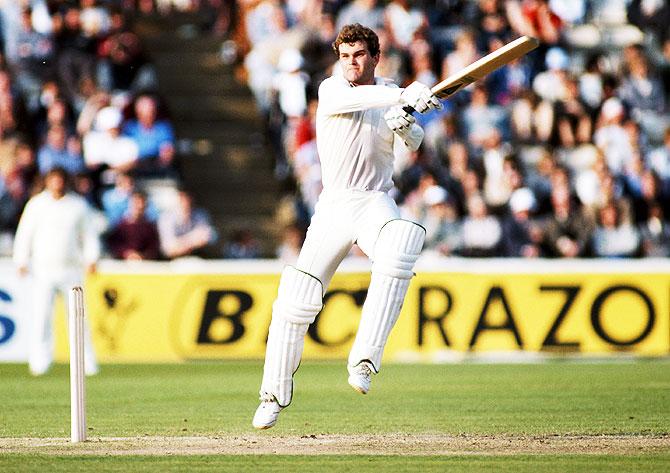 IMAGE: Crowe cuts a ball towards the boundary on day five of the 4th Cornhill Test match against England at the Oval, July 18, 1986. Photograph: Adrian Murrell/Allsport/Getty Images
Crowe's precocious talent was rewarded 12 months later when he made his Test debut against an Australia side containing the snarling menace of Jeff Thomson and Dennis Lillee.
The experience of being a batting prodigy would leave him with mental scars, however, and he later wrote in the second of his autobiographies Raw in 2013 that being thrust into the limelight as a teenager had not allowed him to mature.
He said he also struggled with doubt and emotional instability in his early years, which left him feeling 'scared and bewildered.'
Crowe returned to the national side in 1983 and had a brilliant season for Somerset the following year, scoring 1,870 first class runs.
IMAGE: Crowe in action during the First Test against Zimbabwe at the Bulawayo Athletic Club, Zimbabwe, November 1992. Photograph: Mike Hewitt/Allsport
He was named one of Wisden's Cricketers of the Year in 1985 and his 188 against Australia in November that year established him as one of New Zealand's best batsmen.
His finest hour with the bat came in 1991 when he combined with Andrew Jones in a stand of 467 runs to save the first Test against Sri Lanka, scoring 299 before being caught behind from the slow medium pace of Arjuna Ranatunga.
His captaincy during the 1992 World Cup cemented his legacy.
Crowe used innovative tactics, such as opening the bowling with off-spinner Dipak Patel, while constantly rotating his bowlers and changing fields to put pressure on batsmen.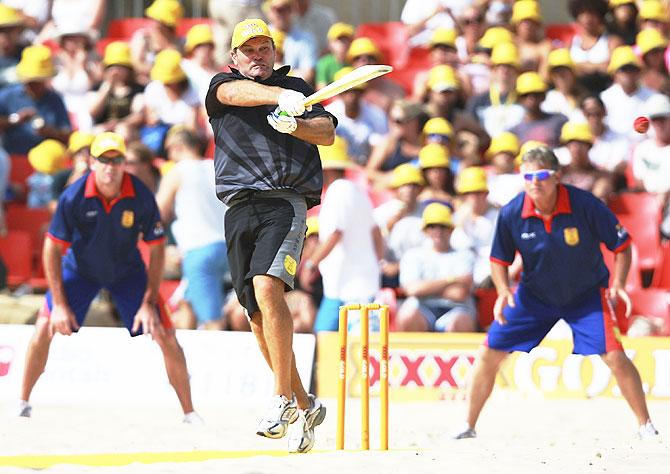 IMAGE: Crowe plays a pull shot against England during the Beach Cricket Tri-Nations Series at Maroubra Beach in Sydney, January 12, 2008. Photograph: Brendon Thorne/Getty Images
But a knee injury that had been bothering him for several years began to affect him more and more, and Ken Rutherford assumed the captaincy as Crowe battled to recover from surgeries.
The injury brought his career to an end in 1995 after 77 Tests and 143 ODIs. He finished with 5,444 Test runs at 45.36 with a high score of 299 and 17 centuries, which is still the most by a New Zealand batsman.
He scored 4,704 ODI runs at 38.55.
Even in retirement Crowe was always thinking about the game.
He pioneered a shortened version called 'Cricket Max' in the late 1990s, which is considered a precursor to the current Twenty20 format.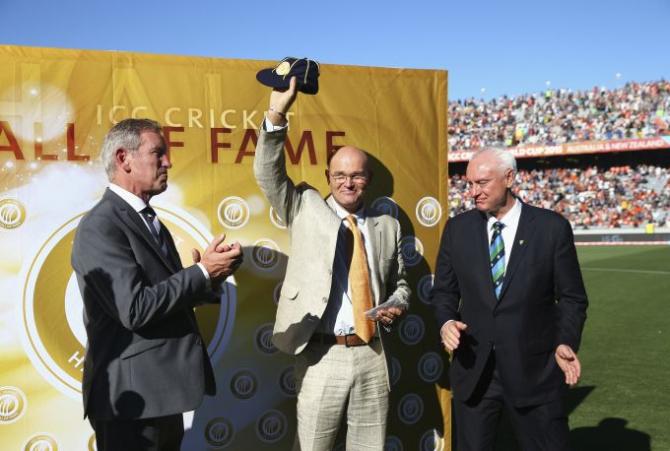 IMAGE: Crowe is inducted into the ICC Cricket Hall of Fame during the World Cup game between Australia and New Zealand, February 28, 2015. Photograph: Ryan Pierse/Getty Images
He also carved out a successful television production career, but left the job in 2012 after falling out with senior management, and shortly after that he went public with his first diagnosis of cancer.
Crowe threw himself into mentoring current batsmen Ross Taylor and Martin Guptill and was immensely proud of their performances at last year's World Cup where New Zealand made the final, something his side failed to do in 1992.
'My precarious life ahead may not afford me the luxury of many more games to watch and enjoy,' Crowe wrote before Brendon McCullum's side played the final.
'So this is likely to be it. The last, maybe, and I can happily live with that.'