'I guess till the World Cup, there won't be any talk of number 4!'
'Whatever opportunities Ambati Rayudu has got since the Asia Cup in this series he has grabbed it with both hands.'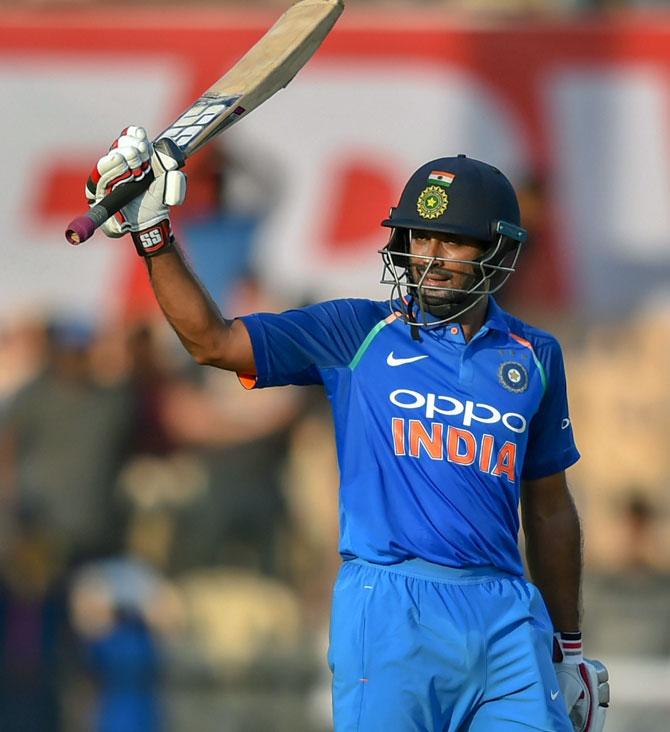 Rohit Sharma says the 81-ball 100 by Ambati Rayudu will remove all doubts that he is the ideal number four in the run-up to next year's World Cup in England.
Rohit and Rayudu smashed hundreds to lay the ground for India's 224-run rout of the West Indies in the fourth and penultimate ODI at the Brabourne Stadium.
"I think (it's a) very important (knock). Hopefully, he has solved all the mysteries of number 4. I guess till the World Cup, there won't be any talk of number 4," said Sharma at the post-match media conference.
Sharma led the way with a whirlwind innings of 162 and Rayudu played the ideal foil with a knock of 100, the two adding 211 runs to power India to an imposing 377 for five.
The West Indies were bowled out for 153, with rookie left-arm seamer Khaleel Ahmed grabbing three wickets.
"He (Rayudu) batted brilliantly, because at that point a big partnership was needed and it was a perfect platform for him also to showcase what he's got.
"There was pressure, of course, losing the top two batsmen and building a partnership was important. So it was a pressure innings and I thought he responded well to that situation."
Sharma's 21st ODI century came off 137 balls, with the help of 20 fours and four hits over the fence, while Rayudu decorated his 100-run knock with eight boundaries and four sixes.
"He batted freely, once he got to 50 he started playing shots. We have known Rayudu for a long time and he can produce innings like this. That's probably the reason we got him at number four and he has not disappointed.
"Whatever opportunities he has got since the Asia Cup in this series he has grabbed it with both hands," added Sharma.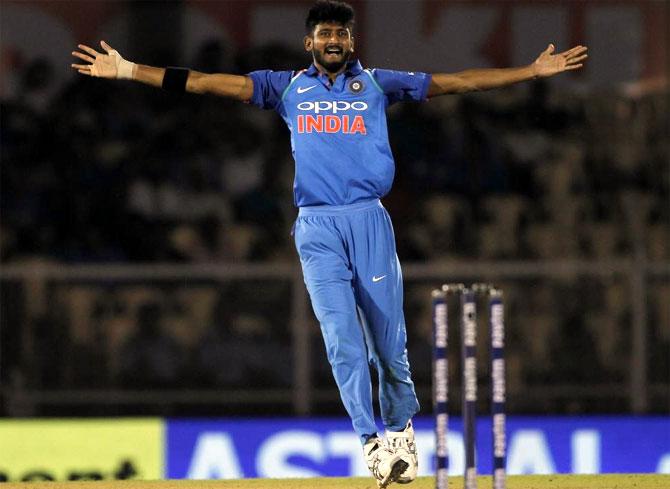 The Mumbaikar also hailed Ahmed, saying he could be handy in conditions helpful to swing bowling, like in New Zealand and England, during the World Cup.
"Khaleel is a promising prospect. With a left-arm seamer you always have that edge. And the way Khaleel swung the ball today, he would have troubled any batsmen. He is maturing pretty fast.
"The World Cup is still a long way off with lots of games remaining and I wouldn't say spots have been guaranteed to anyone. I hope he continues to do well. We are playing in New Zealand and then the World Cup in England where the ball swings a lot. He could be quite handy there," added Sharma.
About his own knock, he said he never thought of completing a double hundred like he had thrice earlier in his ODI career although Rayudu at the other end reminded him that he was capable.
"I never thought of a double hundred. I just wanted to make sure to get as many runs as possible and get the team into a good position. Rayudu told me that you have got a good chance for a double. The CCI can be tricky in terms of chasing and our bowlers did well in getting them out."