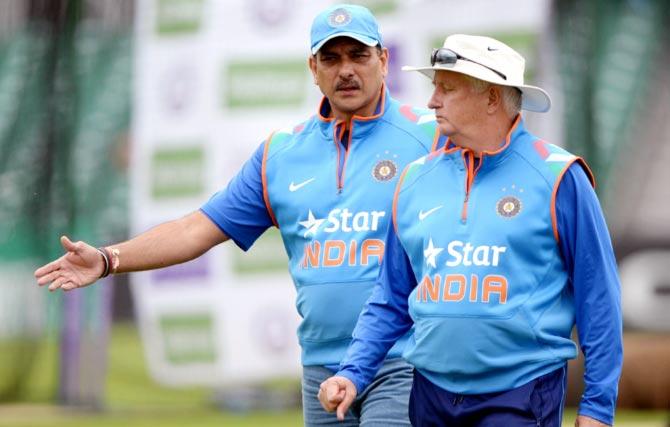 Ravi Shastri (left) with Duncan Fletcher. Gareth Copley/Getty Images
Under-fire India coach Duncan Fletcher's fate is likely to be decided by the Board of Control for Cricket in India after it receives team director Ravi Shastri's report on the England tour, an official said on Sunday.

Fletcher, who was appointed coach in April 2011, came under intense criticism from several quarters after India's 1-3 Test series loss against England, and there is speculation that the BCCI may show the Zimbabwean the door though his contract runs till the end of next year's cricket World Cup.
- Fletcher should have been sacked!

An official, who attended the informal meeting of the BCCI members in Chennai, confirmed that Fletcher's future was discussed and some major decision could be taken during the Working Committee meeting on September 26.

"Fletcher's fate will be decided by Ravi Shastri's report, which will be tabled at Working Committee meeting on September 26. Today, all the members discussed that one should not go by media's knee-jerk reaction. The media that blasted Dhoni after Tests is praising him after the ODIs," a source said.

India lost the five-match Test series 1-3 which led to the appointment of Shastri as team director and under him, the visitors won the subsequent five-match ODI series 3-1 with one match being abandoned because of rain

Fletcher was signed for a two-year term in April 2011 and his contract was extended for one year in March 2013. In March this year, the BCCI extended his contract till the end of 2015 World Cup in March in Australia and New Zealand.