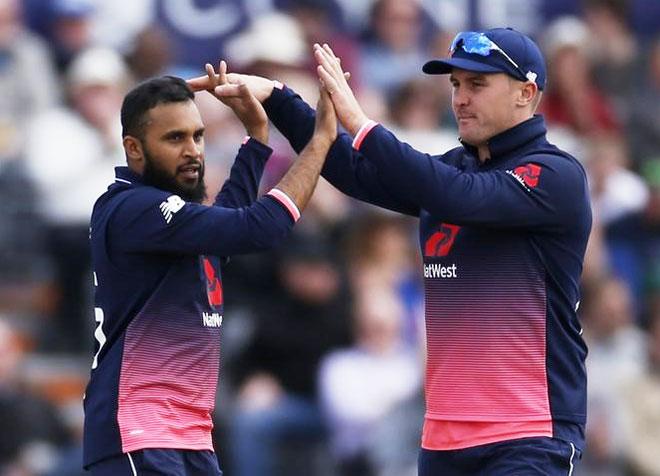 IMAGE: England's Adil Rashid and Jason Roy celebrate the wicket of Ireland's Niall O'Brien during their first One-day International at the Brightside County Ground, Bristol, on Friday. Photograph: Paul Childs Livepic/Action Images via Reuters
Adil Rashid and Alex Hales shone as England crushed Ireland by seven wickets with 30 overs to spare in the first one-day international in Bristol on Friday.
Leg-spinner Rashid took five wickets to help bowl Ireland out for 126 before Hales struck 55 off 39 balls to lead England to their easy target.
It was the gentlest of starts to the summer for England, who are hosting the Champions Trophy in June before Ttest series against South Africa and West Indies.
Ireland chose to bat after winning the toss and Ed Joyce and Paul Stirling shared an opening stand of 40. They advanced to 81 for two before a dramatic collapse where they lost their last eight wickets for 45 runs. Rashid completed figures of 5-27, his first five-wicket haul in one-day internationals.
Jason Roy fell for a duck in the first over of the England reply but Hales smashed 10 fours and Joe Root made a fluent unbeaten 49 to guide his team home.
The second and final match of the series is at Lord's on Sunday.
SCOREBOARD
Ireland
E Joyce lbw b Willey 23
P Stirling b Wood 20
W Porterfield c Plunkett b Root 13
A Balbirnie c Billings b Ball 30
N O'Brien lbw b Rashid 16
G Wilson lbw b Rashid 1
K O'Brien lbw b Rashid 4
S Thompson b Rashid 4
G Dockrell lbw b Root 0
T Murtagh c Hales b Rashid 11
P Chase not out 1
Extras (lb2, w1): 3
Total (all out, 33 overs): 126
Fall of wickets: 1-40, 2-46, 3-81, 4-90, 5-93, 6-104, 7-108, 8-109, 9-121, 10-126
Bowling: Willey 6-0-34-1; Wood 6-0-24-1; Ball 5-0-16-1; Plunkett 3-0-14-0; Rashid 8-0-27-5; Root 5-0-9-2.
England
J Roy c Dockrell b Chase 0
A Hales c Porterfeield b Chase 55
J Root not out 49
E Morgan c K O'Brien b Chase 10
J Bairstow not out 10
Extras (nb3): 3
Total (3 wkts, 20 overs): 127
Fall of wickets: 1-1, 2-78, 3-99
Bowling: Chase 8-0-44-3; Murtagh 6-1-33-0; Dockrell 3-0- 20-0; Thompson 3-0-30-0.