Domestic cricket has always been the main yardstick to gauge a player's talent and potential. A player who has gone through the grind of Indian domestic cricket for a couple of years and achieved success usually presents a strong case for himself when it comes to getting picked for the national team.
Despite being thrashed by England in the second Test in Mumbai last week, the same Indian squad -- barring for the injured Umesh Yadav, who was replaced by Ashok Dinda -- was retained for the third Test.
It was not surprising, since there are not many players in domestic cricket who are doing enough to push themselves into contention for inclusion in the Test squad. But, as the Ranji Trophy unwinds, a lot of players, especially batsmen are coming up with top-notch performances and catching the attention of the selectors.
Statistician Rajneesh Gupta points out that batsmen have dominated so far this season in the five rounds of matches, completed on Tuesday, with as many as 122 hundreds being hit in 60 matches, while there were 58 five-wicket hauls, of which five were converted to ten-wicket hauls.
Interestingly, four players have already crossed the 600-run mark this year, while three others have scored more than 500.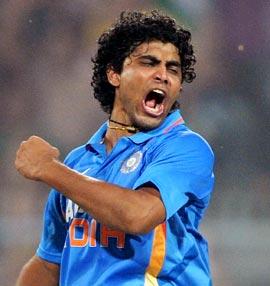 Youngsters like Ravindra Jadeja, Jiwanjot Singh and Manprit Juneja have left a mark with the bat, with Paras Dogra and Parthiv Patel have made strong statements after a smashing start to the season.
Here's a look at the top five batsmen in this year's Ranji Trophy:
Ravindra Jadeja (Saurashtra):
Matches 4, Runs 656, HS 331, Avg 131.20, 100s: 2
Two triple centuries in the space of a month in the Ranji Trophy and Ravindra Jadeja's name is suddenly floating around for Test selection. In fact, his third triple century in domestic cricket put him in an illustrious list, comprising legends like WG Grace, Bill Ponsford, Don Bradman, Wally Hammond, Brian Lara, Graeme Hick and Michael Hussey.
Earlier this week, the 23-year-old smashed 331 for Saurashtra in their first innings against Railways in Rajkot to follow up on his 303 not out against Gujarat in Surat last month.
It was his third triple century in the space of 12 months, having scored 314 against Orissa in Cuttack last year. His tally so far this year reads a staggering 656 runs in four matches, at an unbelievable average of 131.20.
With his ability to bowl left-arm spinners, he could be an interesting option for the No. 6 slot in the Test team, giving competition to Yuvraj Singh. He has taken 16 wickets so far, at an average of 25.25.
So far, he was only billed as a player suited for the limited-overs' format, but if he continues his scoring spree and India keep stumbling, it will be hard to keep him out for much longer.
Jinwanjot Singh (Punjab):
Matches 5, Runs 619, HS 213, Avg 103.16, 100s 3, 50s 1
Youngster Jiwanjot Singh started his first class career with a bang -- a double
century on debut. The 22-year-old Punjab opener impressed with a splendid knock of 213 against Hyderabad in Mohali that helped his team win by an innings and 68 runs.
He didn't stop there, hammering 158 runs against Bengal in his next match, and then 110 against Rajasthan to lead Punjab to a convincing nine-wicket victory.
In just five matches, Jiwanjot has amassed over 600 runs and announced himself as one to watch out for.
Paras Dogra (Himachal Pradesh):
Matches 5, Runs 610, HS 210, Avg 101.66, 100s 4.
Seasoned campaigner Paras Dogra is the star with the bat for Himachal Pradesh this season, having started with a century (121) in the opening match against Kerala in Nadaun last month.
Himachal Pradesh are playing in Group C, which features all the weaker teams, and Dogra has utilized the opportunity to the fullest in a scoring spree that has seen him amass 610 runs in five matches.
The 28-year-old scored 210 in the second match of the season, against the Services, followed by a century (122) against Andhra to make it three tons in a row.
Dogra then played out of his skin, scoring a superb unbeaten knock of 105 in Himachal's second innings total of 189. But the rest of the batsmen failed to give him adequate support and Himachal lost to Tripura by 109 runs.
Parthiv Patel (Gujarat):
Matches 5, Runs 602, HS 162, Avg 75.25, 100s 2, 50s 5
Parthiv Patel, 27, made headlines early in his career when he became Test cricket's youngster wicketkeeper, aged 17 years and 153 days, against England in 2002 before inconsistent performances, both with bat and gloves, and the emergence of Mahendra Singh Dhoni saw him lose his place in the Indian team.
But since getting the axe, he has worked extra hard on his flaws and emerged as one of the top batsmen in domestic cricket.
This year, too, the Gujarat captain looks unstoppable with the bat. He started the season with a sparkling knock of 162 against Madhya Pradesh, followed by 80 in the second essay. He has hit at least a half-century in seven of the eight innings he has played so far this season.
In his last match, he scored 111 against Hyderabad. With M S Dhoni struggling to get runs of late, Parthiv has staked claim for a place in the Test squad.
Manprit Juneja (Gujarat):
Matches 5, Runs 571, HS 159, Avg 81.57, 100s 3, 50s 1
Manprit Juneja is another youngster who started the season with a bang. Playing for Gujarat, the 22-year-old scored a half-century (59) against Madhya Pradesh in the first match of this year's Ranji Trophy before a century (159) against Saurashtra in Surat in the same match that Jadeja registered a triple hundred.
He then starred with an unbeaten knock of 153 against Railways, followed by 106 against Hyderabad in the next game
He has scored three centuries this season in five games for an impressive tally of 571 runs, at an average of 81.
Photograph: Gareth Copley/Getty Images