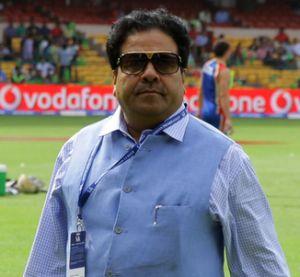 Former Union minister and Congress leader Rajeev Shukla was re-appointed chairman of the powerful IPL Governing Council on Monday, ending a month-long suspense over the selection for the top post in the cash-rich Twenty20 league.
Chairman till 2013, he resigned in the aftermath of the IPL spot-fixing scandal.
After intense speculation over who will take charge of the league, what with former India captain Sourav Ganguly, former BCCI treasurer Ajay Shirke and outgoing IPl chairman Ranjib Biswal in the fray, Shukla ultimately emerged as the consensus candidate.
His appointment comes just a day before opening ceremony of the eighth edition of the tournament in Kolkata.
Ganguly was a new entrant to the IPL Governing Council while the senior national selection committee, headed by Sandeep Patil, was retained for another season.
Team India Director Ravi Shastri was also retained in the Governing Council.
Anil Kumble, another former captain, was retained as chairman of the Technical Committee while Congress leader and MPCA top boss Jyotiraditya Scindia will head the powerful finance committee.
Chetan Desai of Goa will head the Marketing Committee while Gokaraju Gangaraju of Andhra will be in-charge of the Tours and Programmes Committee.
Cricket Association of Bengal treasurer Biswarup Dey will head the Media Committee.
A new committee, called Affiliations Committee, headed by Anurag Thakur was formed, while BCCI president Jagmohan Dalmiya will chair the Constitution Review Committee, with Shukla for company.
The Anti Corruption and Security Unit (ACSU) sub-committee has been put on hold for the time being.
BCCI Committees for 2014-15
Senior Tournament
1 Gautam Roy (Chairman)
2 Jammu & Kashmir Cricket Association
3 Andhra CA
4 Jharkhand State CA
5 Mumbai CA
6 Vidarbha CA
7 Anurag Thakur (Hon.secretary/convenor)
Technical
1 Anil Kumble (Chairman)
2 Krishnamoorthy Hooda (Haryana North)
3 Sudhakar Rao (KSCA South)
4 Amol Das (Assam East)
5 Yudhvir Singh (UPCA Central)
6 Pandurang Salgaonkar (Maharashtra West)
7 Sandeep Patil (Chairman Selection Committee)
8 Debashish Mohanty (former Test cricketer)
9 V.K. Ramaswamy (former Test umpire)
10 Anurag Thakur (Hon. secretary/convenor)
Tour, Programme & Fixtures
1 G. Gangaraju (chairman)
2 Sunil Jain (DDCA North)
3 Vinay Mrutanjay (KSCA South)
4 Satya Mohanty (Odisha East)
5 Niranjan Shah (Saurashtra West)
6 Prashant Mehta (MPCA Central)
7 Anurag Thakur (Hon. secretary/convenor)
Finance
1 Jyotiraditya Scindia (Chairman)
2 Arun Thakur (HPCA North)
3 Vilas Desai (Goa South)
4 Biswarup Dey (CAB East)
5 Jay Shah (Gujarat West)
6 Kishore Dewani (VCA Central)
7 Anirudh Chaudhary (Hon. Treasurer/convenor)
Junior Cricket
1 C.K. Khanna (Chairman)
2 Imtiyaz Zargar (JKCA North)
3 T.N.Ananthanarayana (Kerala South)
4 Habul Bhattacharya (Tripura East)
5 Abhay Palkar (Baroda West)
6 Narendra Menon (MPCA Central)
7 Amitabh Choudhary (Jt. secretary.convenor)
Umpires sub-committee
1 T.C.Mathew (Chairman)
2 G.S.Walia (PCA North)
3 R.I.Palani (TNCA South)
4 Rajesh Verma (JSCA East)
5 Nitin Dalal (Mumbai West)
6 Shoeb Ahmed (UPCA Central)
7 S.Venkataraghavan (Director)
8 K. Hariharan (Former Test umpire)
9 Amitabh Choudhary (Jt secretary/convenor)