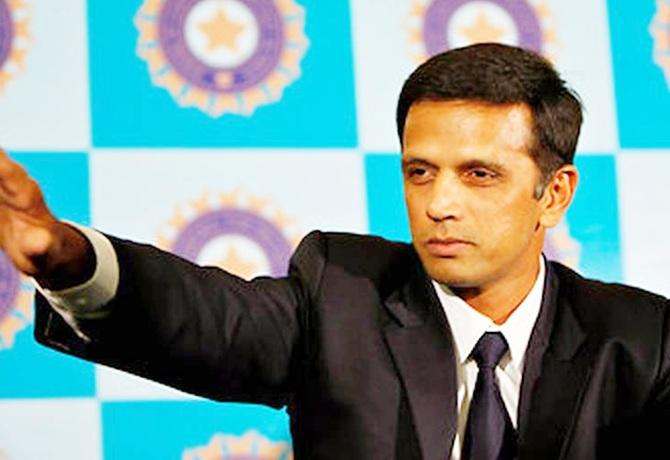 IMAGE: Former India captain Rahul Dravid. Photograph: PTI.
The 'Wall' Rahul Dravid turned 45 on Thursday and a stream of birthday wishes poured in for the true gentleman of Indian cricket.
Obviously, Twitter was abuzz and #HappyBirthdayDravid was the top trending topic.
From Sachin Tendulkar to Harbhajan Singh and VVS Laxman, Dravid was inundated with messages on the micro-blogging site.
"There might be many strong walls around us but the greatest yet is the one and only, #RahulDravid. Happy birthday, Jammy! My best wishes for the U-19 World Cup. #HappyBirthdayDravid," tweeted Tendulkar.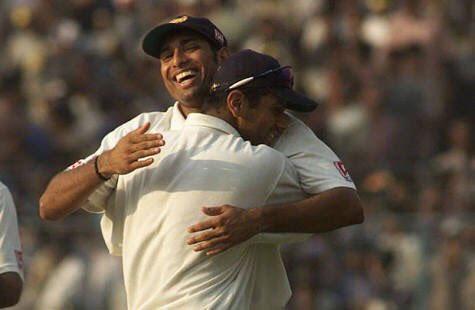 IMAGE: VVS Laxman posted this picture on his Twitter handle along with the birthday wish. Photograph: Kind courtesy, VVS Laxman/Twitter
Among Dravid's younger teammates Suresh Raina posted: "Happy birthday, Rahul Bhai. A thorough gentleman who taught us the meaning of commitment and sacrifices. Getting my ODI and Test caps from you will always hold a special place in my heart. Hope the boys make you proud in the upcoming U-19 World Cup. #HappyBirthdayDravid."
The Bangalorean maestro's favourite batting partner VVS Laxman also put out a warm aww-inducing message on his Twitter handle.
"Friendship isn't about being inseparable but knowing and realising that inspite of not meeting regularly nothing will change. Wishing the very best to a dear friend, Rahul with whom I have shared some great memories #HappyBirthdayDravid," Laxman wrote.
Rohit Sharma, who came into the India fold in the latter part of Dravid's career also tweeted his birthday greeting: "Birthday wishes Rahul Bhai hope you have a terrific year & best wishes for the under -19 World Cup, boys couldn't ask for a better man at the helm #HappyBirthdayDravid."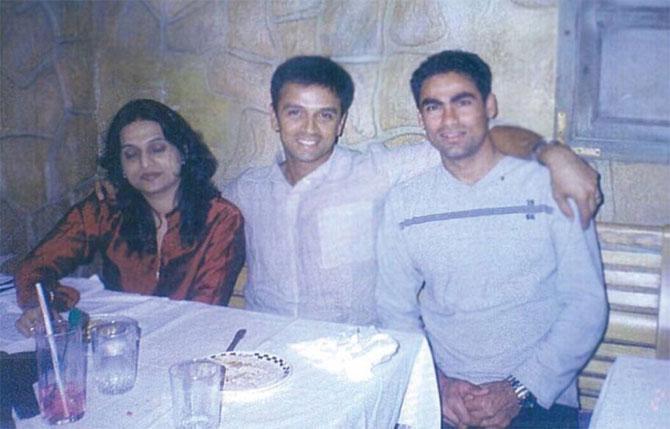 IMAGE: Mohammad Kaif posted this throwback photograph. Photograph: Kind courtesy, Mohammad Kaif/Twitter
Mohammad Kaif, who was Dravid's teammate in the early 2000s also took the time to post his birthday wish with a picture.
"One of the legends of the game, an inspiration as much off the field as on the field and a man who taught me so much, #HappyBirthdayDravid," Kaif wrote.
Dravid's Rajasthan Royals teammate and ward, Ajinkya Rahane also keyed in a few words: "I've always looked up to Rahul Bhai, not only for his cricket achievements but also for the way he leads his life with simplicity and utmost dignity," he wrote.
But Harbhajan Singh posted a wish in his own inimitable manner – with a song.
"Wishing a very happy birthday to the Great Wall of India.. #RahulDravid what a player..a song from Bollywood I wanna dedicate to u is NA KOI HAI NA KOI THA.....CRICKET MAI TUMHARE JAISA.. Class apart, outstanding batting skills and slip catcher," he tweeted.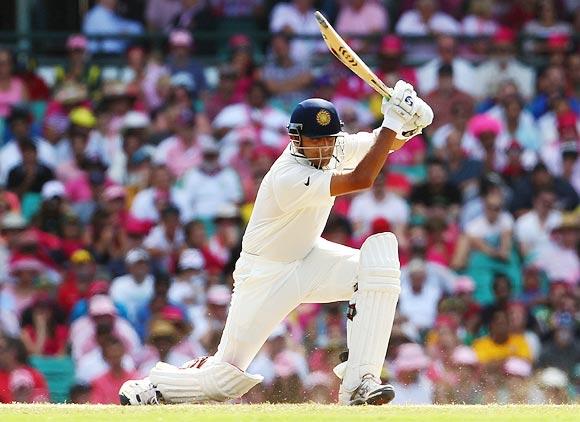 IMAGE: Rahul Dravid. Photograph: Getty Images
Extending their warm wishes to Dravid, was also the Board of Control for Cricket in India (BCCI).
"Commitment, Consistency, Class. Here's wishing a very Happy Birthday to Former #TeamIndia Skipper Rahul Dravid #HappyBirthdayDravid," the board said.
The International Cricket Council (ICC) too wished the batting great a very `Happy Birthday`.
"13,288 Test runs, 10,889 ODI runs, 48 international centuries, 1 legendary career..Happy Birthday Rahul Dravid!..," the world's cricket governing body tweeted.
"He was coach of the India side that reached the #U19CWC Final in 2016, and Rahul Dravid believes the class of 2018 can do just as well," the ICC added.