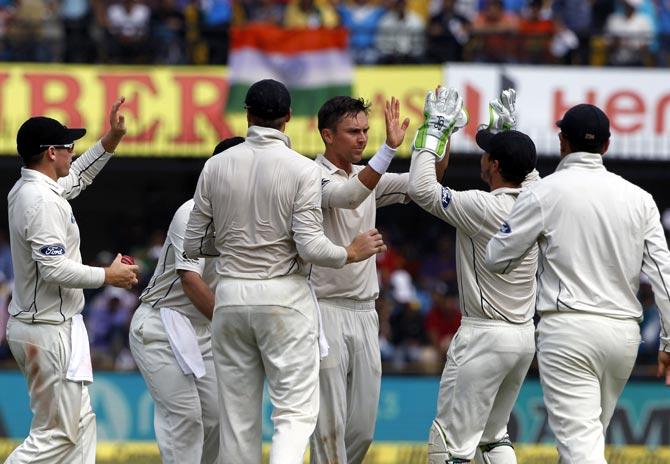 India might have taken an upper hand after the first day's play in the third Test, but New Zealand all-rounder Jimmy Neesham feels that his team can bounce back by grabbing some quick wickets on Sunday.
India finished the opening day of the final Test at a commanding 267 for three with captain Virat Kohli unbeaten on 103, the first ton from either side in the rubber, and Ajinkya Rahane on 79.
"Keeping the run rate below three was a good achievement. Couple of quick wickets tomorrow and we are still in the game," said Neesham at the post match press conference in Indore.
Neesham insisted that there was little that the Kiwi bowlers could have done differently today with there being little movement available off the track.
"I don't know if we could have done it a whole lot different with the ball. We stuck at it well. It was tough work for the seamers. There was not a lot of bounce or lateral movement. If you can't get the ball reverse swinging, it's difficult with their quality batsmen," Neesham said.
"We started a touch loose but over the day we kept a lid on the run rate but Ajinkya and Virat batted well for most of the second half of day. India's honours in the end.
"It was a bit cooler than the first two Tests, so better from a hydration point of view. There wasn't a whole lot of lateral movement, so hard to get guys out. Hopefully spinners can get more out of it as it starts to break up," he added.
It was Neesham who aimed and hit the non-striker's end stumps when Kohli scampered for a single when on 99 to complete his 13th Test hundred.
Asked about it and the Kiwi all-rounder, who did not play in the first two Tests, said, "I, at that point, was pretty confident he would run to get it as quickly. I took a couple of steps in but Virat made the ground quite comfortably. But it was fair enough the umpires checked upstairs. Bat could've bounced."
He praised Rahane for weathering some short ball attack, which was aimed at him from the Kiwi pace bowlers.
"We had a short ball plan for Ajinkya, more so than Virat. He's looked a bit uncomfortable there, which piqued our interest. He managed to tough it out and get through and that's the sign of a quality Test batsman."
Image: New Zealand's players celebrate the wicket of Gautam Gambhir
Photograph: BCCI