Cheteshwar Pujara will take it step by step to reclaim his lost berth in the Indian squad, focusing on helping Saurashtra qualify for the One-day Inter-Zonals, for the Vijay Hazare Trophy.
"First thing is the (West Zone) Ranji One-dayers that we are playing. We want to qualify for the knock-out. Then there's IPL; I want to do well in the T20 format as well.
After that, there is a Test series, I think, in India. I want to be part of the Indian cricket team again and I am looking forward to be part of the team," Pujara said.
The 24-year-old middle order batsman, a prolific scorer over the last few seasons in first class cricket, in which he has over 4,300 runs and a triple ton to his name, tore his right knee ligament during last year's IPL, playing for Royal Challengers Bangalore, and was out of action for five months after undergoing surgery in London.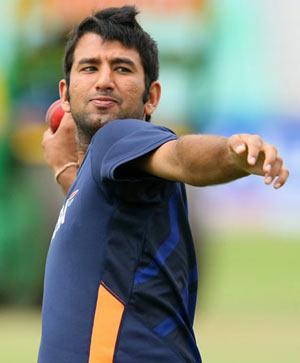 "It [injury] was very disappointing. I was out when I was in form. I was scoring well and part of the Indian cricket team. Unfortunately, I got injured. I was out of action and out of the Indian team as well. It took long to recover. The injury was such that I had to undergo surgery and the recovery period was 4-6 months. I recovered in five months.
"I have completely recovered from the injury. There's no issue with injury. It was a ligament tear from which I have now completely recovered. I did my rehab at Bangalore (National Cricket Academy)," said the Rajkot-born right-hander, ahead of Saurashtra's second game in the West Zone One-dayers against Mumbai on Saturday.
Asked whether the IPL, commencing on April 4, has assumed added value with the World T20 Championships following in September-October, Pujara said the cash-rich League was important whether any international T20 tournament is scheduled later or not.
"Obviously, IPL is always important, whether there are any tournaments coming up (T20 format) or not. It's been a pleasure playing for your own franchisee and competing with international cricketers and playing against the likes of Morne Morkel or Muttiah Muralitharan or Shane Warne," the batsman said.
"Warne, for example, has retired from international cricket, but he was part of IPL. You have got to play against those kind of bowlers, which you cannot hope for when you are not playing international cricket. IPL is very good for youngsters also," he elaborated.
Looking ahead in the West Zone One-dayers, Pujara felt that the game against table-toppers and hosts Mumbai on Saturday would be crucial to their chances of entering the knock-out rounds.
"Tomorrow's game against Mumbai (at the Wankhede stadium) is crucial. If we can win it, we have a bright chance to enter the knock out round," he said.
Saurashtra had made a brave, but valiant, attempt in their tournament opener against Maharashtra and fell short by just two runs after chasing an imposing target of 311. Pujara scored only 17 in the unsuccessful run-chase.
Mumbai, on the other hand, are sitting pretty in the round-robin, having won their first two games against Baroda and Gujarat ahead of their third clash against Saurashtra in the five-team zonals.