He has not played since India's opening Test against England at Lord's in July -- when he broke down having bowled only 13.3 overs.
He did try to make a comeback during India's tour game against Northamptonshire but the effort ended in failure.
Zaheer Khan has been out of action for the last three to four months. However, he is expected to make the cut in the provisional squad for the tour of Australia.
- Tale of Zaheer Khan's injury woes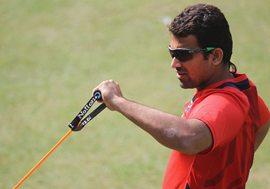 The 33-year-old is likely to play in Mumbai's next two Ranji games -- against Orissa at Cuttack later this month and Saurashtra at Rajkot next month. The selectors will monitor his progress in these two games before taking a final call.
While sources confirm the left-arm quick is making good recovery, his teammates also vouch for the same.
"He is making brilliant progress," confirmed VVS Laxman, when quizzed about Zaheer's fitness.
"I was talking to the physio and he said his recovery is one week to 10 days ahead of schedule," continued Laxman, adding, "Zaheer has been really working hard.
"And if you see he has lost a lot of weight. I think that's a good sign."
The veteran bowler has been seen bowling at Team India's nets despite not being part of the squad. With the selectors picking the squad for Down Under in five days' time, Zaheer inclusion will definitely be crucial to the team's fortunes.
Everyone, from the selectors to his teammates, are aware of the role he could play in the upcoming series. No wonder they expect him to recover fast and make the cut.
"He is keyed up to do well in Australia," explained Laxman.
"All of us know the importance of him being in the side. It's a good sign that he bowled in the nets," he added.
As things stand, Zaheer seems to be on the right track and should be part of the Indian team that leaves for Down Under on December 13.