'Batting at number five, six or seven doesn't change my mentality. It's a case of just go out and try and score as many runs as possible'
'Combining with my keeping, it has been a pleasing aspect for the two to be combined all the way throughout the year'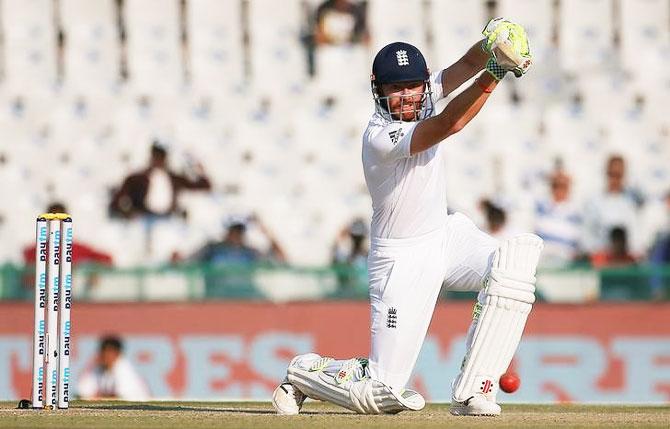 IMAGE: England's Jonny Bairstow plays a classic cover drive en route his half century on Day 1 of the 3rd Test against India in Mohali on Saturday. Photograph: Adnan Abidi/Reuters
Circumstances conspired to push Jonny Bairstow up England's batting order in the third Test against India and the 27-year-old believes he repaid the faith with a composed knock of 89 to rescue his team after a poor start on Saturday.
- Mohali Test: Bairstow's defiance takes sloppy England to 268 for 8
- PHOTOS: Bowlers give India edge despite Bairstow's 89
Bairstow's cultured innings stood out in an otherwise woeful batting exhibition from England's top order which nullified the advantage of winning a good toss at the Punjab Cricket Association Stadium.
At least five batsmen, including skipper Alastair Cook, were guilty of poor shot selection and it could have been even more embarrassing for England but for the 50-plus partnerships Bairstow forged with Ben Stokes and Jos Buttler.
"After winning the toss, it was disappointing to lose the wickets that we have," Bairstow said after what he described as a "scrappy" opening day of the third Test.
"At the same time it could have been a disastrous day as well. It could have been something if we didn't knuckle down and work hard through the last bit of the morning session, the afternoon session and the evening session. We could have been bowling tonight."
With Buttler replacing the struggling Ben Duckett, England had to rejig their batting order, promoting Moeen Ali and Bairstow to numbers four and five.
While Moeen failed justify his move up, Bairstow did not let down his team who are 1-0 down in the five-match series.
"I don't really mind where I bat. It's not really something that plays on my mind," said the ginger-haired wicketkeeper.
"It's quite pleasing to be batting at five, because I feel I'm in good form.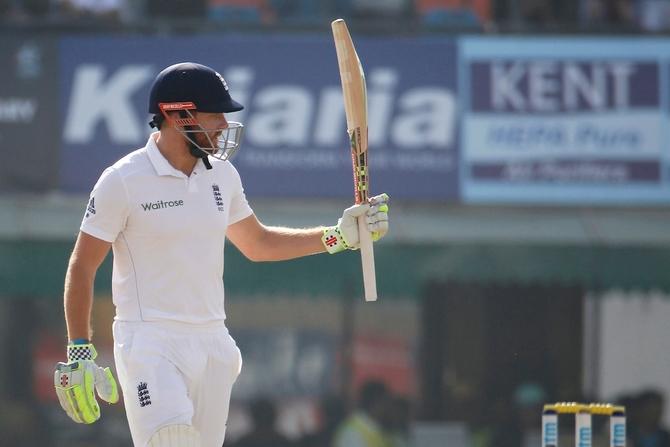 IMAGE: England's Jonny Bairstow celebrates on completing his half-century against India on Day 1 of the 3rd Test in Mohali on Saturday. Photograph: BCCI
"The confidence that captain showed in me to bat me at five, along with the coach and rest of the side, is really good and I'd like to think that I repaid them today with the faith they put in me.
"Batting at number five, six or seven doesn't change my mentality. It's a case of just go out and try and score as many runs as possible."
England's most prolific batsman through the past year has been Bairstow with more than 1300 plus runs in the longest format.
Bairstow did not hide his happiness at having been successful with the willow but said that there is nothing special except for devising a method to score runs irrespective of whether it is against Australia, South Africa or India.
"I think scoring runs at any point throughout the year has been pleasing for me. Combining with my keeping, it has been a pleasing aspect for the two to be combined all the way throughout the year. I didn't see it as a change, obviously batting at No 5, it was not a change in mentality for me going out there at number five rather than No 7."
Talk about his amazing consistency, Bairstow remains modest.
"I can't really put a finger on it to be honest with you. Obviously, comparing the conditions to South Africa at the start of the year to England, throughout the summer, to Bangladesh, to here -- they were all very different. I think it is just finding a method. Finding a way and finding a mindset of scoring runs. Trying to stay out there for as long as possible and yeah I was really cheesed off to get out like that."
Off-spinner Jayant Yadav ended Bairstow's four-hour vigil by trapping him lbw and the batsman did not hide his disappointment at being unable to see through the day.
"That hurt me pretty bad to get out like that, because I thought I played quite nicely all through the day," Bairstow said.