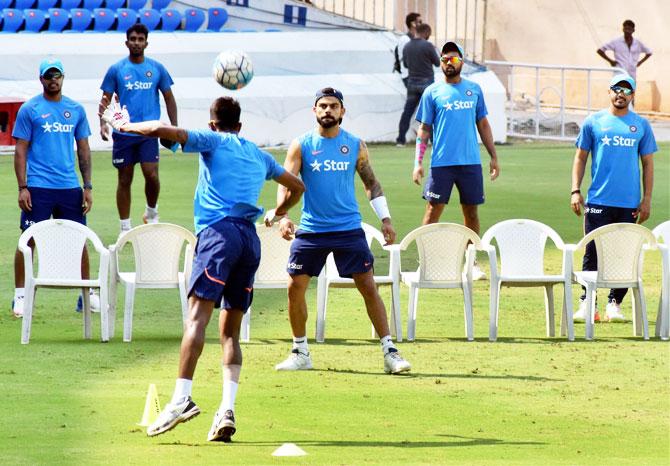 IMAGE: India captain Virat Kohli and teammates get into soccer mode at a practice session in Hyderabad on Tuesday. Photograph: BCCI
Spoilt for choice with a pool of top quality performers in their ranks, formidable India are overwhelming favourites against minnows Bangladesh in a proverbial 'David vs Goliath' one-off cricket Test that starts in Hyderabad on Thursday.
On paper, it is a lop-sided battle with the world number one taking on the ninth ranked side, but in this game of glorious uncertainties, rankings don't matter much.
For Bangladesh, it is a historic moment as they are playing a Test match on Indian soil for the first time but for the hosts, it will be more about maintaining the momentum they have acquired by winning seven out of the eight matches against comparatively better sides like New Zealand and England.
But when it comes to playing the game wearing whites flannels, Bangladesh have not been able to replicate their ODI performances.
That they managed to lose a match against New Zealand last month, after scoring nearly 550 in the first innings, shows that even after 16 years of playing the oldest format of the game, Bangladesh have not been able to decode the winning formula.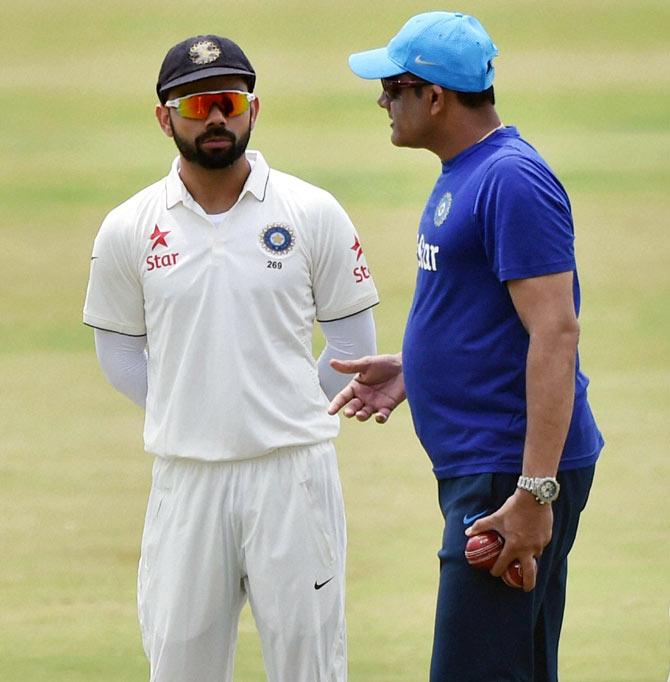 IMAGE: India's Test skipper Virat Kohli, left, with coach Anil Kumble during a training session. Photograph: PTI
The last time India played Bangladesh in a one-off Test at Fatullah, Rain Gods came to the rescue of the ' Bangla Tigers'.
Worse, they don't have a bowler of Mustafizur Rahaman's calibre in the team, someone who knew this ground well enough.
All these statistical nuggets make India runaway favourites, and they will be aiming to close the deal within four days.
The Indian team does have its share of 'happy problems' as they have a number of players who can walk into the Playing XI, but skipper Virat Kohli and coach Anil Kumble will have to tread the tricky path.
Comeback man Abhinav Mukund will have to wait his turn as the two regular openers in Murali Vijay and Shikhar Dhawan are set to open the innings.
While the top four batsmen – KL Rahul, Murali Vijay, Cheteshwar Pujara and the captain himself are automatic selections, the lower middle order is a tricky proposition for the hosts.
Having achieved the distinction of being only the second Test triple centurion from India, Karun Nair has earned his stripes, but will have to pave the way for Ajinkya Rahane in the playing XI.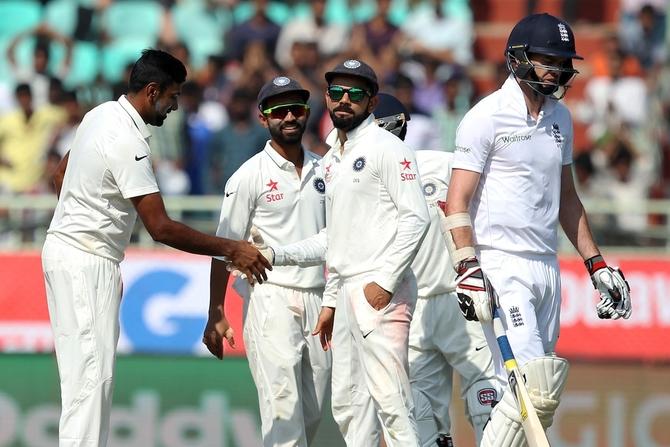 IMAGE: Ravichandran Ashwin celebrates his five-wicket haul after dismissing James Anderson during the recently-concludes Test series against England. Photograph: BCCI
Kohli made it clear in the pre-match press conference that Rahane, at whose expense Nair was picked to play the final Test against England after the former suffered an injury, is their preferred choice.
Rahane is a quality player and Kohli is known to back players to the hilt on whose abilities he has complete belief.
With Rahane in and Nair out, India will have five frontline bowlers at their disposal, in tune with Kohli's attacking captaincy.
With the world's premier off-spinner Ravichandran Ashwin two short of becoming the fastest ever to reach 250 wickets and the deadly accurate Ravindra Jadeja for company, the likes of Tamim Iqbal, Soumya Sarkar or Mahmuddlah Riyadh won't exactly find any easy pickings.
In fact, the last time in Fatullah none of the Bangladeshi batsmen were able to read Ashwin. Not to forget the lively pace of Umesh Yadav and disconcerting bounce generated by Ishant Sharma.
The interesting part about India's home Tests this season has been that whether it is by choice or design, Kohli have had to change his playing XI most of the times.
IMAGE: Indian skipper Virat Kohli has been in good form and could prove lethal against the Bangladesh bowlers. Photograph: BCCI
The India XI will feature some forced changes -- Wriddhiman Saha will be back behind the stumps replacing Parthiv Patel while Amit Mishra, who was in the playing in Chennai, is out with an injury.
His replacement Kuldeep Yadav is an exciting prospect but may have to wait a little longer to get a Test cap. Jayant Yadav, whose steady off-spin and good technique with the willow impressed one and all, is expected to get his place back.
Ishant and Umesh are certainly first choice new ball bowlers even though Bhuvneshwar Kumar, in limited chances, has done his case no harm.
Hardik Pandya gives the option of a seamer all-rounder but he could be considered more as a third seamer when one is playing with the SG Test ball rather than white kookaburra.
For Kohli and his boys, the Test gives them an ideal opportunity to break a few more records against a bowling attack whose only quality international level bowler is Shakib Al Hasan.
Kohli, who has been in rich vein of form in Test cricket, will not mind a substantial score against the likes of Mehdi Hasan Miraz, Shafiul Islam and Taskin Ahmed.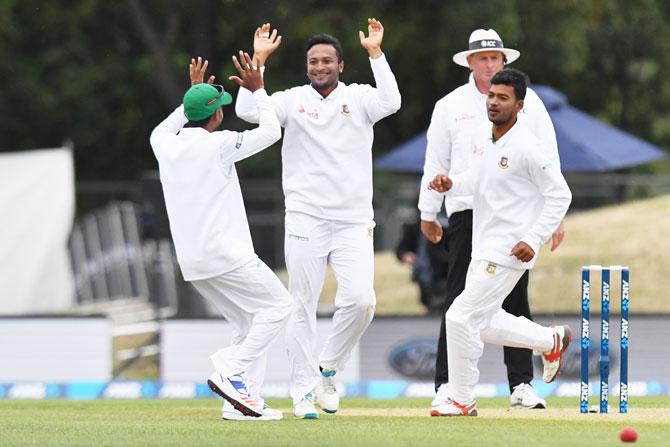 IMAGE: Veteran spinner Shakib-al-Hasan will be a vital cog in Bangladesh's line-up. Photograph: Kai Schwoerer/Getty Images
For the Indian top-order, it will be an opportunity to devour on a bowling attack which is certainly not top grade in terms of Test cricket.
KL Rahul would like to carry forward from his 199 in the final Test against England in Chennai. Murali Vijay will also be itching to bat against a bowling attack against which he had feasted on the last time, making 150. Not to forget that Vijay has a special fondness for this particular venue.
The last time he played a Test here back in 2013, he recorded his personal best score of 167 against Australia.
Pujara is an incredibly difficult batsman to bowl to on Indian pitches and if he crosses the 50-run mark, the only way possible to get him out is to wait for a mistake on the batsman's part. Bangladesh's strength will be their spinners Shakib Al Hasan and young Miraz, who made an impression against England on home soil.
But Miraz's real test will be against the likes of Vijay, Pujara and Kohli -- three brilliant players of spin bowling, especially Vijay, who can take on the spinners anytime, anywhere.
Teams (from):
India: Virat Kohli (captain), KL Rahul, Murali Vijay, Cheteshwar Pujara, Karun Nair, Ajinkya Rahane, Wriddhiman Saha (wk), Ravichandran Ashwin, Ravindra Jadeja, Ishant Sharma, Umesh Yadav, Jayant Yadav, Bhuvneshwar Kumar, Hardik Pandya, Abhinav Mukund, Kuldeep Yadav.
Bangladesh: Mushfiqur Rahim (captain/wk), Tamim Iqbal, Soumya Sarkar, Mahmudullah Riyadh, Mominul Haque, Sabbir Rahaman, Shakib al Hasan, Liton Das, Taskin Ahmed, Mehedi Hasan Miraz, Mosaddek Hosain, Kamrul Islam Rabbi, Subhasish Roy, Taijul Islam, Shafiul Islam.
Match starts at 9:30 IST.