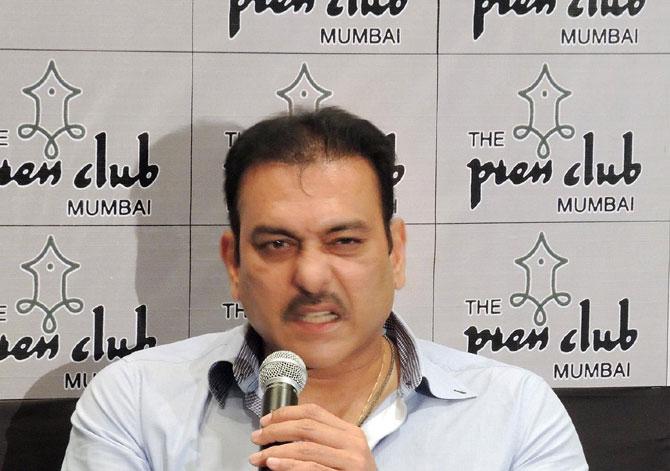 Ravi Shastri, Director of Cricket for the Indian team, during a media meet at the Mumbai Press Club.
India's team director Ravi Shastri has agreed with former captain Rahul Dravid's views on not having too many bilateral One-Day International and T20 matches, saying there should be more emphasis on the World Cup for the limited-overs' formats of the game.
"If you look at cricket per se, if you didn't have T20 cricket, I would say Test cricket will die. People don't realise. You just play Test cricket and don't play One-day cricket and T20 cricket, you speak to me after 10 years. The economics will just not allow the game to survive," opined Shastri, during an interaction at the Mumbai Press Club, on Monday.
- Shastri determined to get 'class act' Raina back in Test team
He added, "You need that injection by way of T20 cricket. Now how you distribute the formats, how you balance it up, is there any need for bilateral T20? I don't think so.
"I don't think there is any need for bilateral T20 cricket and these one-off matches. You want One-day cricket, play it; but even that can be reduced. You don't have to play five One-day matches series. Keep the emphasis on World Cups both in the T20 and 50-over format and then let your domestic competitions thrive."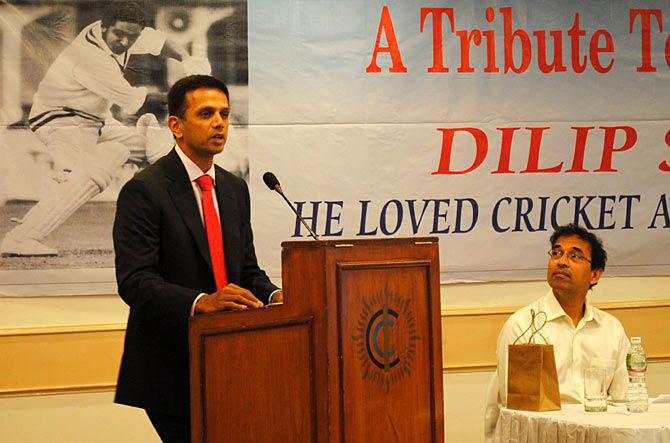 Rahul Dravid speaks at the Dilip Sardesai memorial lecture. Photograph: Reuben NV/Rediff.com
Dravid, during the Dilip Sardesai memorial lecture last month, had said, 'I think one-day cricket is seriously struggling.
'One-day cricket, without a context, is struggling. One-day cricket, if you look at it from the point of view of Champions Trophy or the World Cup, is relevant. I think all the other One-day cricket should actually be driven towards playing Champions Trophy and World Cup. I think there are meaningless One-dayers and too many can actually be a problem.'
Shastri also felt that teams should play three-Test series instead of four or five.
"I believe that there should be only three Tests. With the amount of these things that is taking place you will find that once you go for five-Test match series, 80-90 per cent of the time the home team will win and you will see teams going straight down after the third match.
"You saw what happened during England in Australia in the Ashes. I am a firm believer that in future just keep all Test series to three, because imagine a side coming to India and they are three zip down after three Test matches. How much interest is there?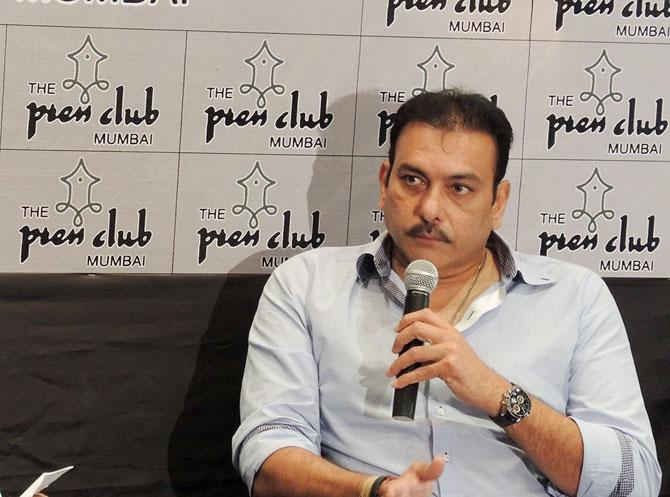 Ravi Shastri, Director of Cricket for the Indian team during a media-meet at the Mumbai Press Club. Photograph: BCCI
I am looking at a bigger picture, I am looking at the crowd sitting and watching, I am looking at television rating, I am looking at the way the game is going to the future and how you sustain interest from people who want to watch it and follow. I still think five is too much," he said.
Shastri also felt that it was harsh to criticize India for faring so poorly overseas when none of the other teams, barring South Africa, managed to win away from home.
"You tell me one team that has a good record overseas. I am not protecting India at all. The only one team that travels well abroad is South Africa. If you look at the Australia of 10 years ago or the West Indies of my era. The rest play well at home and they get hammered overseas.
"South Africa is one team that goes to Sri Lanka, comes to India competes, goes to Australia beats them. I don't need any skirt to hide behind to protect this Indian team. They are a young team and what I said, and what I saw in England, I believe in it," he said.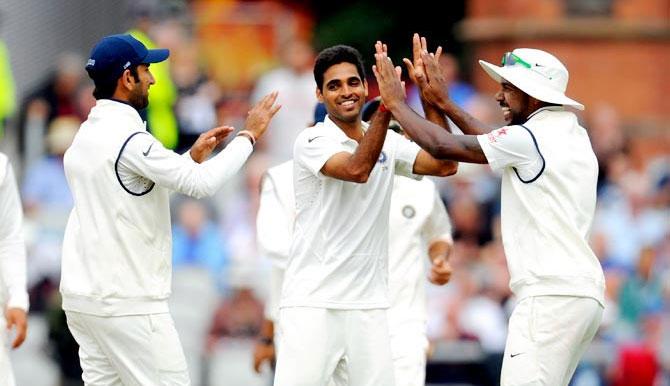 Bhuvneshwar Kumar (centre) is congratulated by team mates after claiming a wicket. Photograph: Stu Forster/Getty Images
Shastri stressed that it is the bowlers who win matches for a side and not batsmen.
"Who are the guys who will get you 20 wickets when you travel overseas. People think its runs. You have 11 players; even if you get 300 or 275 you can't compete if you can't take 20 wickets.
"You could get 500 runs on the board... by the time you are into the second or third Test match, you'll start feeling the heat because the batting will come under the pressure. The opposition will start scoring 500 and 600. You got to think of the future.
"Why does South Africa do well? They have an attack that can take 20 wickets in all conditions. They somehow manage to do it. Even in India, they will get it to reverse. They have the guys who bowl the right lines, catch brilliantly, field well and win. They showed it in Sri Lanka. To beat Sri Lanka in Sri Lanka is not easy. They did that," he observed.