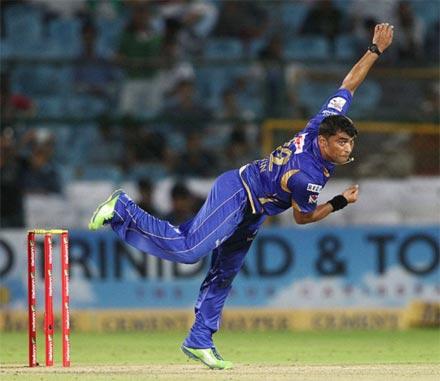 Veteran Rajasthan Royals leg-spinner Praveen Tambe has come under the spotlight after it was learnt that he had played an unsanctioned T20 match in the United States alongside tainted Bangladesh cricketer Mohammed Ashraful, who has been banned on charges of match-fixing.

According to a report published in ESPNCricinfo, the 43-year-old Mumbai bowler and former Bangladesh captain Ashraful represented South Gujarat CC Juniors against Bulls on July 27 in the Lauren Hill Cricket tournament.

Tambe has in fact admitted that he did not take permission from the Mumbai Cricket Association to take part in an unsanctioned tournament.

He is playing in the Liverpool league in England and from there, he travelled to the United States for a break between July 23-31.

"I had no idea it was an official tournament," Tambe was quoted as saying by ESPNCricinfo. "I had just gone there to visit my friends in the US for a week of holidays and I was enjoying. I did not even have a kit with me."

Tambe reportedly said that he played a match for Holmdel CC on July 26 and his friends on the team said they were going to play a practice game the next day.

He went along to play on July 27 and said that only when entering the field did he take notice of Ashraful's presence.

"I was told it was a practice match. When I went to the ground I realised it was Twenty20 match," Tambe said.

"Till I went into the ground and stood at my fielding position I had no clue that he [Ashraful] was also playing. Even my friends did not know. They were told that some other friend had got him."

Mumbai Cricket Association (MCA) joint secretary Dr PV Shetty said that they are aware about the incident and will discuss in their upcoming committee meeting.

"We haven't decided anything in this regard. But the issue will be raised at the committee meeting and I will be able to tell you something only after that," Shetty said.

Ashraful was banned for five years after he was found guilty of involvement in match-fixing in the Bangladesh Premier League in 2013. Right-handed batsman Ashraful, who confessed to match-fixing after being quizzed by ICC anti-corruption officials in June 2013, played 61 Tests and 177 One-Day International matches for Bangladesh.

Bangladesh spinner Elias Sunny and former seam bowler Tapash Baishya also featured in the tournament.
Tambe was in the news recently when it was reported that Mumbai team mate Hiken Shah made him a "corrupt approach." Tambe had immediately reported the matter to his Indian Premier League franchise Rajasthan Royals before the Board of Control for Cricket in India suspended Shah with immediate effect.
© Copyright 2021 PTI. All rights reserved. Republication or redistribution of PTI content, including by framing or similar means, is expressly prohibited without the prior written consent.