As Michael Clarke gets ready to play the final Test of his career, what will be remembered -- like his predecessor Ricky Ponting -- will not be their many triumphs, but the failure to win the Ashes on English soil, says Bikash Mohapatra/Rediff.com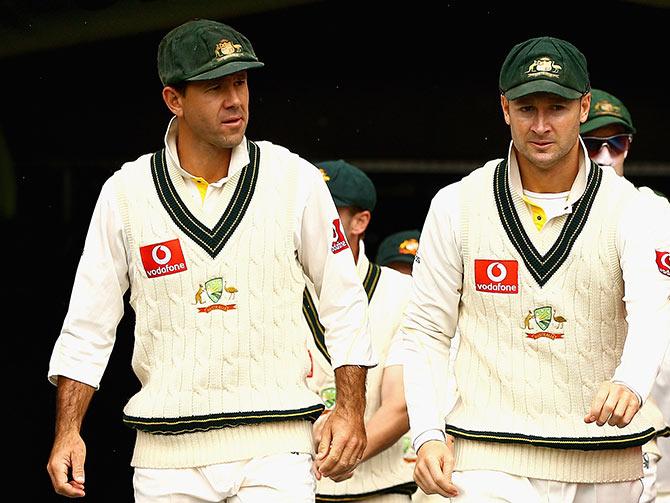 IMAGE: Ricky 'Punter' Ponting and Michael 'Pup' Clarke during an Ashes Test at the Melbourne Cricket Ground. Photograph: Quinn Rooney/Getty Images
'Since I retired I have realised I went on too long. Michael doesn't want to be in the same boat, ' Ricky Ponting told Sky Sports shortly after Michael Clarke, who succeeded him at the helm of Aussie cricket, announced his decision to call time on his career.
No contemporary Aussie player knows the pain of losing the Ashes as much as Ponting, having suffered that ignominy thrice during his career.
Despite his incredible credentials, Punter's captaincy will always be defined by the three lost Ashes series that made him share the unwanted record with Billy Murdoch, who led Australia to defeats in 1880, 1884 and 1890.
Apart from leading Australia to successive Ashes defeats in England (in 2005 and 2009), Punter was also helpless in 2010-2011 when his side lost the urn on home soil for the first time in a quarter of a century.
'I don't remember exactly how I felt that night. I know now it's hard to swallow,' Ponting recalled when asked about his failure to win the urn.
'For me, the leader, the captain, the most experienced player, it's difficult to accept, but just as difficult for the rest of the guys.'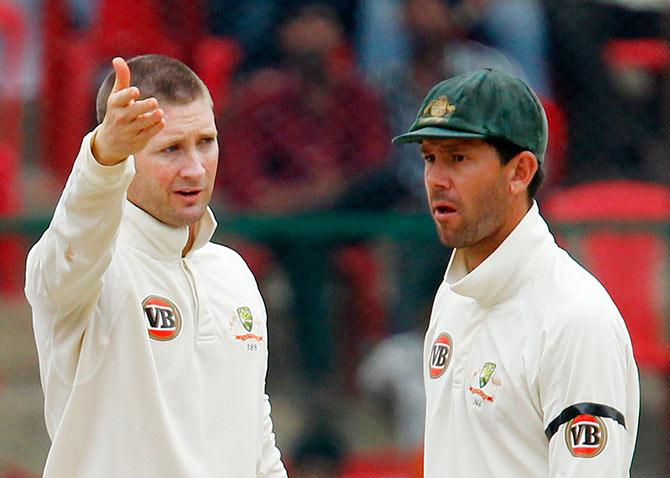 IMAGE: Michael Clarke and Ricky Ponting discuss strategy during a game. Photograph: Andrew Caballero-Reynolds/Reuters
Punter now has company.
After Australia meekly surrendered the Ashes at Trent Bridge, Pup emulated Punter in suffering successive series defeats in England.
Clarke also holds the unenviable record of the most losses in away Tests as Australian captain.
'Test cricket is about the Ashes. We tried our best, I certainly tried my best, but we got outplayed,' Pup said after the Trent Bridge Test.
While their records as captain can't be compared -- statistically, Ponting is leagues ahead -- there are parallels nonetheless.
Having suffered defeats on English soil in their first Ashes series as captain, both Punter and Pup supervised 5-0 whitewashes of England in subsequent series Down Under.
Ponting's final Test series as a player ended in defeat, with South Africa sealing a rare win in Australia (2012-2013).
Ditto for Clarke, who will play his 115th and final Test at The Oval.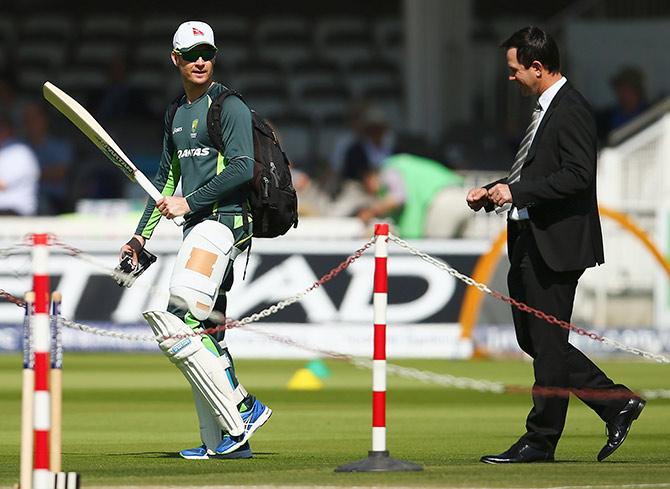 IMAGE: Pup and Punter before the Lord's Test in July. Photograph: Ryan Pierse/Getty Images
Ponting failed as a batsman in his final series, scoring just 32 runs in three Tests (@6.40).
Clarke has scored just 117 in four Tests in England (@16.71) and barring a surprise return to form at The Oval, this series is a definite failure for the classy batsman.
There's hint of irony in the two retirements.
Ponting bid the game farewell after he failed to regain the urn and also relinquished the one-day World Cup which the Aussies had won twice under his leadership (2003 and 2007).
Clarke led Australia to a World Cup win in March, but just months later, lost the Ashes.