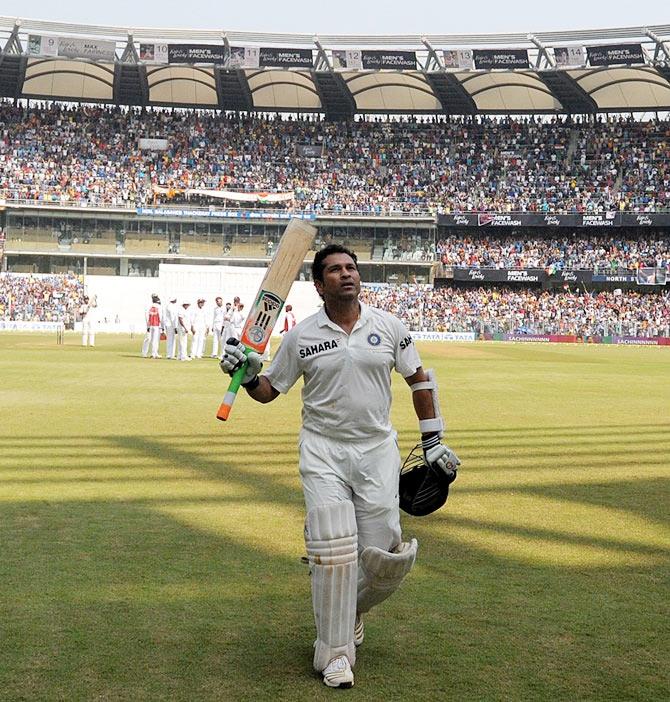 Sachin Tendulkar. Photograph: BCCI
'Tendulkar used the bottomless power he possessed and was a master puppeteer'
'Those who know Tendulkar well used to say that Tendulkar loved McEnroe's brain explosions because that was how he sometimes felt himself but he was never bold enough to reveal his inner self to the world.'
Former India captain Sachin Tendulkar was slammed by an Australian journalist for the contents of his autobiography that "opened fire on Greg Chappell allegedly trying to undermine Rahul Dravid" and alleging Adam Gilchrist of having double standards.
In a tirade published on foxsports.com.au Robert Craddock termed Tendulkar as "a highly political animal, a dangerous enemy who knew the bottomless power he possessed and used it shamelessly -- and secretly -- like a master puppeteer when it suited his team's cause".
Buy the Book Right Here on Rediff
"Tendulkar's saintly public image was always the sum of how he looked, what he said and how he said it. With a sweet, handsome face and smile that would melt a concrete slab, he always looked more lamb than lion as a man despite his great batting feats," Craddock wrote.
"Align that to his boyish, high-pitched voice that always sounded so inoffensive and the fact that he barely expressed a strong opinion about any cricket matter in his 25-year career you might have Sachin neatly categorised as the choir boy who wandered on to a cricket field and decided to stay.
"But when his autobiography was released worldwide on Thursday the choir boy ripped open his robes and pulled a loaded gun from a holster. Tendulkar opened fire on Greg Chappell for allegedly trying to undermine Rahul Dravid; Michael Clarke and Ricky Ponting for appealing for a catch that wasn't out; Adam Gilchrist for having double standards; Ian Chappell for urging him to retire and Australia in general for the Monkeygate scandal," Craddock wrote.
'Shame he could not unleash his best punches when his opponents were in the ring with him'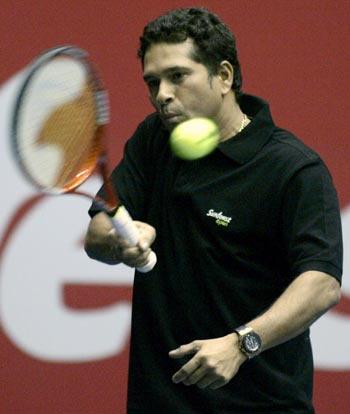 Sachin Tendulkar. Photograph: Reuters
Craddock also questioned Tendulkar's silence on all the issues he faced in his playing days.
"He spent his international career saying next to nothing about anyone, creating as few problems as he could for himself and just went about batting ... batting ... and batting. And then, when safely set up with pipe and slippers in retirement and with his key adversaries nowhere to be seen ... kapow! But there is a sense of hollowness about his words. Shame he could not have unleashed his best punches when his opponents were in the ring with him."
Craddock also came down heavily on the legend for leading the rebellion during the Monketgate row.
"Far more significantly than all of these, he owned up to leading the rebellion which had his team insisting they should fly home if a suspension against Harbhajan Singh over the Monkeygate affair was not quashed (which it was). This from a nation so outraged when the West Indies recently abandoned a tour of India."
The writer also pointed out how a mild-mannered person like Tendulkar would have American tennis great John McEnroe for an idol.
"It always sat oddly that Tendulkar's lifelong hero is John McEnroe. But those who know Tendulkar well used to say that Tendulkar loved McEnroe's brain explosions because that was how he sometimes felt himself but he was never bold enough to reveal his inner self to the world.
Now he has done so. We may never think of him as kindly again but as least we got to meet the real man," he concluded.