'I humbly request Kumar Sangakkara to render his service to the country for another one year'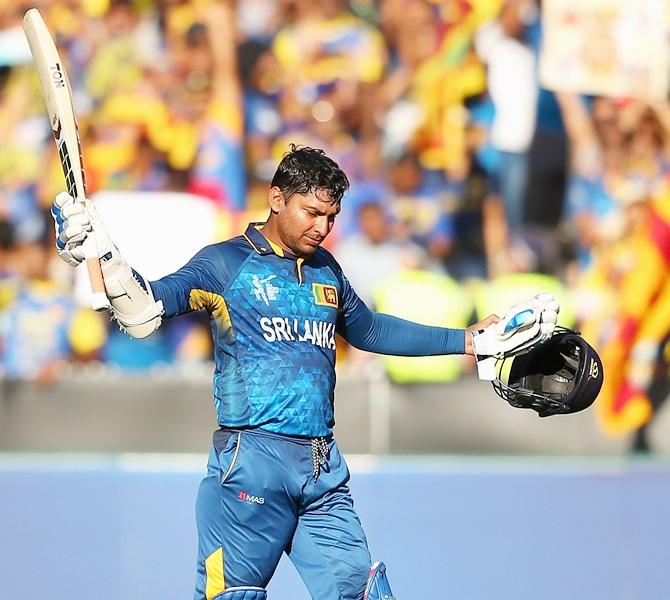 Kumar Sangakkara of Sri Lanka celebrates reaching his century during the World Cup. Photograph: Quinn Rooney/Getty Images
Sri Lanka's Kumar Sangakkara should reconsider his decision to retire from limited overs cricket and continue for another year, the country's sports minister said on Wednesday.
Sangakkara bid farewell to the one-day game on March 18, disappointed with a World Cup quarter-final defeat and saying that he was happy Sri Lanka were in a better place than when he came into the side in 2000.
"At this moment as the sports minister, I humbly request Kumar Sangakkara to render his service to the country for another one year period," Navin Dissanayake told reporters after appointing a new interim body to run the sport headed by former Test cricketer Sidath Wettimuny.
"I spoke to him when I was in New Zealand. He was very disappointed about what was happening here. But now I think he might change his mind if Sidath talks to him."
Sangakkara, the elegant lefthander scored 45 runs against South Africa to take his last World Cup tournament tally to 541, including a record four successive centuries.
The 37-year-old, who will continue playing tests, has accumulated 14,234 one-day runs -- second only to Indian great Sachin Tendulkar -- and the greatest number of dismissals by a wicketkeeper.
Sangakkara will play for English county side Surrey this season.