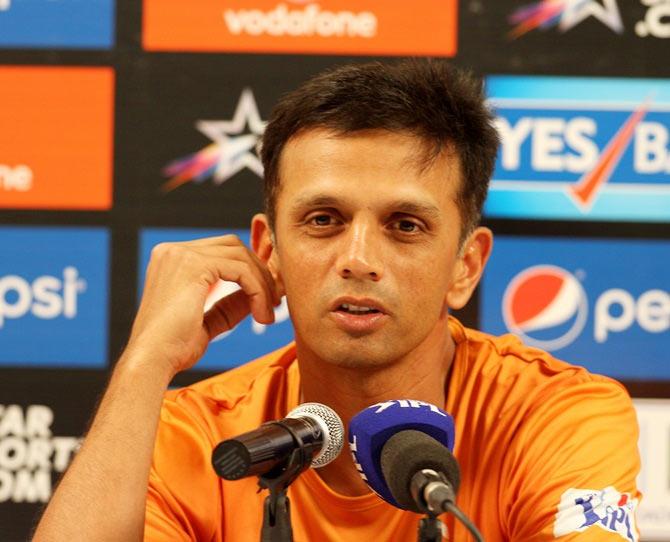 Rahul Dravid. Photograph: BCCI
Former England batsman Kevin Pietersen struggled to get along with coaches of his own team most of his playing career and his quest for a "genuine guru" ended in faraway India where former captain Rahul Dravid made a lasting impact on his technique.
In his autobiography KP released in London earlier this week, Pietersen refers repeatedly to an e-mail the Indian batting legend wrote to him about playing spinners which made a massive difference to him.
"Rahul was a great and heroic Indian batsman in his day. He is also a genius at dealing with spin bowlers. Our conversations and emails were a private masterclass from a genuine guru," Pietersen writes in the book.
"Rahul improved my cricket and helped me develop the way I think about the game. His generosity will stay with me always."
In the email quoted by Pietersen, Dravid refers to him as a "champ" and goes on to give him a pep talk: 'KP, you are a really good player, you need to watch the ball and trust yourself... Don't let anyone tell you that you can't play spin, I have seen you and you can!'
Pietersen wrote that he often reads this particular email and it brings a smile to his face.
"My playing of spin has gone up a number of levels since I've spent time in the IPL, and in particular, since I've spoken to Rahul Dravid...In England, batsmen get taught to play with the spin against spin bowlers. In India, the best players of spin get taught to play against it," he adds.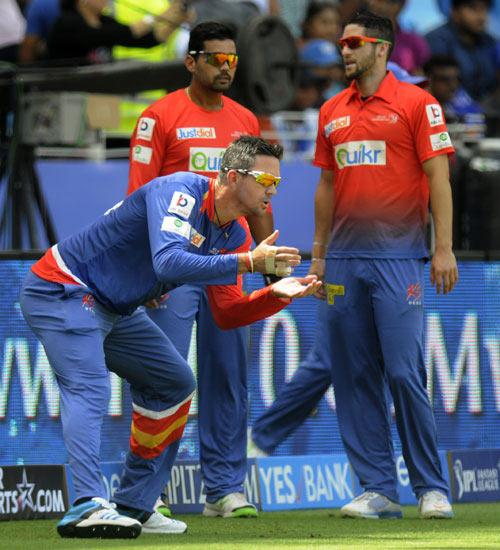 Kevin Pietersen with the Delhi Daredevils players during a practice session. Photograph: BCCI
The South African-born cricketer has created a stir among the England cricket establishment with claims of bullying within the English dressing room, led by the then coach Andy Flower.
It has led to England captain Alastair Cook accusing him of tarnishing a successful era for the squad.
In his autobiography, Pietersen is outspoken about the unfriendliness of his teammates and is all praise for the Indian Premier League (IPL) for the "adrenalin rush".
"The IPL is the future... I could talk about money and the IPL all day to you, but for the friendships alone I would play for free," says the Delhi Daredevils player.
"I've built all my relationships with foreign cricketers while in the IPL. That doesn't help in the England dressing room... there are not many of those friendships," he adds.
Pietersen also claims the general culture towards the game of cricket is better in the sub-continent and describes Indian players as "free spirits" who truly love cricket.
"There is a culture in India that appreciates if you double down and go for the big shot. It's a game of cricket, not economics. Not life or death. Take a risk. IPL crowds don't want to see you batting out singles as you pick and choose which balls to hit. Life is too short," he writes.
Pietersen's England team career effectively ended in February this year when his central contract with the England and Wales Cricket Board (ECB) was terminated.
In the book, he expresses a desire to return to Test cricket and says he would "jump at the chance" to play for England again.
But IPL is where he seems to have found his true home.
"The IPL is professionalism taken to its logical extreme. All the bullshit and hypocrisy have been turned off."