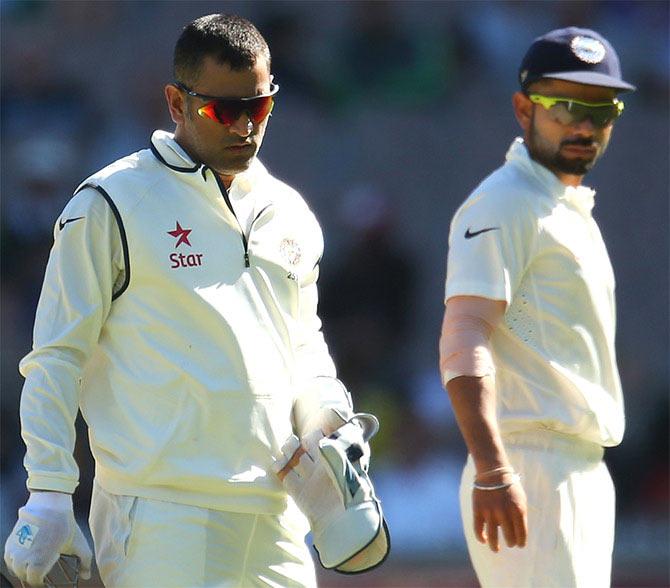 India's Mahendra Singh Dhoni and Virat Kohli. Photograph: Scott Barbour/Getty Images
India have been without a head coach since Duncan Fletcher left in March, and with two low-profile tours in the offing and the appointment of a new advisory panel just this week, the country's cricket board appears in no rush to name a successor.
Former captain Ravi Shastri will continue in his role as the team director when they embark on a tour of Bangladesh next week, and they are also unlikely to have a head coach when they travel to Zimbabwe in July.
- What's the role of the Advisory panel? Can the BCCI elaborate?
- Just to have Shastri is massive boost for us: Kohli
Fletcher's term came to an end after India's semi-final defeat at the World Cup in Australia and New Zealand.
While the BCCI are taking their time to find the right candidate, they will hope to have a new head coach in place before hosting South Africa in October.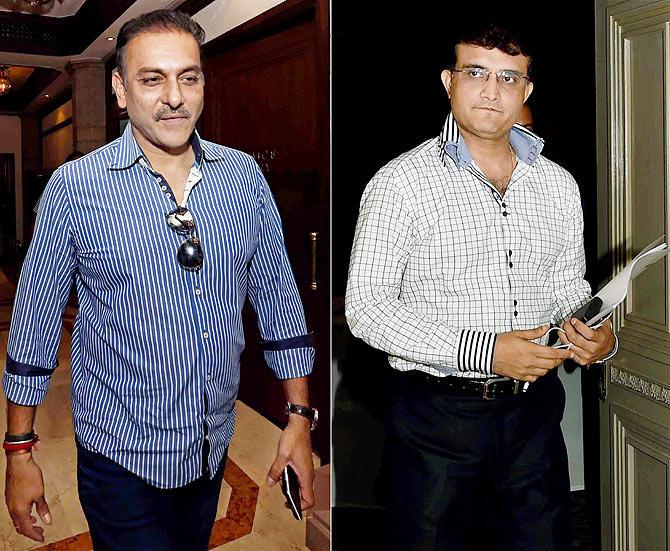 Former cricketers and IPL Governing Council members Ravi Shastri and Sourav Ganguly come out after attending BCCI IPL Governing Council meeting in Kolkata last week. Photograph: Swapan Mahapatra/PTI
Former skipper Sourav Ganguly, despite having no coaching experience, has been tipped by local media as the frontrunner to replace Zimbabwean Fletcher.
However, the BCCI instead named the 42-year-old to a three-member advisory committee, which also includes greats Indian Sachin Tendulkar and VVS Laxman.
- BCCI still undecided on Ganguly's appointment for India coaching job
Local media said the BCCI would seek their input, as well as that of Virat Kohli and Mahendra Singh Dhoni, in the search for a new head coach.
Ganguly appeared to be in the dark about the panel's responsibilities.
"I have just come to know about the committee, rest I don't know," he said.
"I don't even know what is the role of the advisory committee. (But) I am happy to work with Sachin and Laxman".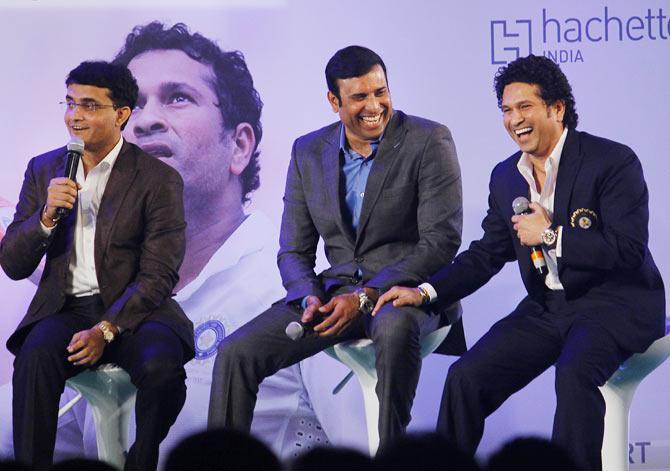 Sachin Tendulkar (right) with former teammates Sourav Ganguly and VVS Laxman. Photograph: Hitesh Harisinghani/Rediff.com
According to the BCCI, the advisory panel would guide the national team in improving their performance on overseas tours, provide direction to nurture talent, and recommend steps to strengthen domestic cricket.
India are widely known as poor travellers and the team have not won a Test series outside the subcontinent since their 1-0 victory in West Indies in 2011.
"I am happy to note that our eminent cricketers have come forward to lend their experience and insights as we work towards a common goal of taking Indian cricket to greater heights," BCCI President Jagmohan Dalmiya said in a statement.
"The coming generations are bound to benefit from the guidance that will be provided by these luminaries and will go a long way in strengthening our existing system."