- 'I just had a gut feeling that my little mate was down the other end with me the whole time'
- 'I dedicate that hundred to him'
- ''The next four days we have to work hard to take 20 wickets'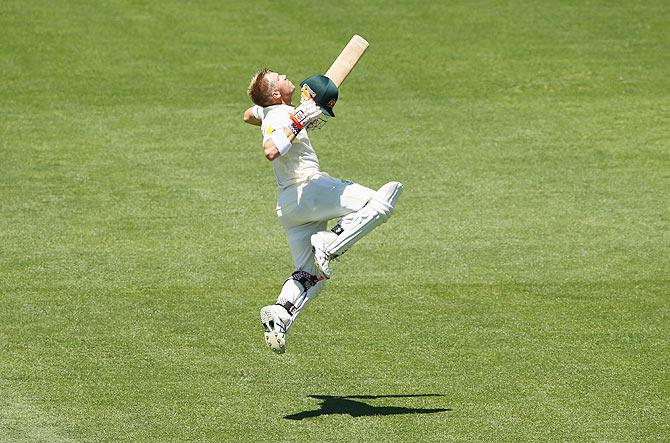 David Warner of Australia celebrates after reaching his century against India on Day 1 of the First Test at Adelaide Oval on Tuesday. Photograph: Robert Cianflone/Getty Images
The spirit of Phillip Hughes was at the other end of the pitch as Australia's David Warner struck a brilliant century against India, the opening batsman said after an emotional first day of the series on Tuesday.
Warner's sparkling 145 from 163 balls brought joy after a sombre opening at Adelaide Oval, where the fallen batsman was remembered at his final home ground with poignant tributes.
"I just had a gut feeling that my little mate was down the other end with me the whole time from ball one," Warner.
"He was at the other end laughing at me about all the support and all the people that sent their messages.
"He would probably be quite embarrassed actually."
David Warner is hugged by captain Michael Clarke (right) after completing his century. Photograph: Michael Dodge/Getty Images
The 28-year-old raised his bat and his head to the sky when he passed 50 and celebrated with his customary jump for joy after pushing a single to bring up his 100.
He and Australia captain Michael Clarke embraced long and hard in the centre of the ground as the crowd roared.
"It was in the back of my mind whether I should celebrate or not but I know what Hughesy's like and he would always have told me to keep jumping and keep doing what I do," Warner said.
"I dedicate that hundred to him and Michael said to me he would be proud of us both and try to get on and win the game."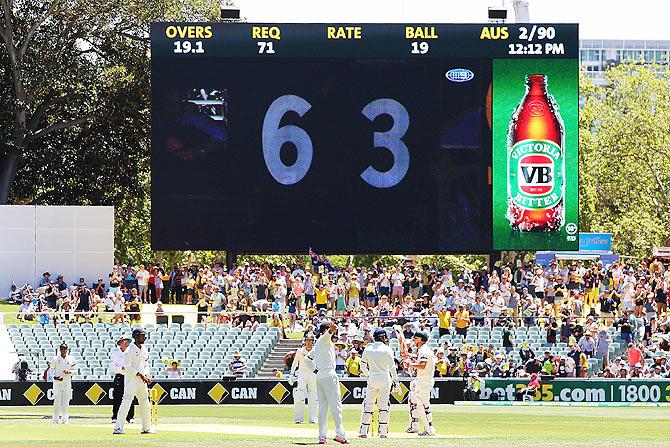 David Warner (right) pays tribute to the late Phillip Hughes after reaching a score of 63. Photograph: Michael Dodge/Getty Images
There was another glance to the sky and raise of the bat when Warner reached 63, the score Hughes was on when he was struck down in a Sheffield Shield match. But the moment was unpleasant.
"It was such a horrific and rare incident that in the back of my mind even though the spinner was bowling, just being on that number (63) I felt that it wasn't right and I wanted to get past that and move on from that," he said.
"I had to step away for a couple of seconds to get thoughts and process back again."
Australia's David Warner scores a boundary off Mohammed Shami. Photograph: Michael Dodge/Getty Images
Though having paid tribute to his teammate in the best way imaginable, Warner said his death would continue to haunt him.
"For me, personally, I think the hardest thing for me is going to be the New Year's Day Test at the Sydney Cricket Ground, where it all unfolded and happened.
"But the next four days we have to work hard to take 20 wickets."