'It (IPL) has been controversy-free so far under the able chairmanship of Shukla'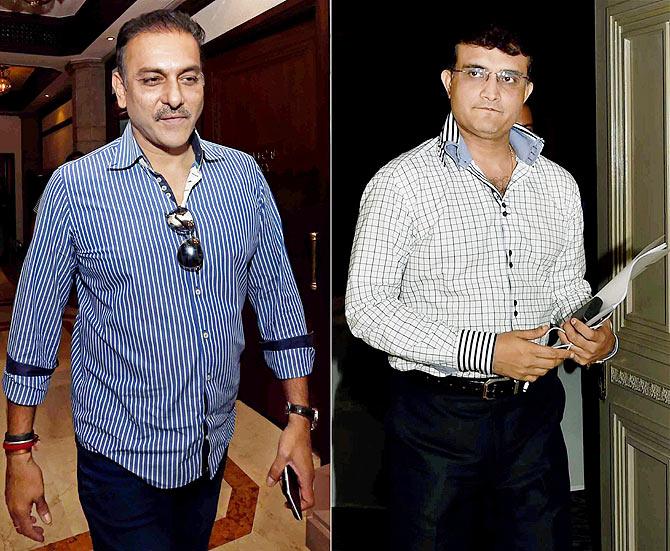 Former cricketers and IPL Governing Council members Ravi Shastri and Sourav Ganguly come out after attending BCCI IPL Governing Council meeting in Kolkata on Monday. Photograph: Swapan Mahapatra/PTI
Amid speculation that Sourav Ganguly is being considered for a coaching role with the Indian cricket team, BCCI secretary Anurag Thakur said the Board is yet to take a decision on the matter.
It has been speculated that Ganguly could either become chairman of advisory panel, High Performance Manager, Team Director or the chief coach of the national cricket team.
"Sourav's contribution to Indian cricket has been great. He's been a great cricketer. It will be worth waiting, and whatever will be decided will be in the interest of Indian cricket. There's a lot of speculation in the media regarding Sourav and the role of the coach. Give us some time to decide on that," Thakur told reporters after the IPL Governing Council meeting in Kolkata on Monday.
Thakur, who is expected to meet Board president, Jagmohan Dalmiya at his residence later in the afternoon, said that an announcement on support staff is on the cards.
"We've already picked the team for Bangladesh and as far as the coach and support staff is concerned we would announce it soon," he said.
"Today I'm here and will meet the president, so we will make the announcement soon. We will take certain decisions as far as the series in Bangladesh is concerned after meeting Dalmiya in the afternoon. The moment we decide we'll make a formal announcement," Thakur said.
Speaking about reports of Sachin Tendulkar being inducted in to the Board's advisory committee, Thakur said, "We're talking to many cricketers for the advisory board. We're waiting for the go ahead. A formal committee will be formed after going ahead."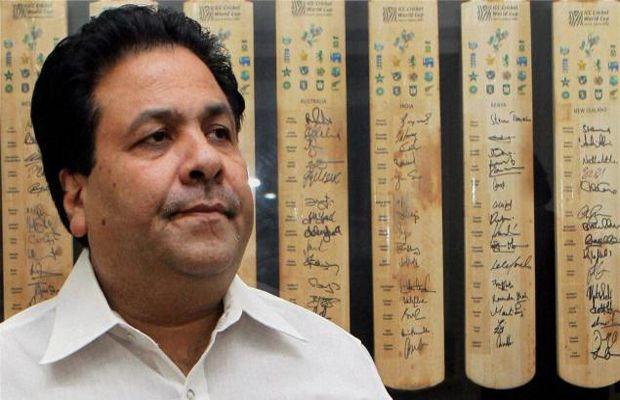 Indian Premier League chairman Rajeev Shukla. Photograph: BCCI
On the resumption of India-Pakistan series, Thakur said things were yet to be sorted out and the tour would be on only after a mutual agreement.
"PCB chief (Shaharyar Khan) has met Mr Dalmiya and met me also. He has raised certain issues. There're many things that need to be looked into. Once we have agreement on certain issues, we'll make a formal announcement and if need be the tour will take place."
He also hailed IPL chairman Rajeev Shukla for a "controversy-free" conclusion of the IPL season eight.
"The IPL season ended last night. IPL-8 has been a tremendous success. All the franchises have put in effort and chairman has been working day and night. It has been controversy-free so far under the able chairmanship of Shukla."
In a lighter vein, the BJP MP said his friendship with Shukla is like that of 'Jai and Veeru' central characters in the Bollywood blockbuster Sholay.
On reports about a few IPL matches being under scanner, he said, "There's been many rumours. Only one report when a player approached and the player immediately went to the ACU and reported it. Here the BCCI education has worked."
There were also suggestions that the 4 o' clock matches would be done away with and Shukla said they're still working out.
"So far we are continuing with 4pm matches. There has been some suggestions in the GC we are considering that. Also about uncapped players, but at level of discussions only. We will inform once we take a decision."