'When a player is so confident, even though I was not too keen, I thought, 'let him bowl another over'. They say, some things just happen for you and this happened with us'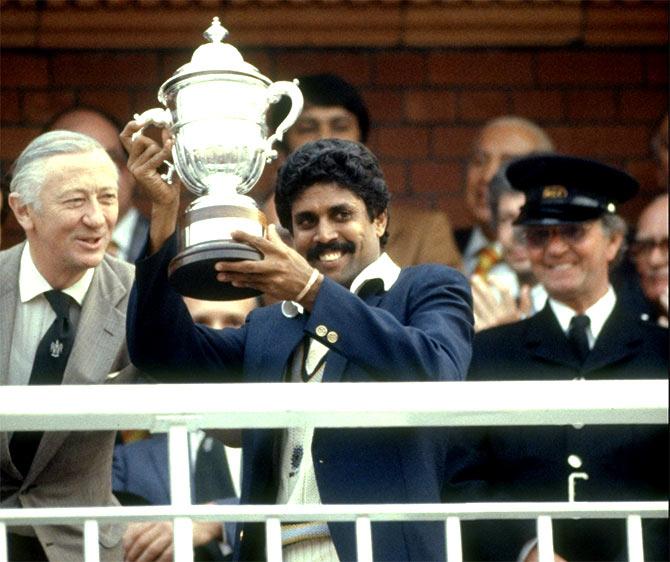 IMAGE: Captain Kapil Dev holds aloft the trophy after India won the World Cup in 1983. Photograph: Dave Cannon/Allsport
Cricket is a game that is played between the ears as much as it is played with physical skill.
And every cricket captain trusts his instincts in crucial situations of a match.
But, for once, on June 25, 1983, then India captain, Kapil Dev decided to go with the gut feeling of his senior bowler Madan Lal.
Lal, a medium pacer, who could barely hit a speed of 130 kmph, literally took the ball from his hands with the conviction that he could dismiss the dangerous Viv Richards in that historic World Cup final.
In the previous over, Lal was dispatched disdainfully for three boundaries by Richards as West Indies were in pursuit of a modest target of 184.
Naturally, Kapil was apprehensive considering that Richards was literally toying with Lal's bowling.
On Wednesday, the World Cup-winning skipper recollected a few of these anecdotes at an event in Mumbai.
"Before that particular over, two-three fours were hit off Madan. So I went to Madan asked him to take a break and come back after a few overs. To which Madan said 'Kapsi (Kapil Dev's nickname), you give me the ball. I have earlier dismissed Vivian Richards, I can do it once more," Kapil recalled.
"When a player is so confident, even though I was not too keen, I thought, 'let him bowl another over'. They say, some things just happen for you and this happened with us," Kapil said.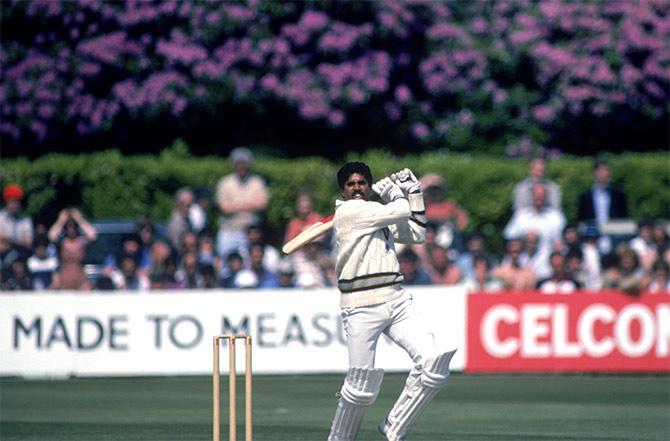 IMAGE: Kapil Dev during his record innings of 175 not out off 138 balls against Zimbabwe, at Tunbridge Wells. Photograph: Trevor Jones/Getty Images
Kapil also recalled that every player played their role in the team's victory.
"In our hearts, we knew that our team was not the best in the business. Halfway through the tour, we realised that we had a team. When our team was picked, we did not have much confidence but once we started winning matches, everyone was more motivated and played like leaders."
India's top wicket-taker Roger Binny revealed how Kapil Dev's 175 not out against Zimbabwe was the catalyst.
"Before we could finish our morning coffee, we were 17 for 5. I was the sixth batsman and the captain was in. We had got 53 overs to go. We took the score to 77 and then I got out. That was the 7th wicket. Till then Kapil did not hit any boundaries, then Madan came in, he shared another 70 run partnership and got out. Kapil was playing in ones and twos.
"Then (Syed) Kirmani came along and shared an 100 run partnership, of which 90 per cent runs were scored by Kapil Dev.
"You see the scorecard Kapil Dev -- 175, the next batsman was 24. It was final few overs that we saw Kapil hitting some big sixes," recalled Binny.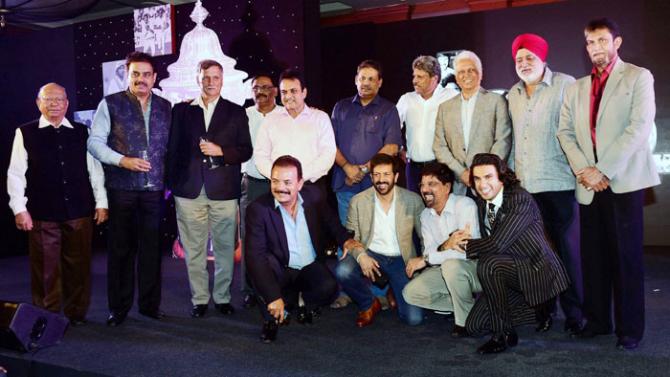 IMAGE: (Standing) 1983 World Cup-winning manager PR Man Singh, along with players Dilip Vengsarkar, Roger Binny, Sunil Valson, Yashpal Sharma, Kirti Azad, Kapil Dev, Mohinder Amarnath, Balwinder Singh Sandhu, Sandip Patil, (sitting) Madan Lal and Krishnamachari Srikkanth with director Kabir Khan (centre) and actor Ranvir Singh (right) during the launch of Khan's film titled '1983', in Mumbai on Wednesday. The film is based on India's 1983 World Cup win. Ranveer Singh will essay the role of Kapil Dev in the film. Photograph: Santosh Hirlekar/PTI
Yashpal Sharma recalled Sir Garfield Sobers's comments that India were a team to watch out for.
Kirti Azad spoke about his delivery which foxed England batsman Ian Botham in the semi-final, which helped India to beat England.
"The ball remained low and turned. Astonished, Kapil said to me 'either the ball can remain low or turn, how did both happen'? 34 years have gone by, I still don't know how it happened," he recalled.
Other members of the squad -- K Srikanth, Sandeep Patil, Mohinder Amarnath, Balwinder Singh Sandhu, Dilip Vengsarkar, Sunil Valson and team's manager PR Man Singh also chipped in with their anecdotes at the launch of the movie '1983', based on India's 1983 cricket World Cup triumph.
The movie is set to be directed by Kabir Khan of 'Ek Tha Tiger' fame.
© Copyright 2021 PTI. All rights reserved. Republication or redistribution of PTI content, including by framing or similar means, is expressly prohibited without the prior written consent.