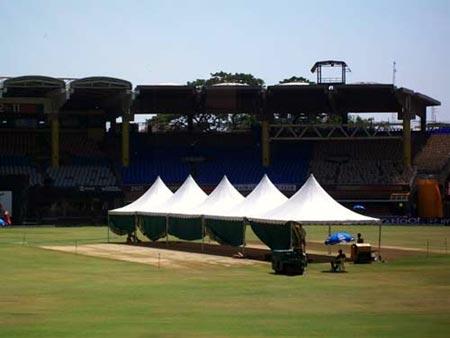 Tamil Nadu Cricket Association said the fifth and final Test match between India and England will start as per schedule in Chennai on December 16 at the Chepauk stadium despite the severe damage caused by cyclone 'Vardah' which lashed the Tamil Nadu capital on Monday evening.

TNCA secretary Kashi Viswanathan said that although the pitch and the outfield have not been affected by the cyclone, the sight screen has been badly damaged, while the bulbs of the floodlights have blown off, and a number of air-conditioners were also damaged.
The organisers are hoping to set things in order in the next two days and get the stadium ready for the Test match, starting on Friday.

"The assuring part is that the pitch and the outfield has not been affected by the cyclone. But sightscreen has been damaged. The bulbs have blown off, air conditioners damaged. There have been hundreds of tree trunks lying in the road leading upto the stadium. Our challenge is to set everything in order in the next two days. I am confident we will be able to set everything right," Viswanthan said on Tuesday.
Ten persons have lost their lives in the cyclone 'Vardah' related incidents in Tamil Nadu including four in Chennai. Very severe cyclonic storm 'Vardah', the most intense to have hit the Tamil Nadu capital flattened homes, snapped communication lines and threw into disarray rail, road and air traffic as it crossed the coast in Chennai, pounding Tiruvallur and Kanchipuram with heavy rain and squall.
India lead the series 3-0 following their victories in Visakhapatnam, Mohali and Mumbai, while the first Test in Rajkot ended in a draw.
File Image: The M A Chidambaram stadium in Chennai