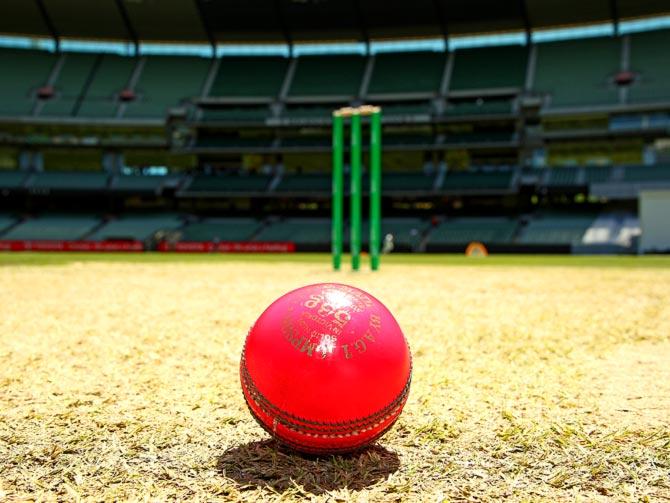 IMAGE: The pink cricket ball used for the Sheffield Shield match between Victoria and Queensland at Melbourne Cricket Ground, on October 28, 2015. Photograph: Scott Barbour/Getty Images.
Former India captain and Cricket Association of Bengal president Sourav Ganguly is working overtime to get everything in order at the Eden Gardens, which is set to host the country's first pink-ball multi-day cricket match under lights.

With a drone flying over him under the dazzling Eden floodlights, the iconic left-hander was seen shooting a promotional video with the pink Kookaburra.

"Eden Gardens will hold the first day-night (four-day) match in India. It has given us many moments to celebrate; now it's getting ready to host yet another moment to remember," Ganguly said in the promotional event in Kolkata.

Later, talking to media, Ganguly, who is also the Board of Control for Cricket in India's technical committee chairman, said, "Pink ball is the future... This will be the ultimate form of Test cricket. What will be the use of doing something which will have little interest left."

Eyeing to host the country's first day-night Test, the CAB is leaving no stone unturned to make the local league final a success.

"The tickets for the match will be free and the official broadcaster is distributing free tickets to schools," Ganguly said.

With the match coinciding with the onset of monsoon, rain is a concern.

"We will try to do it in the winter from next time," he said about the match, which will be a 2.30 pm start.

Bhowanipore have already qualified and their final opponents will be among Mohun Bagan, East Bengal and Kalighat.

Ganguly, however, was tight-lipped on their bid to get the first day-night Test in India, proposed against New Zealand.

"It depends on the BCCI schedule. I have not thought about it."

The CAB is doing the necessary groundwork to ensure a successful hosting of the match.

"Certain conditions are required for the pink ball to hold up for a substantial period. We have spoken to Kookaburra's subcontinent head and will follow the advice," secretary Avishek Dalmiya said.

There is a possibility that the Eden will host the Duleep Trophy under lights.

The BCCI technical committee, headed by Ganguly, had already recommended the inter-zonal first-class tournament, be played with pink balls.