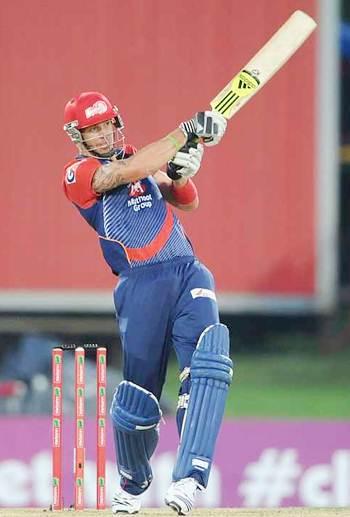 Controversial batsman Kevin Pietersen, whose England career came to an abrupt end after being dumped following a disastrous Ashes campaign, expressed a desire to lead Delhi Daredevils in the seventh edition of the Indian Premier League.
Bought for a whopping Rs 9 crore (US $1.5 million) by the Delhi franchise on the opening day of the players' auction for the seventh edition of the Twenty20 tournament, Pietersen said: "I would like to be in a leadership role in some way, whether it is captaincy or helping out the leader and the youngsters in the team."
He told the presenter of the players' auction broadcaster via telephone he was thrilled to be back with Delhi Daredevils, which he called 'family'.
"It feels great to be with the Delhi family. We have got a strong team this time around. It is now a matter of gelling together as a unit," he said.
Pietersen wasn't among the players retained by the franchise earlier, but bought on Day 1 of the auction via the 'Right to Match' card.
Asked if he felt he is loved more in India after what happened back home, he replied, "I don't know; it feels that way at the moment."
The 33-year-old flamboyant batsman said he is looking forward to working with former India coach Gary Kirsten.
"Gary has an outstanding cricketing brain. He is one of the coaches I wanted to work with. Hopefully, we will have a great run under him," added Pietersen.
Image: Kevin Pietersen