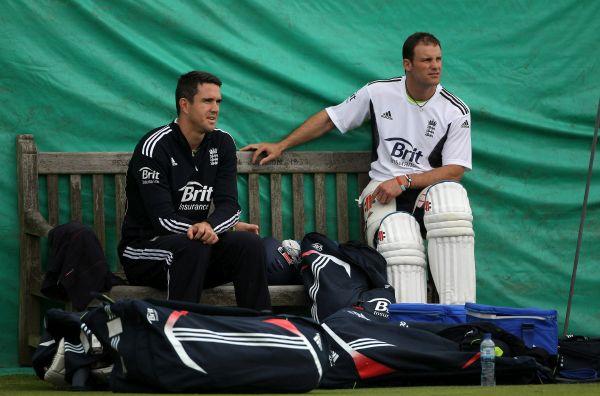 Kevin Pietersen with Andrew Strauss. Photograph: Tom Shaw/Getty Images
Andrew Strauss has said English cricket could be damaged by the "madness" surrounding the publication of Kevin Pietersen's autobiography.
As Pietersen's book went on general sale on Thursday after a welter of revelations and counter-claims, former England captain Strauss said he was concerned by the impact the accusations have on current skipper Alastair Cook and his side.
Strauss, Pietersen's successor as England captain, had his own well-documented problems with the South Africa-born batsman.
In particular, there was the incident which saw Pietersen send text messages critical of Strauss to opposition South Africa players during England's home series with the Proteas in 2012
Strauss retired soon afterwards and Pietersen was banished from the England side for three months.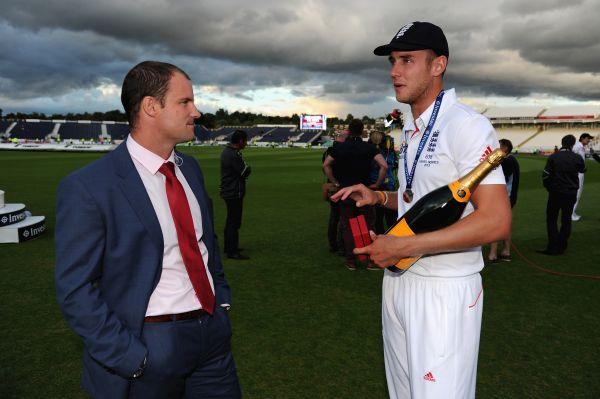 Andrew Strauss with Stuart Broad. Photograph: Gareth Copley/Getty Images
Former Middlesex captain Strauss who, believing he was off-air, used a particularly obscene epithet to describe Pietersen while commentating for Sky television in July, said Thursday he was dismayed by the controversy generated by his old team-mate's book.
"A lot of this that's going on at the moment is madness," Strauss told Sky.
"There's been a lot of rumour, innuendo and opinion. I prefer to stick with the facts.
"All this tit-for-tat stuff, I don't think really helps the England cricket team."
One of the main accusations in Pietersen's book is that senior England bowlers James Anderson, Stuart Broad and Graeme Swann, assisted by wicketkeeper Matt Prior, operated a "bullying" culture where they demanded apologies from fielders who made mistakes, but only if they were not in their own clique.
"The victim here really isn't Kevin Pietersen, or (former coach) Andy Flower or Prior or anyone; it's actually the England cricket team and Alastair Cook and (returning coach) Peter Moores who've got to try to take the side forward.
"That, to me, is the disappointing thing about this whole episode."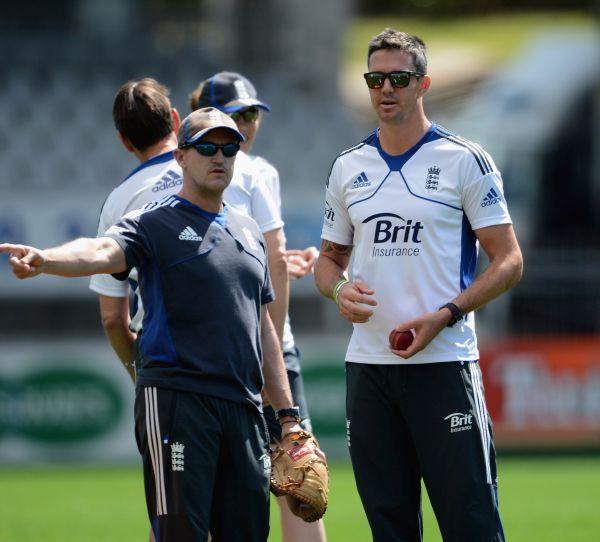 Andy Flower and Kevin Pietersen. Photograph: Gareth Copley/Getty Images
Strauss acknowledged that Pietersen - sensationally axed by the England and Wales Cricket Board (ECB) following the team's 5-0 Ashes thrashing in Australia concluded in January -- had played some of "England's most memorable innings" and been one of the team's "finest players".
However, Strauss was unhappy with Pietersen's criticisms of Prior and Flower, saying both multiple Ashes-winners had put the emphasis on a "team first" culture.
"Andy Flower is a guy of complete integrity. If you look at [his] record as coach, it's second to none.
"That idea that the team should come first was central to what we did, and something Andy Flower was very conscious of and protective over.
"Anyone who was testing that would be dealt with accordingly, and rightly so."