Images from Day 2 of the third Test between India and England, at the Narendra Modi stadium, in Ahmedabad.
Axar Patel did the star turn again as India registered a thumping 10-wicket victory against England inside two days, in the third day-night Test, at the Narendra Modi stadium, in Ahmedabad, on Thursday.
Axar took 11 wickets in the match as England were shot out for their lowest score of 81 against India. Chasing 49 runs for victory, India openers Rohit Sharma (25 not out) and Shubman Gill (15 from 21 balls) completed the rout as the hosts chased down the target in only 7.4 overs.
In only his second Test, Axar (15-0-32-5), and a match-haul of 11/70, relentlessly hit the good length area and hoodwinked England's batsmen, who played for turn only to find that there was none on offer from him.
At the other end, off-spinner Ravichandran Ashwin (15-3-48-4) was an ideal foil, becoming the fourth Indian bowler and second fastest in the world to complete a commendable milestone of 400 wickets with the dismissal of Jofra Archer.
This was after England skipper's fabulous career-best spell of 6.2-3-8-5 resulted in India's dramatic collapse from 114 for 3 to 145 all out in the first session.
India lost as many as seven wickets for only 31 runs after looking solid at 114 for 3 at one stage in the game but England lost all 10 in an entire session in which no pacer was seen in action.
Earlier, Joe Root brought England back in the Test with a magical spell in the first session on Day 2.
England's captain took five wickets for eight runs in only 6.2 overs, out of which three were maidens, to dismiss the home side for 145 runs in their first innings.
India, who started the day on 99 for 3 in 33 overs, lost their last seven wickets for 46 runs in 20.2 overs, as they gained a lead of just 33 runs on the first innings.
What a first session it was as Root and Jack Leach, who took 4 for 54 in 20 overs, turned it around.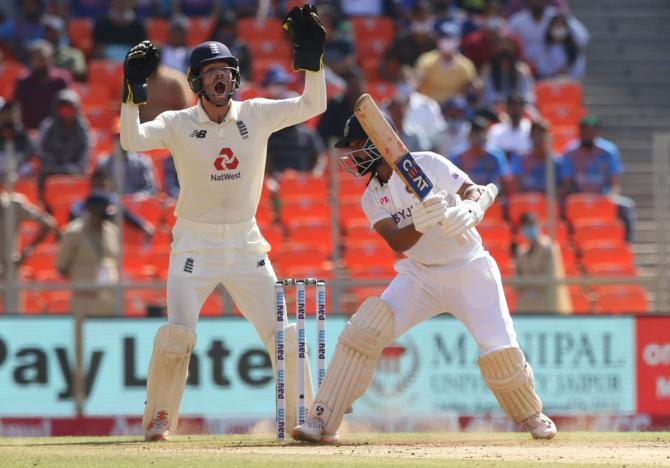 Jack Leach gave England the early breakthrough on Day 2.
Ajinkya Rahane went on the backfoot to cut the left-arm spinner, but the ball came in sharply and India's vice-captain was struck right in front of the stumps.
He walked off without taking the review for 7, and India lost their fourth wicket.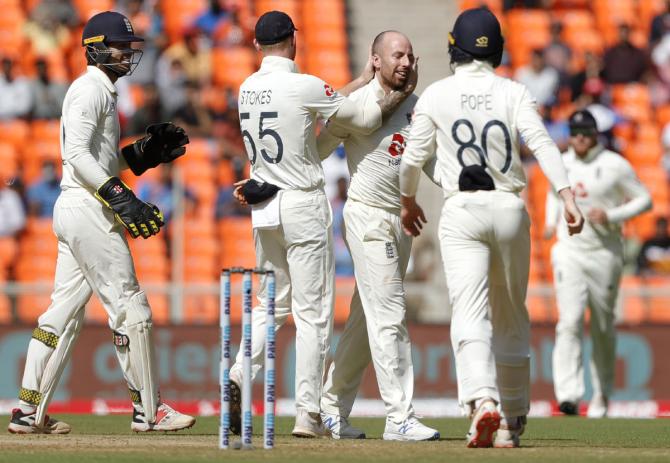 Leach effected another crucial strike, trapping Rohit Sharma leg before wicket for 66.
The batsman went for the sweep, missed and was rapped plumb in front and given out LBW. He took the review but the decision stayed and India lost their fifth wicket.
England got the benefit of umpire's call on impact and Rohit had to walk way back after a fine innings of 66.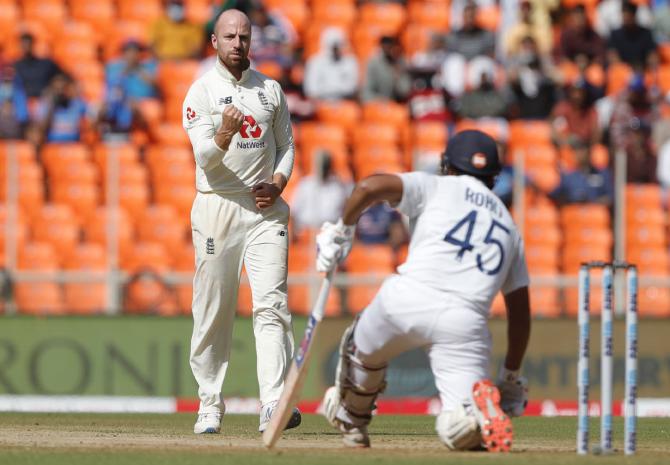 Wickets in successive overs for Leach reduced India to 117 for 5, a lead of just five runs.
Leach brought England back in the contest, picking up 4 for 36 in 14 overs.
Captain Joe Root then brought himself into the attack and struck with his first delivery, having Rishabh Pant caught behind for one.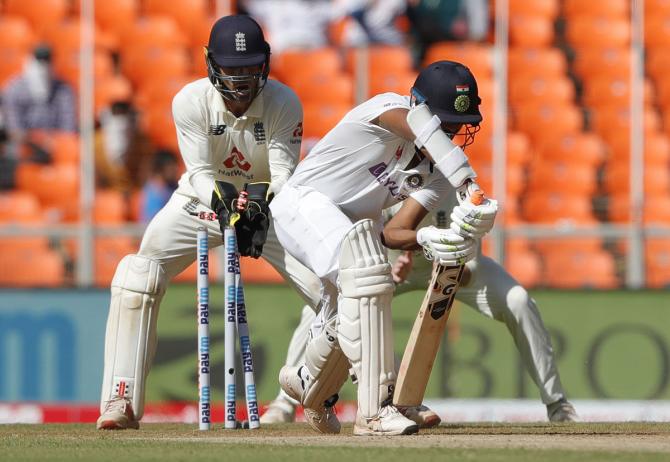 The batsman poked at a wide delivery that turned sharply, took edge and wicketkeeper Ben Foakes completed a superb catch.
India lost three wickets in the space of 17 balls and were down to 117 for 6.
Root struck again with another beauty, getting the ball to rip off sharply.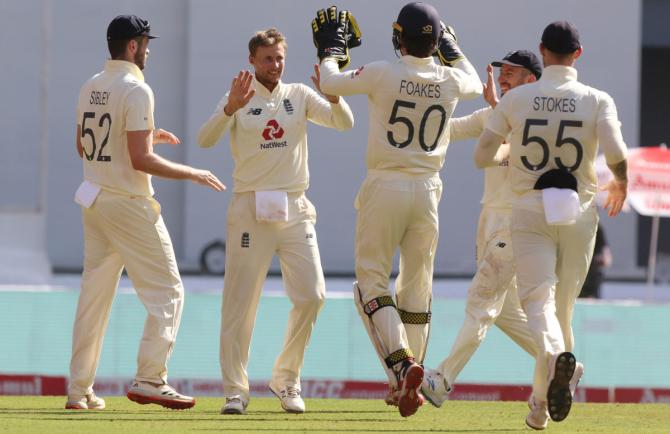 This time Washington Sundar was beaten all ends up trying to defend and bowled for a duck.
Two balls later, England's captain picked his third wicket.
Axar Patel came down the track and tried to launch it over the off-side but was caught in the covers for a duck.
At that stage Root was yet to concede a run in three overs.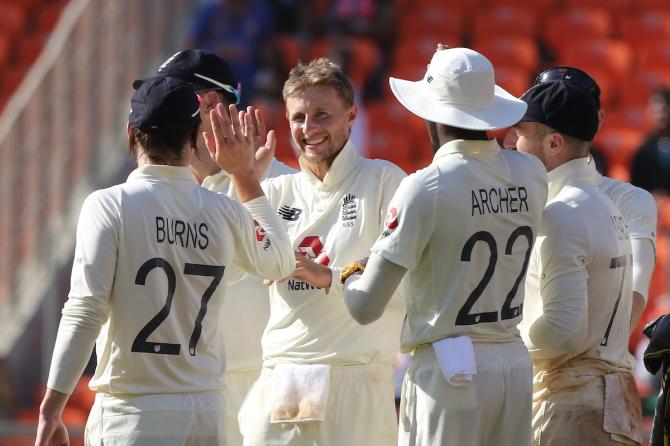 India collapsed to 125 for 8, losing five wickets for 11 runs .
Root continued his wicket ways. This time Ravichandran Ashwin top-edged the sweep and was caught by Zak Crawley on the leg side for 17.
Root finished off the Indian innings with the wicket of Jasprit Bumrah, who went for the slog sweep, missed and was trapped LBW. He went for the review, which showed the impact in line and the ball going on to hit the stumps.
India were dismissed for 145 in 53.2 overs, a lead of 33 runs.
It will be interesting to see how things pan out after the tea break when England bat for the second time on an ever-deteriorating pitch.
Session 2: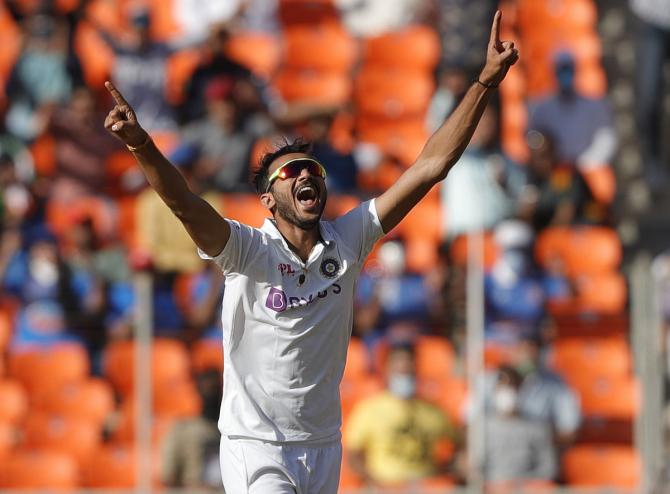 Dom Sibley and Zak Crawley opened the batting for England in the second innings, while Axar Patel bowled the first over for India.
Axar gave India the perfect as Crawley went on the backfoot to defend the first ball, but missed it completely and was bowled for a first ball-duck.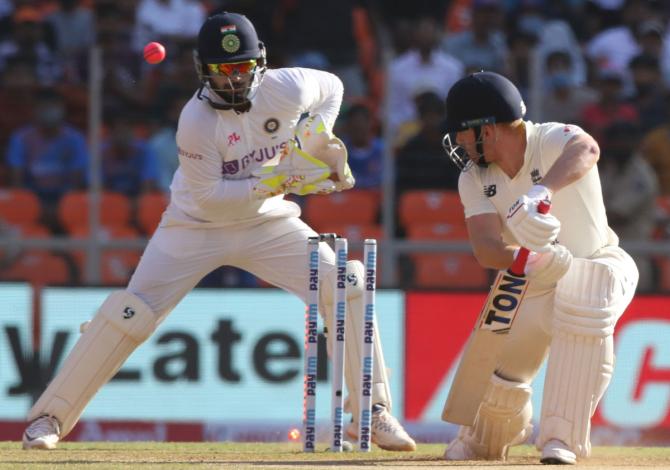 The left-arm spinner, who took six wickets for 38 runs in England's first innings, almost struck again next ball.
New batsman Jonny Bairstow went to sweep the first delivery he faced, missed and was given out leg before wicket. He took the review and survived by the narrowest of margins as ball tracker showed the ball going on to bounce over the stumps.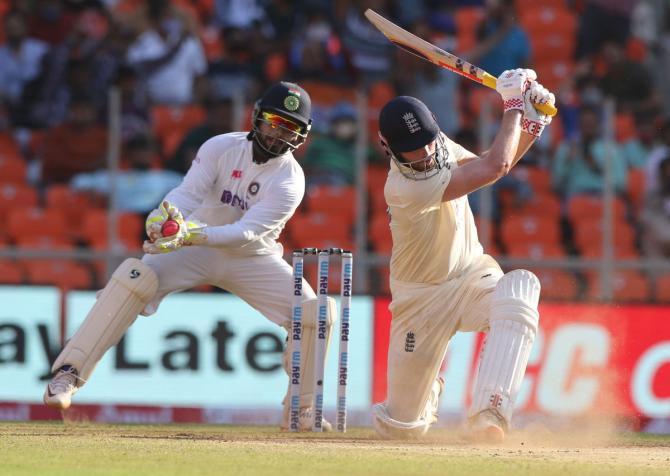 However, Axar got his man with the next delivery as Bairstow was bowled through the gate.
The batsman came forward to defend but left a huge gap between bat and pad. The ball sneaked through and crash into the stumps. Bairstow had the mortification of bagging a 'pair' in the match as England were 0 for 2 after three balls.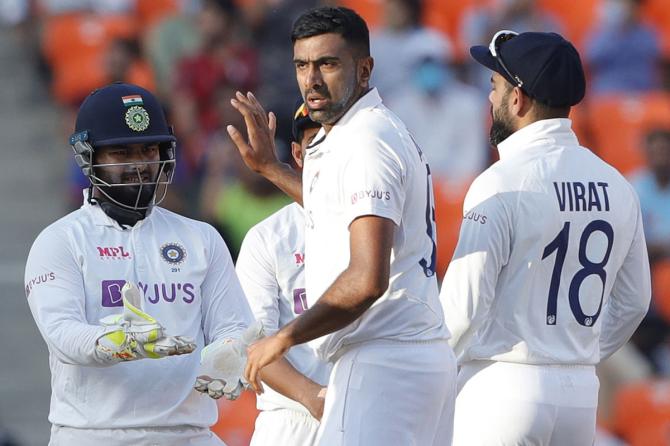 Axar got his third wicket of the innings. Dominic Sibley looked for the slog sweep over mid-wicket but the ball turned sharply, took the edge and he was caught by wicketkeeper Pant.
Sibley immediately went for the review, which showed some spike on the Ultra Edge as the ball passed the bat. The decision stood and Sibley was out for 7, and England reduced to 19 for 3, still trailing India by 14 runs.
Ashwin then got the wicket of Ben Stokes for the 11th time in Tests.
The left-hander tried to defend but was beaten and struck plumb in front. He walked off without even seeking a review.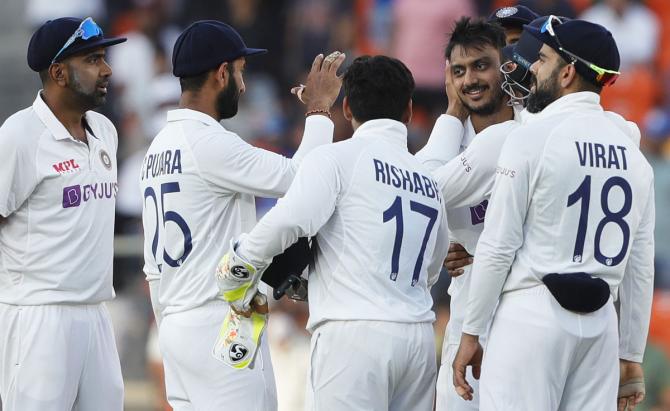 Stokes was out leg before wicket for 25 as England plunged to 50/4 in the 18th over.
Spin continued to reign and torment England's batsmen and Axar picked his 10th wicket of the match, dismissing captain Joe Root leg before wicket for 19.
That was plumb in front of the stumps and Root walked off without taking a review. England slipped to 56 for 5, an overall lead of 23 runs.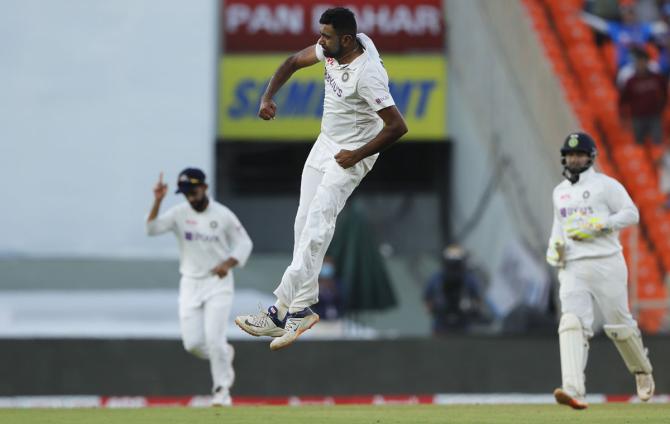 England continued to perish as Ashwin bowled Ollie Pope. The batsman played down the wrong line and was bowled for 12.
He played for the turn but the ball went straight on and crashed into the stumps. England 66 for 6.
Ashwin then attained the landmark of 400 wickets in Tests, trapping Jofra Archer leg before wicket.
Archer took the review, but in vain as the ball was going on to hit the stumps.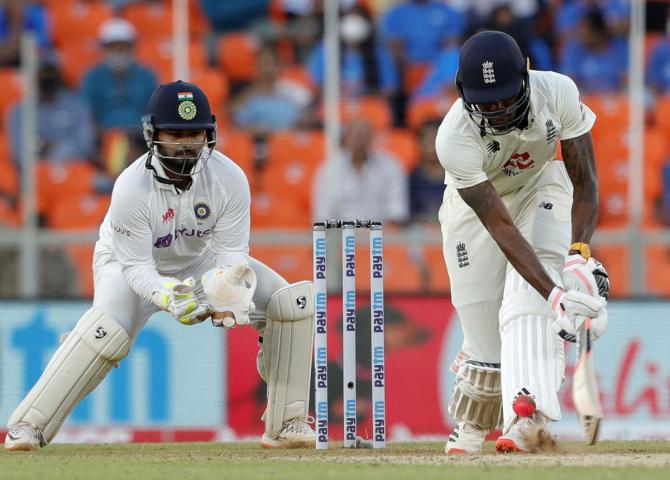 England lost their seventh wicket with just 68 on the board, their lead 35 runs.
Ashwin is the second-fastest after Muttiah Muralitharan to the 400-wicket mark in Tests, having got there in his 77th Test.
He is the fourth Indian to take 400 Test wickets after Anil Kumble, Kapil Dev and Harbhajan Singh.
Axar then struck again, dismissing Ben Foakes leg before wicket.
The batsman went for the review, which showed the impact in line and the ball going on to hit leg stump.
It was his second five-wicket haul of the match as England sunk to 80 for 8, a lead of just 47 runs.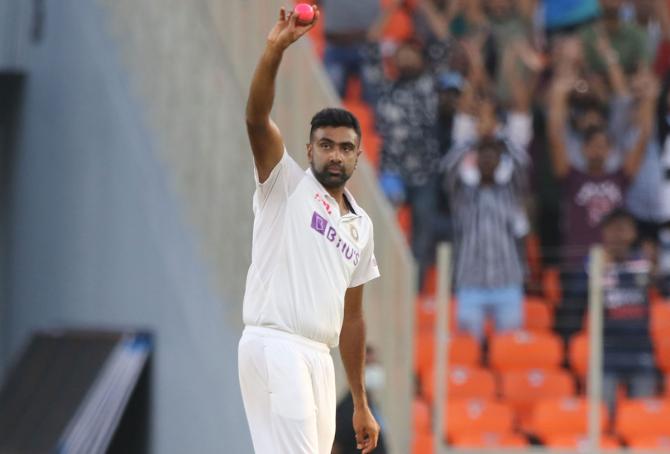 This is Axar's third five-wicket haul in succession as he enjoys a rip-roaring start to Test cricket.
Leach was next to depart after steering one from Ashwin straight into the hands of Rahane in the slips.
Ashwin's figures: 4 for 48; England's score 80 for 9.
India made their first bowling change after 30 overs, Washington Sundar called up to have a bowl.
The first ball turned sharply as Stuart Broad advanced to defend but was beaten. India appealed for caught behind but it was turned down. Replays showed there was some edge.
However, Sundar got among the wicket-takers a few deliveries later when James Anderson tried the reverse sweep but got the bottom edge and wicketkeeper Pant took the offering.
England were bowled out for 81 in their second innings, leaving India with 49 runs to win the match.