'I knew there was South's Badrinath, who was playing for N Srinivasan's CSK. When Kohli was preferred over Badrinath, Srinivasan was not happy.'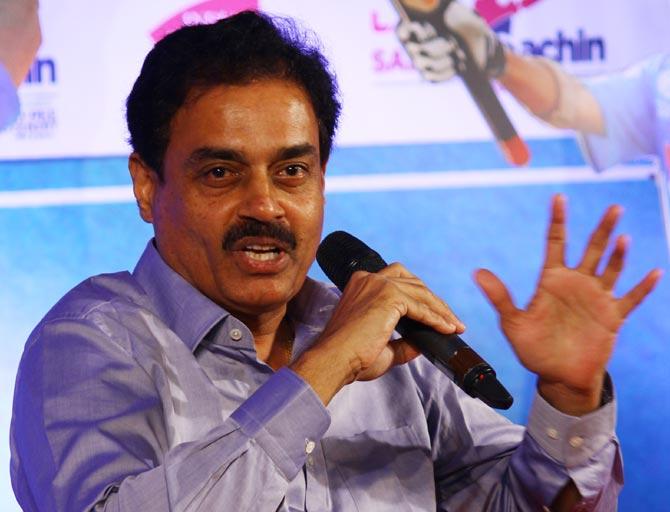 IMAGE: Former India batsman and chairman of selectors Dilip Vengsarkar. Photograph: Hitesh Harisinghani/Rediff.com
Selecting a talent like Virat Kohli early in his career would be considered a masterstroke by most but according to former India captain Dilip Vengsarkar, it ended his career as a national selector.

Vengsarkar has claimed that he lost his job as chairman of selectors for picking Kohli over Tamil Nadu's domestic heavyweight S Badrinath in 2008, courtesy the then BCCI secretary Narayanswami Srinivasan.
"There was an Emerging Players tournament in Australia (for) youngsters -- four 'A' teams were there -- India, Australia, South Africa and New Zealand," Vengsarkar said at an event in Mumbai on Wednesday.

"Me and my colleagues decided that we will take the Under-23 boys and at that time we had won the Under-19 World Cup, Virat Kohli was the Under-19 captain and I selected him in the team," he added.

Vengsarkar revealed that captain Mahendra Singh Dhoni and coach Gary Kirsten were sceptical about the selection.

The straight-talking former batsman said he eventually fell out of favour with Srinivasan, something that cost him his job.

"He (Kohli) was technically sound and I thought he should be played. We were going to Sri Lanka and I felt that this is the ideal situation that he should be in the team. My four colleagues said 'As you say Dilip bhai'," he said referring to the other members of the selection panel.

"However, Gary and Dhoni were saying 'No, we haven't seen him and we will continue with the same team'. I told them 'You haven't seen him but I have seen and we have to take this boy'," Vengsarkar said.

Even Kohli, in the past, has spoken publicly about how Vengsarkar landed in Australia during an 'A' team tournament and told the current India captain to open the innings. Kohli took up the challenge to score a hundred and was selected in the Indian team for the tour of Sri Lanka.

Kohli and Badrinath were fighting for one vacant middle-order spot at that point in time in Dhoni's team that had six batting slots sealed. Virender Sehwag, Gautam Gambhir, Sachin Tendulkar, Yuvraj Singh and Dhoni were automatic selections.
"Me and my colleagues had gone to Brisbane and it was against New Zealand 'A'. Kohli was opening and their team had some good players (Martin Guptill, Corey Anderson and Jesse Ryder), Kohli scored an unbeaten 120 and I felt that we should play this boy for India," recalled Vengsarkar.

'Colonel', as he is fondly called, alleged that he sensed a general uneasiness with Kohli's selection as Badrinath played for IPL team Chennai Super Kings, which was then owned by erstwhile secretary and Tamil Nadu strongman Srinivasan.

"I knew there was South's Badrinath, who was playing for N Srinivasan's CSK. When Kohli was preferred over Badrinath, Srinivasan was not happy. He got fed up as his player was kept out and he questioned me as to how I didn't pick Badri? I replied that I had gone to watch the Emerging Tour in Australia and found this boy Kohli exceptional.

"So I have picked him in the team and Srinivasan reasoned that Badrinath had scored 800 runs for Tamil Nadu. I told him he will get a chance and angry Srinivasan asked 'when he will get a chance, he is 29 years old?' and I replied 'Whenever the time comes.'"

Vengsarkar said soon after he was replaced by Srinivasan's choice Kris Srikkanth as chairman of selectors.

"Srinivasan then made Srikkanth the chairman and I was sent home. That was the end of my career as a selector."
© Copyright 2023 PTI. All rights reserved. Republication or redistribution of PTI content, including by framing or similar means, is expressly prohibited without the prior written consent.