The IPL wouldn't have been the success it is had it not been for the fans in the stands.
Rediff.com gives you a glimpse of the action off the ground during IPL 9.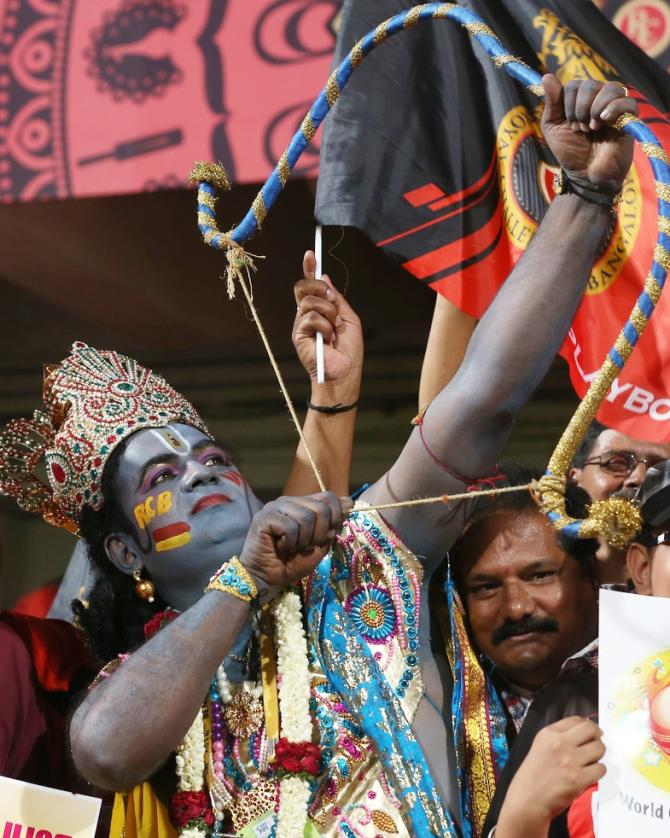 IMAGE: A fan dressed up as Lord Krishna roots for the Royal Challengers Bangalore. All Photographs: BCCI
The cheerleaders have hogged the limelight for years, but if you were there at any of the venues over the last two weeks for IPL 9, you would have noticed that the spectators in the stands are giving the girls tough competition.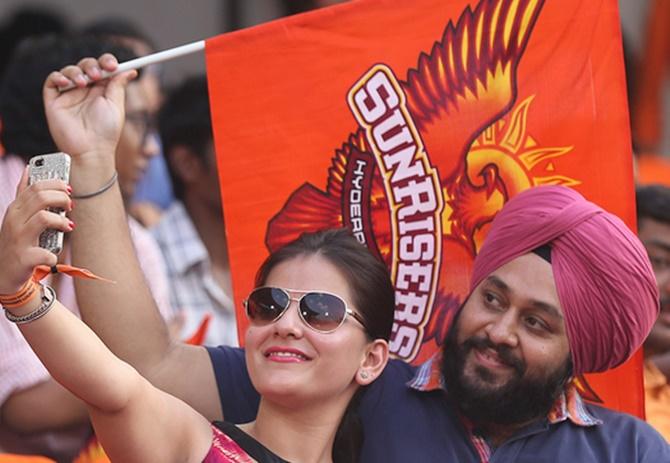 IMAGE: Sunrisers Hyderabad fans during the game against the Kolkata Knight Riders at the Rajiv Gandhi International Stadium, Hyderabad.
Missed that wicket? Who cares! It's the selfie that matters.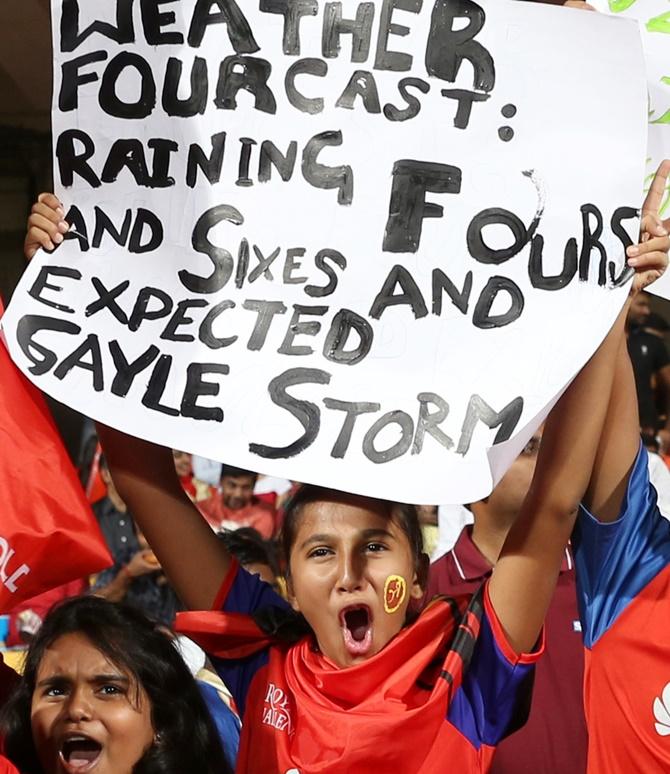 IMAGE: A Royal Challengers Bangalore fan during the game against the Delhi Daredevils at the M Chinnaswamy Stadium, Bengaluru.
This fan turned weatherman to warn the opposition about an impending 'Gayle storm'.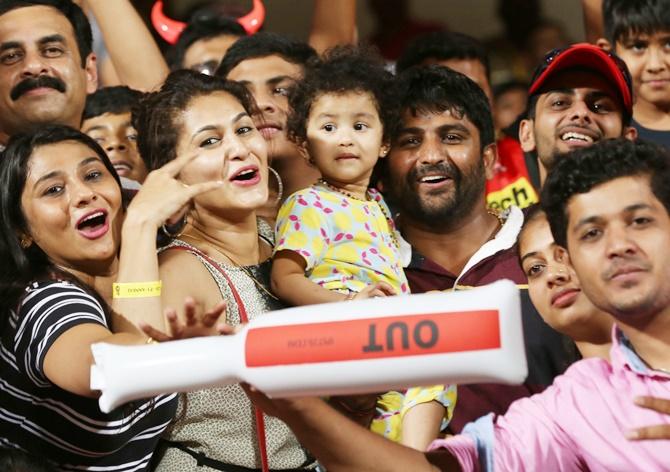 IMAGE: Royal Challengers Bangalore fans during the game against Sunrisers Hyderabad.
When you enter the arena and hear thousands of fans cheering for you and chanting your name, magical things happen.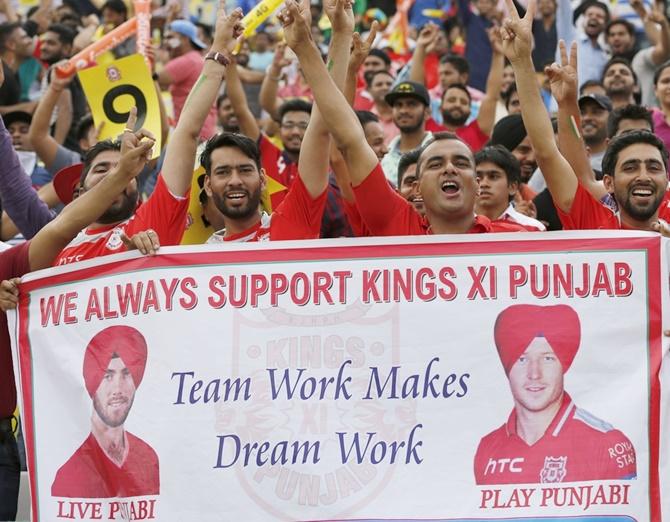 IMAGE: Kings XI Punjab fans during the game against Rising Pune Supergiants at the I S Bindra Stadium, Mohali.
Cricketers are treated like gods in India. But in Punjab they treat them like their own.
Kings XI Punjab fans have turned their captain David Miller and Glenn Maxwell into turban-clad Sikhs.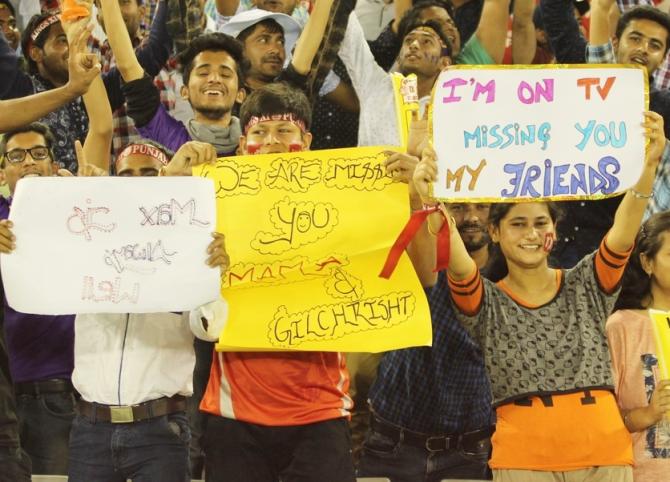 IMAGE: Kings XI Punjab fans
Despite an inconsistent showing, Kings XI fans turn out in large number with flags, banners, et al.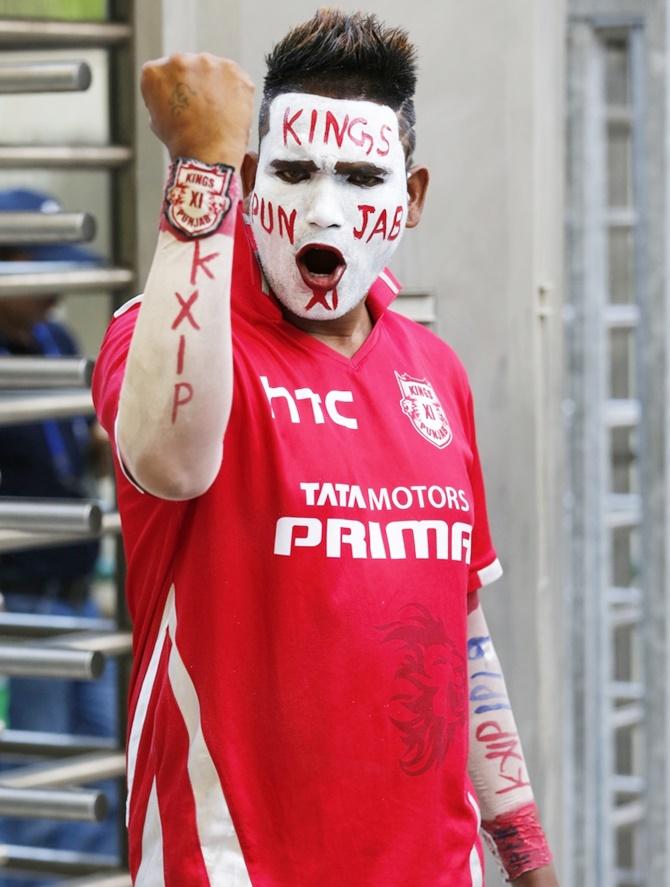 IMAGE: A Kings XI Punjab fan with his face painted.
A carnival-like vibe is very prominent at all IPL games.
It's not just the action on the field that generates excitement, but what happens in the stands at the stroke of a four, six and fall of a wicket.