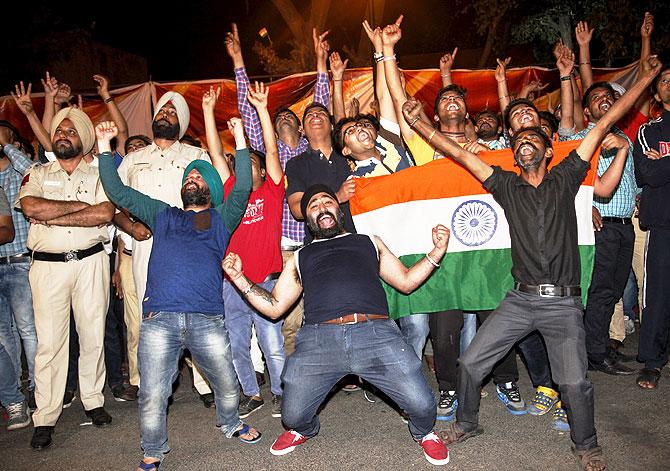 IMAGE: Fans celebrate after India beat Australia on Sunday. Photograph: Ajay Verma/Reuters
Fans in Mohali witnessed a spectacle as Virat Kohli pushed the bar a notch higher and took India across the finish line against Australia, and into the World T20 semi-final on Sunday.
- Just look at Virat's records, guys!
- How Kohli single-handedly carried India into World T20 semis
- WORLD T20 PHOTOS: Kohli's brilliance carries India to semi-finals
Following the super win, fan frenzy broke out at the PCA stadium and shouting pro-India and pro- Kohli slogans, the jubilant fans waved the tri-colour and burst into celebration.
"I had come here to watch India win. It was a big match for us. The scenes here reminded me of the mood which prevailed among fans way back in World Cup 2011 when we defeated Pakistan by 29 runs. I had watched that match too," said Gaurav Marwah, a local entrepreneur, who had come to watch the match.
It was a full house at the IS Bindra stadium as India played Australia in the crucial group match, with many politicians and even top cricket Board officials turning up to watch the game.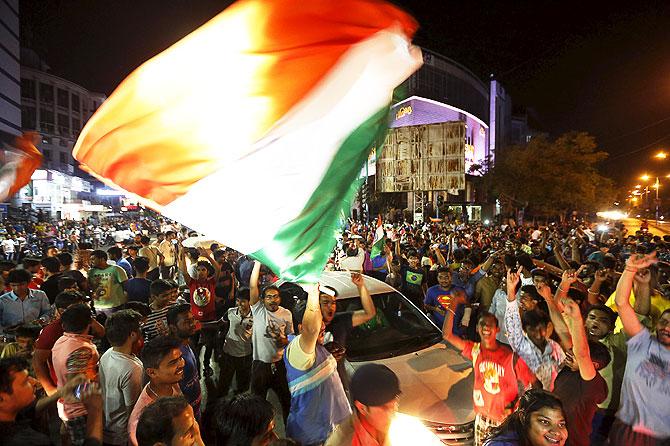 IMAGE: Joyous fans crowd the streets of Ahmedabad after India's victory. Photograph: Amit Dave/Reuters
According to a spokesperson of the Punjab Cricket Association, Sushil Kapoor, Punjab Governor Kaptan Singh Solanki, Punjab Deputy Chief Minister Sukhbir Singh Badal, Haryana's Finance Minister Capt Abhimanyu, senior BCCI functionaries including Anurag Thakur and Rajiv Shukla, besides selectors Vikram Rathore, were present at the stadium as the epic encounter unfolded.
"I have come from Delhi to cheer my team. After watching the match, I will be returning during the night to be back in office tomorrow morning," Rajiv Kapoor, a MNC executive from the national capital, said.
Even die-hard Pakistan cricket fan Mohammad Bashir, who had been watching the games featuring Pakistan team here earlier, was also excited to be part of today's game.
"Dhoni is my favourite cricketer," he remarked before the match.
Eventually, the fans got what they had come to expect!