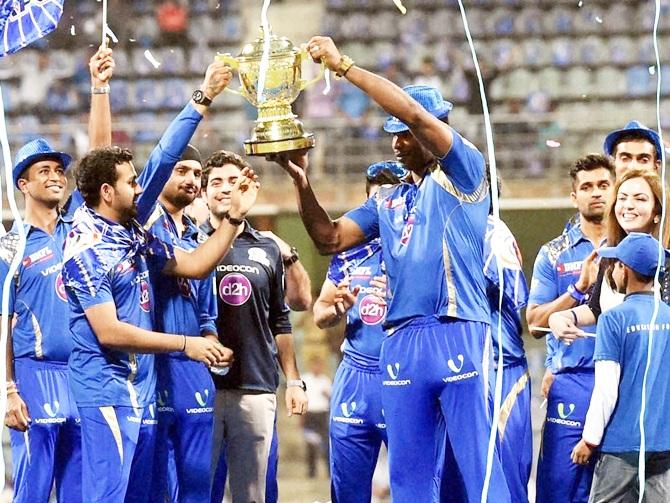 Mumbai Indians celebrate their Indian Premier League 2015 win at the Wankhede stadium in Mumbai on Monday. Photograph: PTI
A triumphant Mumbai Indians team celebrated their second Indian Premier League title at the iconic Wankhede stadium as scores of fans thronged the venue to applaud them.
PHOTOS: Harbhajan ditches bhangra to waltz with Nita Ambani
Mumbai Indians demolish CSK to win second IPL title
Staying together in tough times key to Mumbai's success: Tendulkar
'We treated every game as a final, as if it was our last game'
'When MS said he'd like to bowl first, I was little happy inside'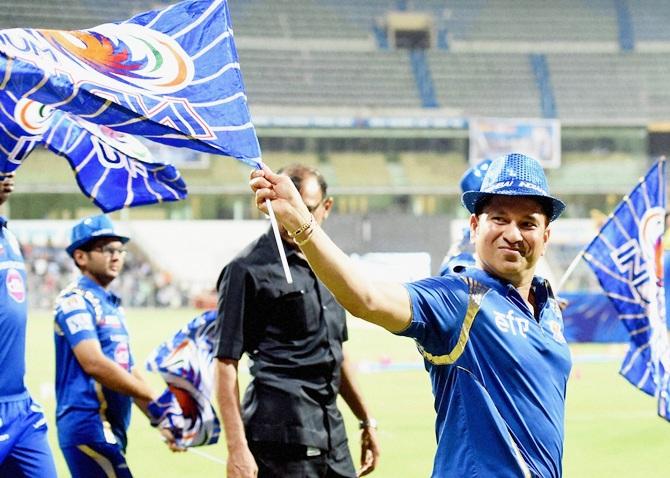 Mumbai Indians's mentor Sachin Tendulkar celebrates. Photograph: PTI
The team, led by captain Rohit Sharma and owner Neeta Ambani, along with its icon, Sachin Tendulkar, and members of the support staff -- comprising Ricky Ponting, John Wright, Jonty Rhodes, Anil Kumble, Robin Singh and Shane Bond -- did a victory lap as fans in the crowd waved the team flag.
Overjoyed members of the team -- Harbhajan Singh, Lasith Malinga, Parthiv Patel, Kieron Pollard, Ambati Rayadu -- unable to contain their jubilation, posed with the trophy.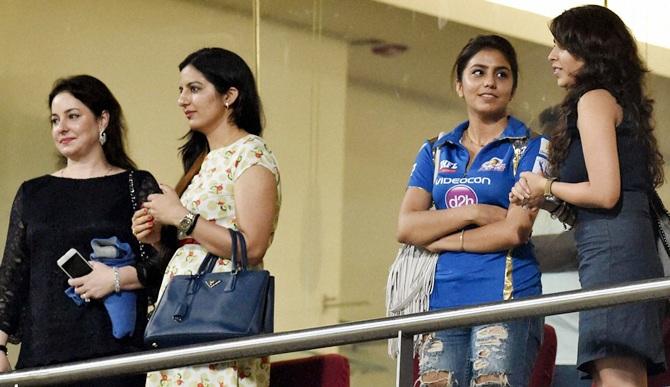 Sachin Tendulkar's wife, Anjali, left, with Vinay Kumar's wife, second left, and Rohit Sharma's fiancee, Ritika Sajdeh, right, during the Mumbai Indians team celebration. Photograph: PTI
On Sunday, the Mumbai Indians clinched their second IPL title following a crushing 41-run win over Chennai Super Kings, in a lop-sided summit clash at the Eden Gardens in Kolkata.
Mumbai won their first title in 2013 at the same venue, defeating the same opponents.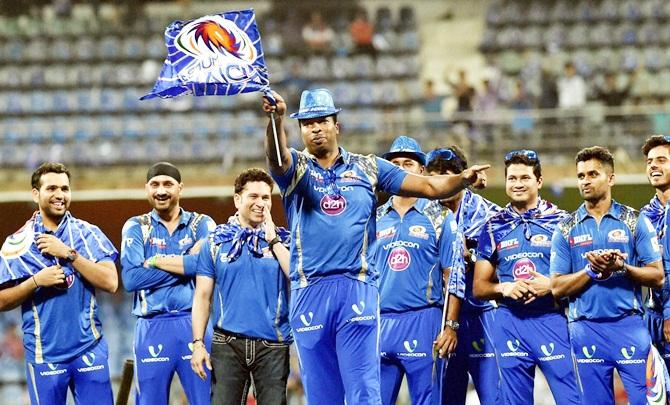 "Now, Mumbai Indians is the world to me and all the fans over here, thank you... Go East, Go West, Mumbai is the best," Mrs Ambani said.
"I think the most special moment was when we had the Education for All (EFA) children -- 20,000 children here -- cheering for Mumbai Indians. That turned the fortunes for Mumbai Indians and from that moment onwards we never looked back. So I just wanted to thank all my children of EFA. Thank you for all your good wishes," she said, when asked about her special moment.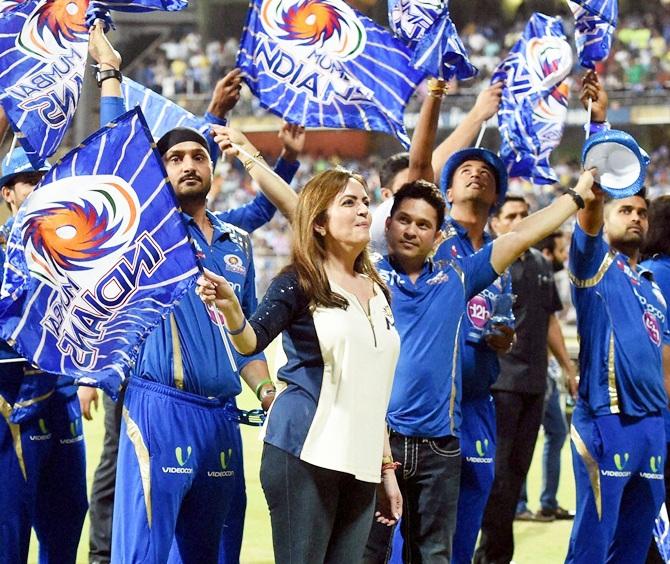 "I am a mother first; I think a mother always wants the better of her son. So the sleepless nights will continue... but all of you please continue backing Mumbai Indians," she said about passing the baton to her son, Akash.
Sachin Tendulkar said, "Such moments are very few in life, but this moment, when we share this joy with you, it becomes even more special. Thank you very much for all your support.
"I enjoyed as long as I am on the cricket field. It feels nice. I thoroughly enjoyed the journey, which didn't start of that well but the team stuck together. There were challenging moments and the true character of any side is displayed when tough times are there. The credit goes to the entire team, support staff and everyone."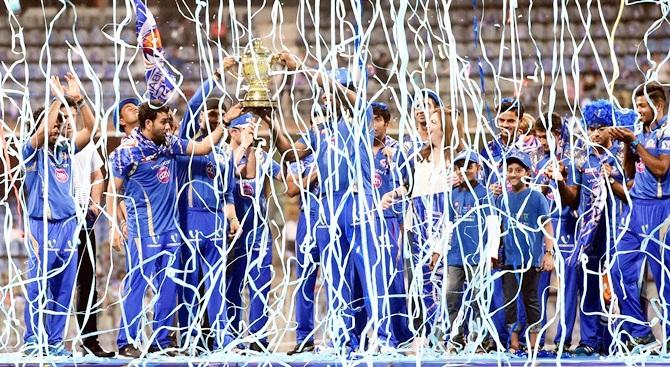 Mumbai Indians skipper Rohit Sharma said, "More than anything, I like Mumbai. This is the ground I started my career; this place cannot be any better. Their (crowd) support throughout the IPL was fantastic and therefore this trophy belongs to all of you."