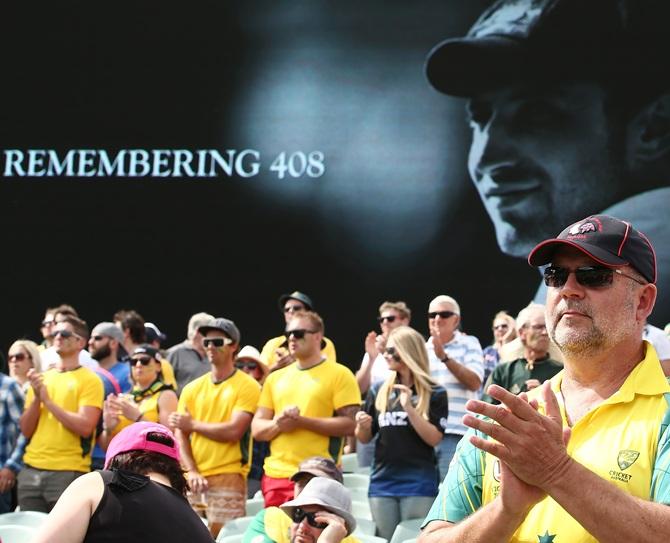 IMAGE: Spectators pay tribute to former cricketer Phillip Hughes at eight minutes past four during Day 1 of the 3rd Test between Australia and New Zealand at Adelaide Oval on Friday. Photograph: Morne de Klerk/Getty Images
Cricket fans paid tribute to the late Test batsman Phillip Hughes on the first anniversary of his death.
Hughes died in a Sydney hospital at the age of 25 from a serious head injury, having been struck in the head by a bouncer during a domestic match.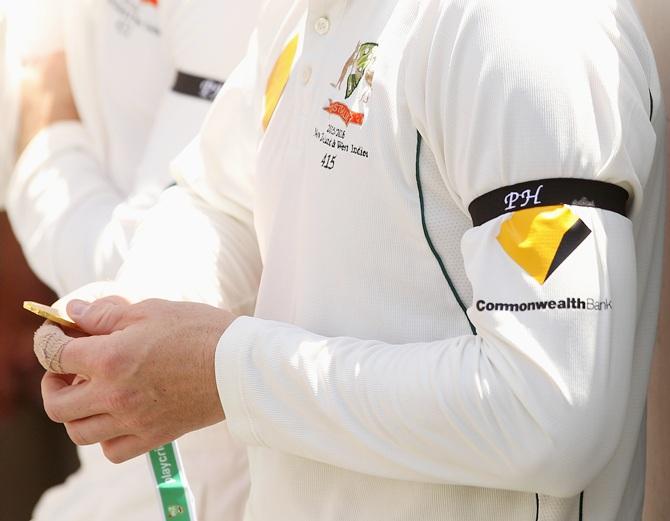 IMAGE: The Australian cricket team wear black arm bands in remembrance of Phil Hughes. Photograph: Quinn Rooney/Getty Images
Australia and New Zealand players wore arm-bands during the day-night Test in remembrance, which featured a video tribute to Hughes between sessions on day one.
Before the start of the Test, Australia captain Steve Smith tweeted: "1 year has passed since we lost our great mate. Will be thinking of you out in the middle today as always Bruz. #63notout #408forever".
Smith's predecessor Michael Clarke, who described Hughes as a little brother, also tweeted: "Wish you were here #408".
A ceremony was held in Adelaide at 4.08 pm local time during the first break of play - Hughes was the 408th Australian Test cricketer. The tribute was shown on the big video screen next to Adelaide Oval's historic manual scoreboard which also bore a reminder of Hughes: a simple sign 'Remembering 408'.
Skipper Steven Smith, along with Australia's opening batsman David Warner and spinner Nathan Lyon, were at the Sydney Cricket Ground playing for New South Wales when Hughes promptly collapsed after being struck by a rising delivery.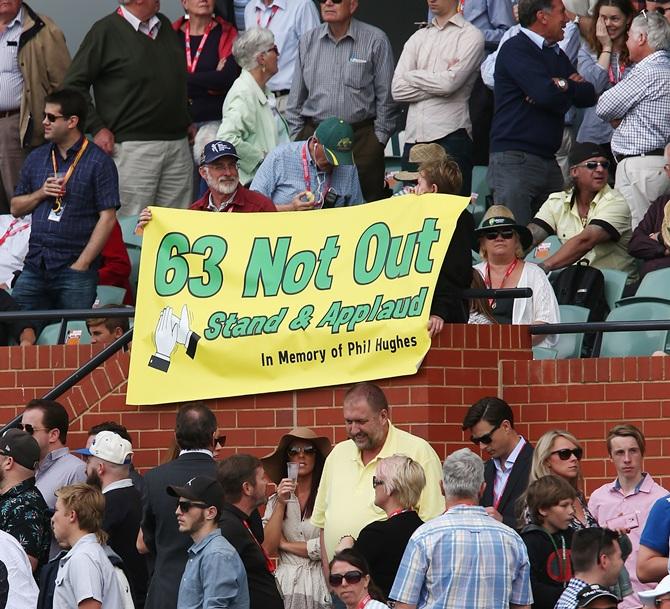 Hughes died in hospital two days later, three days before his 26th birthday, plunging a nation and the cricket world into mourning.
Born in northern New South Wales and raised on a banana plantation, Hughes moved to South Australia to play Sheffield Shield cricket in a bid to re-boot his Test career.
His death struck hard in his adopted state and the first Test of the home series against India was switched to his home Adelaide Oval with the Brisbane match postponed to allow players time to grieve.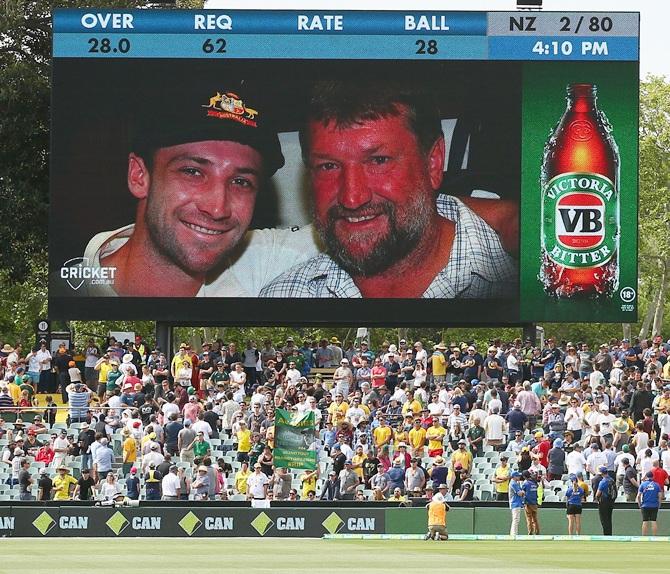 Australia won the series-opener, with Smith, Warner and injured former skipper Michael Clarke paying moving tributes to their fallen team mate after scoring centuries.
"Obviously, it was a pretty difficult time for us all coming here last year just after the horrible incident," Smith said.
"I think for us now a year on we still have Hughesy in the back of our minds every time we walk out on the field.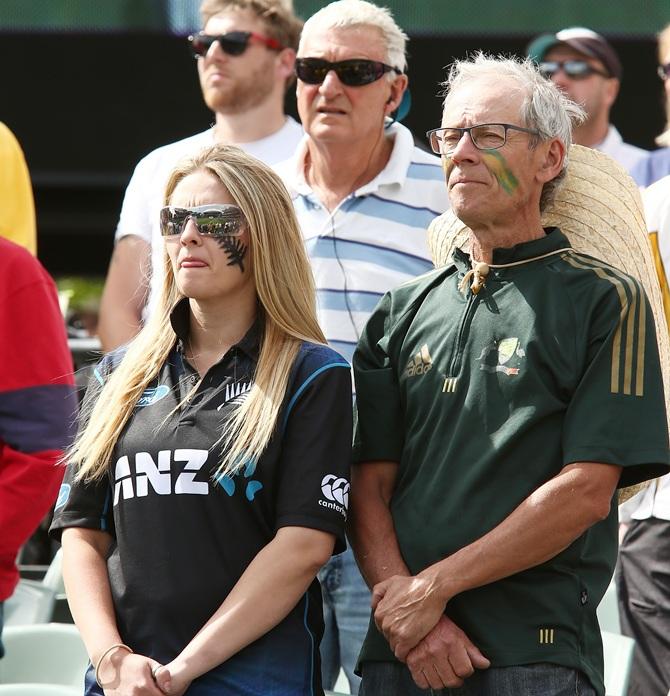 "That's no different, a year on, here this week. We are going to do our best to play with a smile on our face and hopefully play well for Hughesy.
"Obviously, it's a tough time for his family and friends. we respect that, and hopefully we can have a good week for Phillip."
Hughes' death triggered a debate about safety in cricket, a sport in which fast bowlers routinely launch the ball at over 150 kilometres per hour at opposing batsmen.