Images from Day 3 of the fourth Test between England and India, at The Oval, on Saturday.
Rohit Sharma's first overseas Test century gave India the upper hand by the end of Day 3 in the fourth Test against England, at The Oval in London, on Saturday.
Dropped twice in the slips by Rory Burns, the opening batsman played a wonderful knock of 127 to guide India to 270 for 3 in 92 overs before bad light ended play early.
India stretched their lead to 171 runs, with two days left in the Test and captain Virat Kohli unbeaten on 22 with Ravindra Jadeja, on 9, at the crease.
Rohit, who hit a six to bring up his seventh Test hundred, was instrumental in India's strong comeback with the bat in the second innings after they were bowled out for 191 in the first.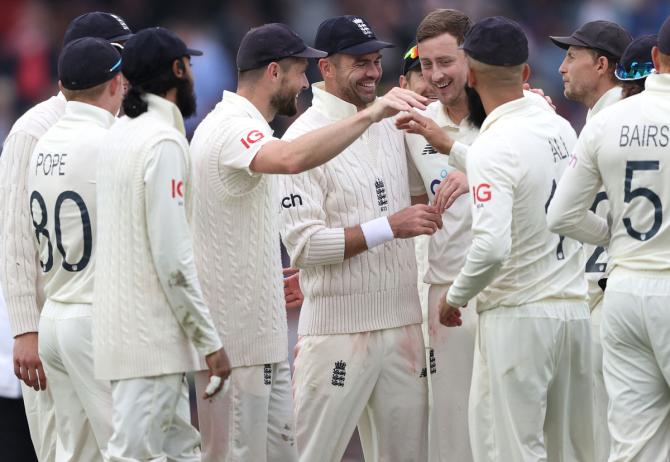 He provided India a good start, putting on 83 runs for the opening wicket with K L Rahul, who was adjudged caught behind for 46 off James Anderson after England took the review.
Cheteshwar Pujara batted positively, hitting boundaries at regular intervals to score 61.
He and Rohit put on 153 runs for the second wicket, which was vital in India taking command.
Both Rohit and Pujara perished in the same over, dismissed by pacer Ollie Robinson.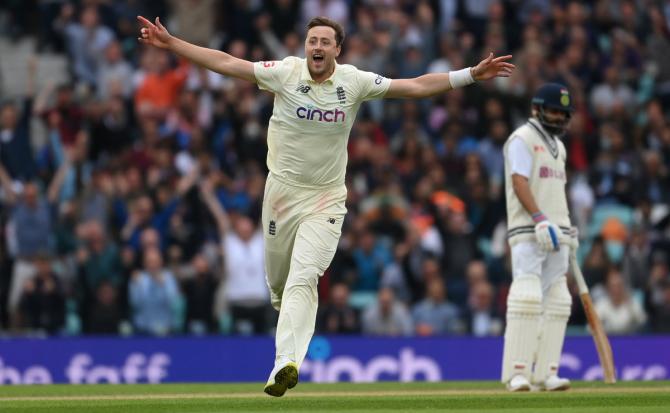 The England pacer struck twice in the first over with the second new ball. Rohit miscued the pull shot and was caught on the fine leg fence after hitting 14 fours and a six in his 256-ball knock.
A few balls later, Pujara inside-edged the incoming delivery which went off his pads and was taken by Moeen Ali at third slip, as India were reduced to 237-3.
The England bowler threatened a comeback but Kohli and Jadeja batted judiciously to ensure no further casualties before bad light intervened.
With two days left in the contest, the stage is set for a battle royal. The Test may not go the distance but what one can surely guarantee is an engrossing fourth day. Any target in excess of 225 and closer to 250 will be challenging on this Oval track for England's inconsistent batsmen.
Morning session:
K L Rahul did all the hard work in a fine opening partnership but missed out on a half-century as India went into lunch on 108 for 1.
Rahul (46) added 83 runs with Rohit Sharma (batting 47) before James Anderson (1-28) bowled a peach of delivery that rose from full length and got a faint edge which went straight into the gloves of wicketkeeper Jonny Bairstow.
Rahul wasn't happy about the decision, as he gestured that the spike in ball tracker was his bat hitting the pad. However, the replays suggested that it was a correct decision.
Giving Rohit company at lunch was Cheteshwar Pujara, batting on 14.
India now lead by nine runs, having wiped off the deficit of 99, but will certainly be wary of the back-to-back batting collapses in the Leeds Test (78 all out and 63-8) in their bid to post a good total.
They would be aiming to at least leave England with a victory target in excess of 225 runs, which should give Virat Kohli's speedsters good enough time to go all guns blazing in the fourth innings on a track that could show some cracks.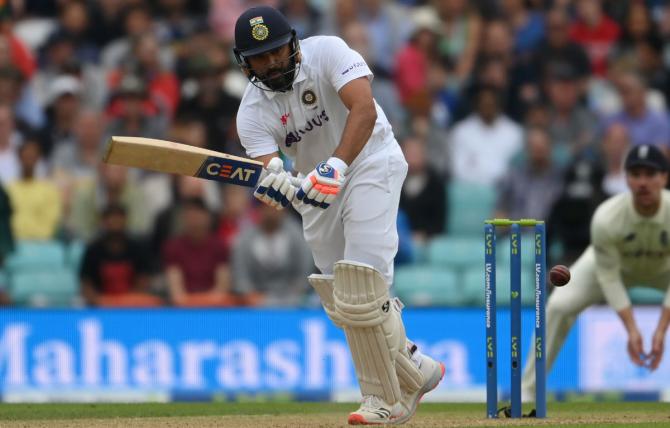 Rahul and Rohit displayed good application under overcast conditions against the troika of Anderson, Ollie Robinson (0/41) and Chris Woakes (0/24), who was the best of the lot.
Like most times during this series, Rohit played with soft hands and close to the body, leaving most of the deliveries outside the off-stump, but did not forget to punish the odd loose balls.
He hit a straight drive off Anderson and Rahul took it upon himself to repeat that shot off Woakes.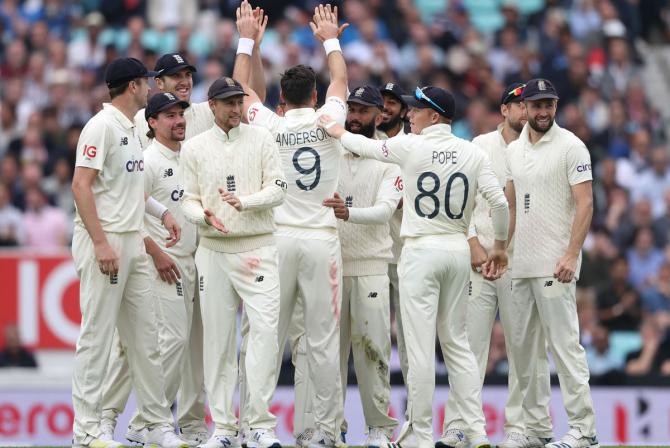 Rahul, for good measure, cover drove Robinson for a boundary and then hooked him for a six.
But there were some anxious moments, as Robinson got one to angle in and the on-field umpire adjudged him leg wicket before it was successfully reviewed.
Once Rahul was out, Anderson provided Rohit an over-pitched delivery that was dispatched through the cover region. He also pulled Craig Overton for another four.
On either side of that boundary, Pujara hit an off-drive and square cut Robinson and Overton respectively.
At the stroke of lunch, he pulled Moeen Ali for a boundary to give India the lead.
Post-Lunch session: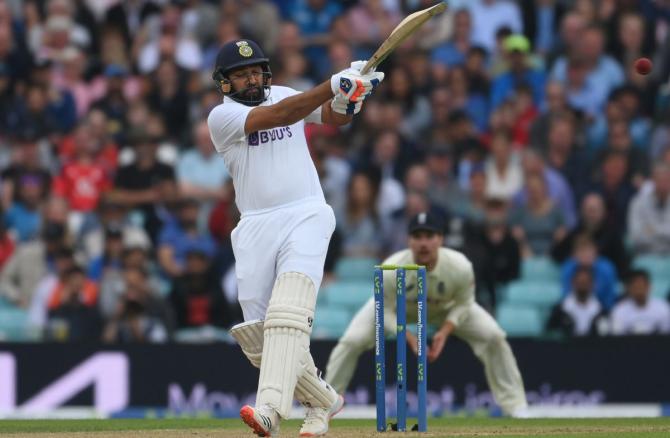 Rohit Sharma displayed exceptional temperament to score a fine hundred, his first away from home, as India slowly took control of the fourth Test, reaching 199 for 1 at tea.
The visitors now have a lead of 100 runs, on a good batting surface. With Cheteshwar Pujara, batting on 48 off 97 balls, again showing his attacking instincts in a 116-run unbroken second-wicket stand, things are certainly look bright for India despite a gloomy London skyline.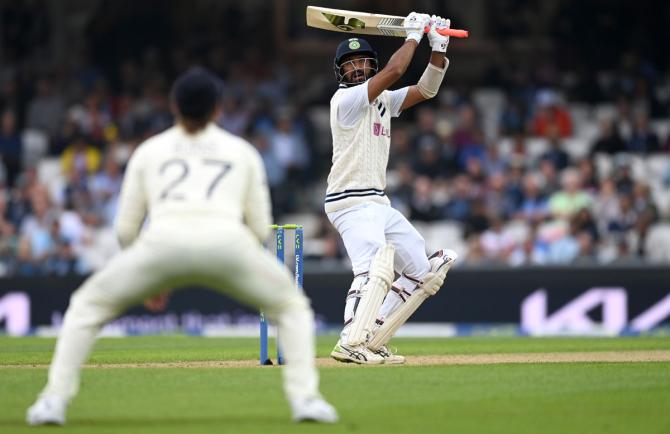 Rohit, who was unbeaten on 103 off 218 balls at the break, had curbed all his ego to present a solid defence in the earlier matches of the ongoing series, but on Saturday he brought in his 'Hit-Man' instincts, slamming Moeen Ali for a six that hit the second tier of The Oval stands.
An ecstatic captain Virat Kohli, punching his fists, and a serene smile that refused to leave head coach Ravi Shastri's lips said it all.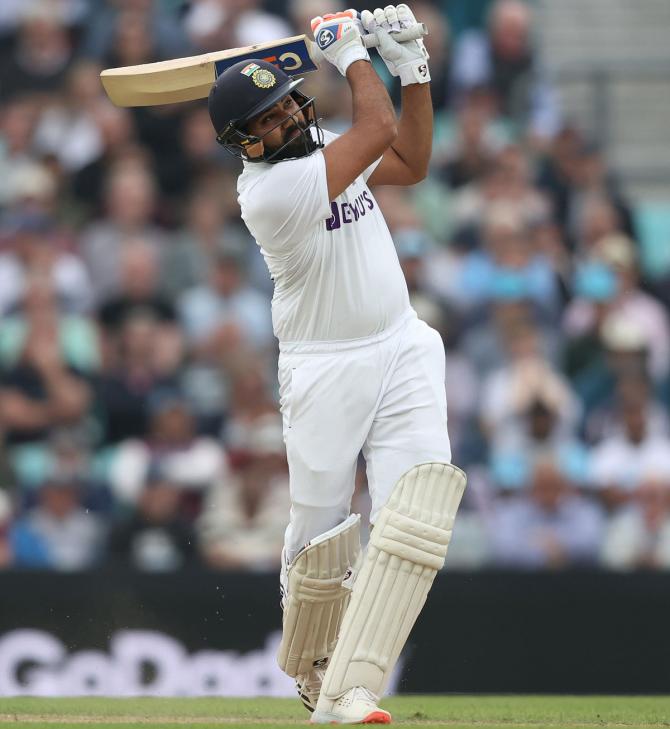 It took eight years and 43 Test matches for Rohit to get an overseas hundred, that too in England in tough conditions, and there won't be any second guess about where this knock will rank among his eight hundreds.
There was a lot of restraint at the start when K L Rahul (46) was attacking the bowlers, but, in between, a straight drive at the onset and the first cover drive was brought out of the closet only at the end of second hour when Anderson over-pitched one.
He did offer a couple of streaky chances that Rory Burns, at slip, failed to capitalise on and that uppish on-drive that caught Chris Woakes stationed at mid-on on the wrong foot.
But those were minor blemishes en route his hundred off 204 balls, which was studded with 12 fours and a six.
However, Pujara should not be denied his share of credit as his counter-attacking batting did help Rohit to play his shots.
The square cut that had gone extinct from his game of late was back on the day as he looked the vintage Pujara, who would rock back and play those regal shots, including a late cut and a ramp shot, which brought thunderous applause from the spectators.
In all, he hit seven fours; the pull-shots off Moeen Ali that got India the lead was a statement for one and all.