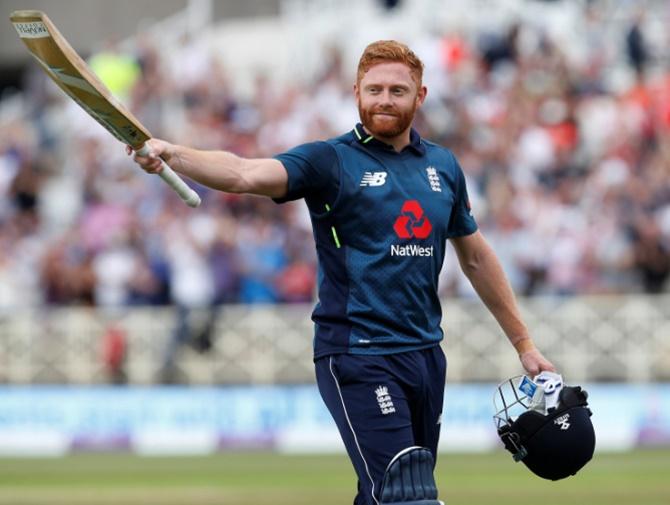 England stormed to a one-day international world record of 481 for six as they thrashed Australia by 242 runs at Trent Bridge to take an unassailable 3-0 lead in the five-match series on Tuesday.
Jonny Bairstow's swashbuckling 139 and a magnificent 147 by Alex Hales took England past the total of 444 for three they made against Pakistan, also at Trent Bridge, two years ago.
Captain Eoin Morgan joined in the fun as he struck a 21-ball half century -- the fastest by an England batsman in ODIs -- to become his country's leading one-day run scorer.
Australia never really challenged with the bat, as they were bowled out for 239 in 37 overs, with spinners Adil Rashid (4-47) and Moeen Ali (3-28) doing the damage with the ball.
Travis Head was the only Australian batsman to get past the 50-run mark as he top scored with a quickfire 51, while Marcus Stoinis stroked 44 in a disappointing batting effort by the visitors.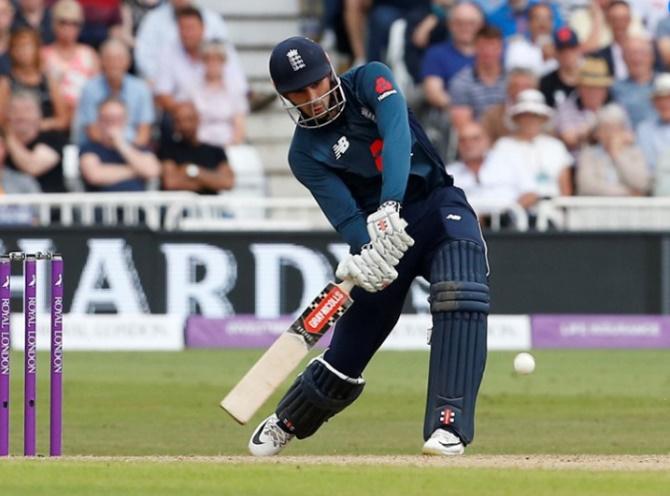 It looked as though England would go past the 500-run barrier before a few late wickets caused the run flow to dry up slightly.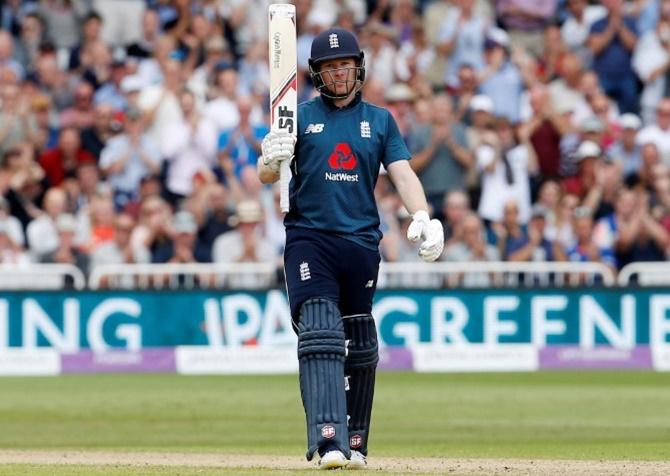 England failed to score any boundaries in the last four overs -- but before that they struck 21 sixes during an incredible display of strokeplay.
Australia fast bowler Andrew Tye suffered the worst punishment, his nine overs going for 100 runs.
Scorecard:
England:
Jason Roy run out 82 (61b, 7x4, 4x4)
Jonny Bairstow c Jhye Richardson b Agar 139 (92b, 15x4, 5x6)
Alex Hales c Agar b Jhye Richardson 147 (92b, 16x4,5x6)
Jos Buttler c Finch b Jhye Richardson 11 (12b, 1x6)
Eoin Morgan c Paine b Jhye Richardson 67 (30b, 3x4, 6x6)
Moeen Ali run out 11 (9b)
Joe Root not out 4 (6b)
David Willey 1 (1b)
Extras: 19 (b 1, lb 8, w 7, nb 3)
Total 481 (for six wickets in 50 overs)
Fall of wickets: 159-1 Jason Roy, 310-2 Jonny Bairstow, 335-3 Jos Buttler, 459-4 Alex Hales, 459-5 Eoin Morgan, 480-6 Moeen Ali.
Bowling: Billy Stanlake 8-0-74-0, Jhye Richardson 10-1-92-3, Ashton Agar 10-0-70-1, Andrew Tye 9-0-100-0, Glenn Maxwell 2-0-21-0, Marcus Stoinis 8-0-85-0, Aaron Finch 1-0-7-0, D'Arcy Short 2-0-23-0.
Australia:
D'Arcy Short c Moeen Ali b David Willey 15 (12b, 1x4, 1x6)
Travis Head c&b Moeen Ali 51 (39b, 7x4)
Shaun Marsh c Liam Plunkett b Moeen Ali 24 (30b, 1x6)
Marcus Stoinis Run Out Jonny Bairstow 44 (37b, 4x4, 1x6)
Aaron Finch b Adil Rashid 20 (19b, 2x6)
Glenn Maxwell c Liam Plunkett b David Willey 19 (19b, 1x4, 1x6)
Tim Paine c Alex Hales b Adil Rashid 5 (9b)
Ashton Agar c&b Adil Rashid 25 (23b, 1x4, 1x6)
Jhye Richardson st Jos Buttler b Moeen Ali 14 (25b)
Andrew Tye not out 5 (5b)
Billy Stanlake st Jos Buttler b Adil Rashid 1 (4b)

Extras (0b 10lb 0nb 6w) 16

Total (37.0 overs) 239 all out

Fall of wickets: 1-27 Short, 2-95 Head, 3-100 Marsh, 4-152 Finch, 5-173 Stoinis, 6-190 Paine, 7-194 Maxwell, 8-230 Agar, 9-236 Richardson, 10-239 Stanlake.

Bowling: Mark Wood 7-0-38-0, David Willey 7-0-56-2, Joe Root 2-0-19-0, Moeen Ali 5-0-28-3, Liam Plunkett 6-0-41-0, Adil Rashid 10-0-47-4.