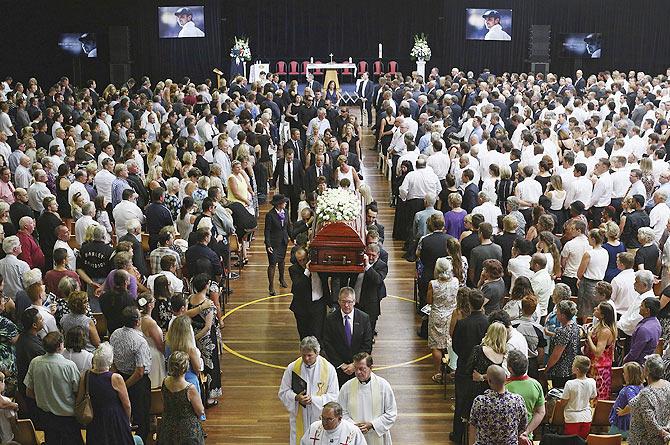 The casket containing Australian cricketer Phillip Hughes is carried past mourners at the end of his funeral service. Photograph: Cameron Spencer/Pool/Reuters
Australia bid an emotional farewell to cricketer Phillip Hughes at a funeral in his hometown on Wednesday with a live coast-to-coast broadcast allowing a nation to unite in celebration and remembrance of the life of a sportsman cut down in his prime.
- Australia's final goodbye to Hughes in hometown funeral
- Clarke pays haunting homage to 'brother' Hughes
- India PM Modi pays tribute to Aus batman Hughes
Eight days after Hughes was struck by a ball to the back of the head, and six after he died of catastrophic injuries resulting from the freak incident, his family, friends and a host of cricketing greats gathered at Macksville High School.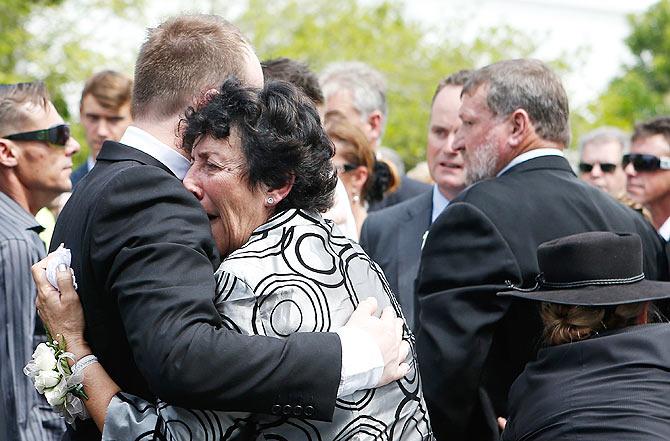 Phillip Hughes's mother, Virginia, embraces her son Jason during the funeral on Wednesday.
From the eulogies given they learned of a beloved son, brother, cousin and friend whose passion for cricket was matched only by his enthusiasm for the Angus cattle he helped raise on the family farm.
They were also reminded of a small town boy with a prodigious talent for hitting a ball with a bat who headed down the coast to big city Sydney as a teenager and ended up playing 26 tests for his country.
Australia captain Michael Clarke broke down in tears for the second time in a few days as he paid public tribute to his former team mate and friend, who would have been 26 last Sunday.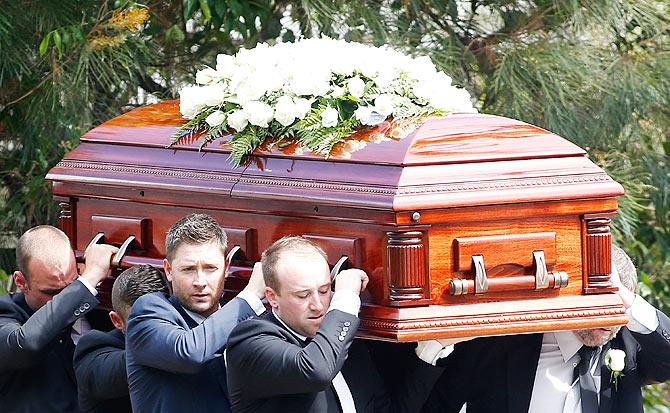 Australian Test Cricket Captain Michael Clarke and Jason Hughes carry the coffin during the funeral service for Phillip Hughes.
"Phillip's spirit, which is now part of our game forever, will act as a custodian of the sport we all love. We must listen to it," he said, struggling to contain his emotions.
"We must cherish it. We must learn from it. We must dig in and get through to tea. And we must play on.
"So rest in peace my little brother. I will see you out in the middle."
Some 1,000 mourners, mostly locals with a smattering of luminaries including Prime Minister Tony Abbott, dabbed away tears and perspiration in the baking heat of the school hall with thousands more watching on screens in the sunshine outside.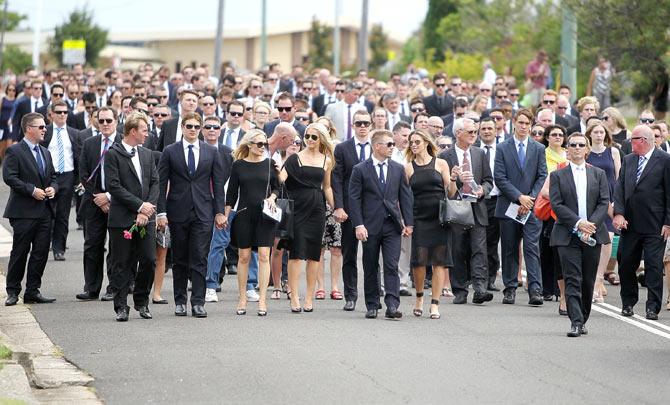 Former and current Australian cricketers at the funeral service for Phillip Hughes.
Australian greats of the game such as Shane Warne, Ricky Ponting and Glenn McGrath were in attendance, while Richard Hadlee, Brian Lara and India captain Virat Kohli represented the wider cricket world.
The service was broadcast live on international television news networks and shown on big screens in Australia's major cities, including at the Sydney Cricket Ground where Hughes suffered the fatal injury during a state match last Tuesday.
Hughes was batting for a recall to the Australia side for the opening match in the test series against India -- since rescheduled -- when he suffered the injury that killed him.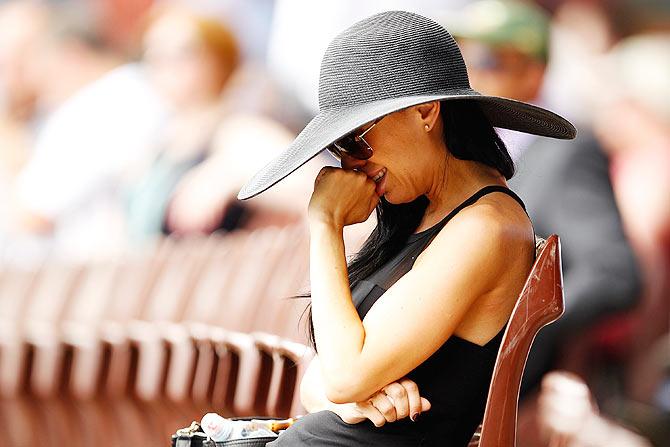 A woman reacts during the funeral service for Phillip Hughes in Macksville.
The number 63, the runs Hughes had accumulated when he was struck by the ball, has become inextricably linked with the tragedy, as has 408, a reference to him becoming the 408th man to play test cricket for Australia in 2009.
Most of all though, it is the viral campaign to get people to place cricket bats in tribute outside homes, workplaces and at sports grounds that has become the most common manifestation of the outpouring of grief around the world.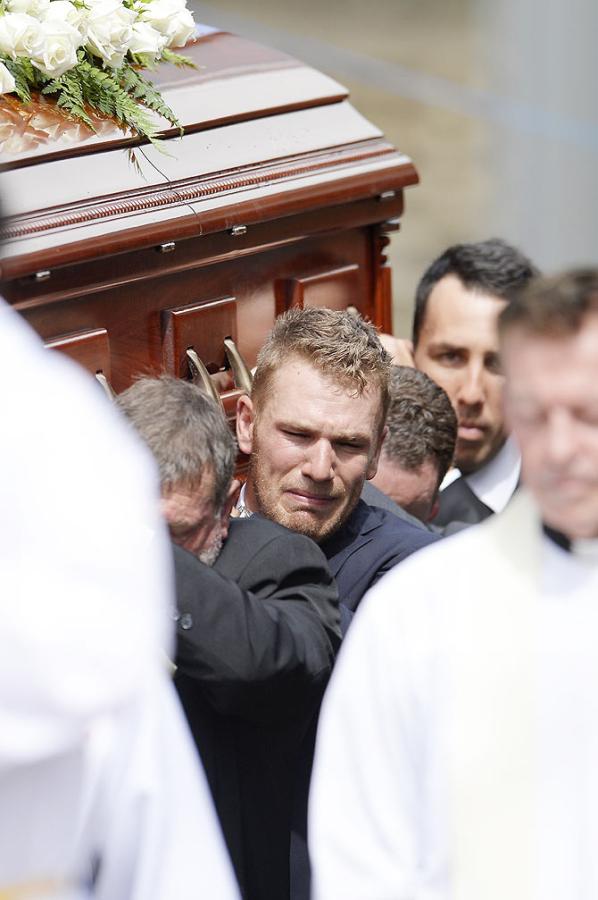 Aaron Finch shows his emotions as he carries Phillip Hughes's casket on Wednesday.
That was reflected by Hughes's own bat, stood up against the coffin throughout the service, which concluded with "Don't Let The Sun Go Down On Me", the song Elton John dedicated to Hughes when he played it in a concert in Munich last week.
Clarke and fellow cricketers Aaron Finch and Tom Cooper joined Hughes's father and brother among the pallbearers who delivered the coffin to the hearse, which then set off in a procession through the town.