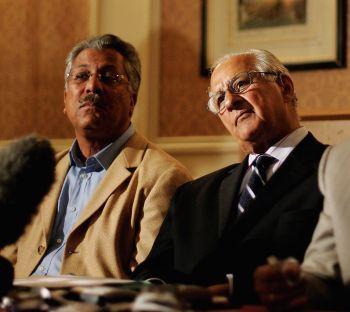 The Pakistan Cricket Board (PCB) is going to form a four-member special committee to initiate talks with the BCCI on regular basis in a bid to revive bilateral ties between the two countries.
Former Test captain, Zaheer Abbas who is a member of the managing committee, which is running the board said that the committee will also be tasked with trying to improve relations with other countries.
"The committee will include the board chairman, Najam Sethi and former chairman, Shaharyar Khan who is also a member of the managing committee," Zaheer said.
"Two more members, one of them a cricketer, will be added to the committee to initiate the talks," he added.
The former captain said if required the committee members will also travel to India to meet with BCCI officials in light of the changed scenario in world cricket after the wide-ranging changes in the ICC.
"Both Sethi and Shaharyar Khan are very experienced people and both have government backing to try to initiate a process to revive bilateral cricket ties with India," he added.
Shaharyar has served as a foreign secretary and High Commissioner to India and was chairman of the board when India had toured Pakistan in 2004 for the first time in 14 years.
Zaheer said that reviving bilateral ties with India was seen as important as it could also pave the way for return of international cricket to Pakistan.
"The Managing committee will meet again this month and this committee and its tasks will be finalized. But overall the managing committee is concerned that Pakistan needs to have cordial relations with all boards including India and needs their support to revive international cricket in the country," Zaheer said.
Image: Zaheer Abbas and Shaharyar Khan
Photograph: Tom Shaw/Getty Images