'We will now be consulting our legal team to take up the matter of India not playing us under the MoU with the BCCI and at the ICC level.'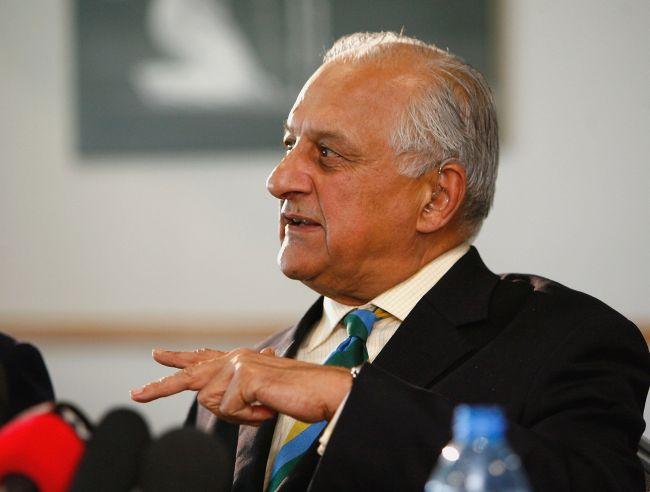 IMAGE: Pakistan cricket board chairman Shaharyar Khan. Photograph: Tom Shaw/Getty Images
The Board of Governors of the Pakistan Cricket Board on Friday gave approval for adopting legal recourse against the Board of Control for Cricket in India for not honouring the Memorandum of Understanding (MoU) between the two boards in 2014 to play bilateral series.

PCB chairman Shaharyar Khan and Najam Sethi, who heads the executive committee, told the media in Karachi after a meeting of the BOG that the members had given approval for using legal channels to seek compensation for the financial losses suffered by the PCB due to India not honouring the MoU.

"We will start legal consultations soon over the matter as the BOG has today given approval. The fact is that the BCCI signed a MoU document with us to play six bilateral series between 2015 and 2022," Khan said.

"The International Cricket Council is witness to this MoU. We will now be consulting our legal team to take up the matter of India not playing us under the MoU with the BCCI and at the ICC level," Khan added.

Sethi made it clear that the PCB had until now been patient with the BCCI despite them disregarding the MoU.

"But now our patience has also run out because we were supposed to host two home series under the MoU from which we could have earned millions of estimated revenues. But since they are not honouring the MoU we have suffered losses," Sethi, who signed the MoU when he was chairman of the board, said.

India has not played a bilateral series with Pakistan since 2007 when Pakistan toured India for a full Test series. The PCB claims that India owes it two home series which translates into millions of dollars for Pakistan cricket.

In January, the PCB even agreed to host a short one-day series in Sri Lanka as part of the MoU but the BCCI backed out by stating they had not clearance from their government for the series.

Khan said when the BCCI is so reliant on their government for playing Pakistan they should have thought about it before signing the MoU.

"We will now take up this matter with the ICC because the Indian board claims it has been stopped by its government from playing us. We have the MoU to back us and we want to see the instructions from their government in writing," he added.

He said it is unfortunate that the BCCI has not honoured a written agreement.