- 'Now we still have some hope that the series will take place. We will cross the bridge when it comes but I feel BCCI should honour the agreement.'
- 'In spite of the MOU, if the BCCI does not honour its own signature then we'll see what is to be done.'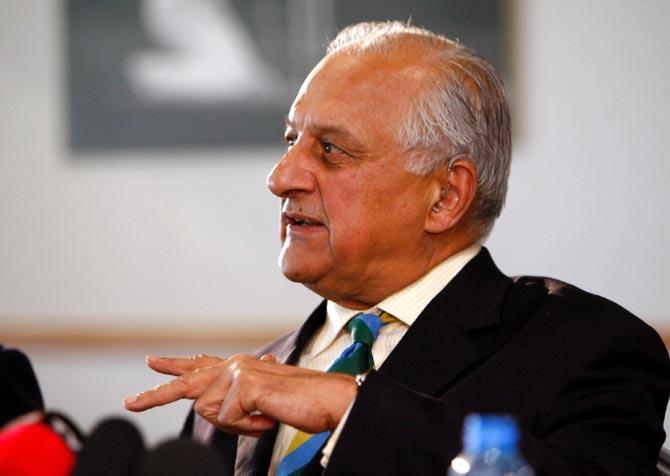 IMAGE: Pakistan Cricket Board chief Shaharyar Khan. Photograph: Tom Shaw/Getty Images
With serious doubts hanging over the proposed bilateral cricket series between India and Pakistan later this year, Pakistan Cricket Board chief Shaharyar Khan said on Thursday they are open to options ranging from boycotting ties to demanding compensation if the Board of Control for Cricket in India fails to honour the Memorandum of Understanding signed between the two boards.
Shaharyar, however, said he is still hopeful of the series taking place in December and will meet BCCI secretary Anurag Thakur in a week's time to decide on the fate of the rubber that is hanging in limbo in the wake of the current political tensions between the two countries.
"I received a reply from Thakur that we well meet in Dubai and we will probably decide what is to be done. The final decision of course lies with the Government of India," Khan told reporters in Kolkata after paying tribute to Jagmohan Dalmiya, who passed away on September 20.
"In spite of the MOU, if the BCCI does not honour its own signature then we'll see what is to be done. "If they don't honour it (MOU) for political reasons we have options open to us. We will suffer financial and other losses.
"Boycott is an extreme option. but, of course, it's an option. I never used the term boycott; you people know me and I am not one to give warnings and threats. But it's surely a thing that if you don't accept your signed agreement then definitely I'll demand for compensation," he said, adding that "the series is an agreement but if it does not happen, it's a reasonable thing to demand compensation."
- Why India-Pakistan cricket must return to Sharjah
Still hopeful of the series happening, an optimistic Shaharyar said PCB will keep ICC aware of the development and call for their suggestion.
"Now we still have some hope that the series will take place. We will cross the bridge when it comes but I feel BCCI should honour the agreement."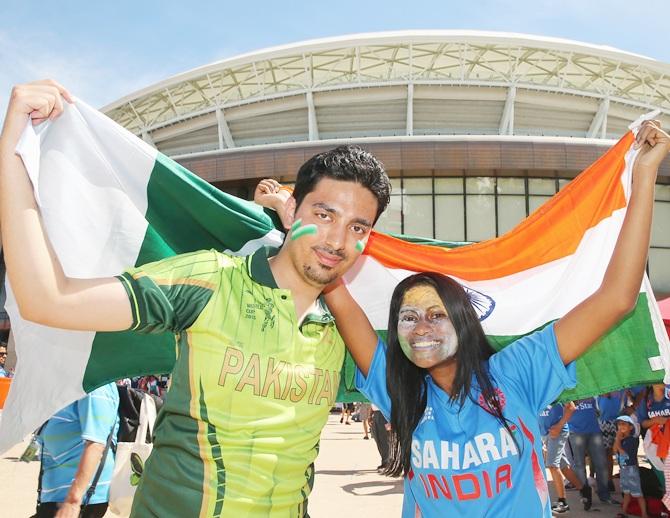 IMAGE: Pakistan and India supporters pose with their national flags. Photograph: Scott Barbour/Getty Images
BCCI secretary Thakur is likely to meet Khan on the sidelines of the ICC meeting in Dubai from October 8-13.
India are scheduled to play two Tests and five ODIs and two T20Is in Pakistan's adopted home venue, the UAE, in December.
The PCB chairman also said that he would give a reminder about the MOU to BCCI presidential candidate Shashank Manohar, who is likely to be elected at its Special General Meeting in Mumbai on October 4.
"I will remind him that BCCI has signed an MOU and is he going to honour it or not, that's the basic issue. I have a high regard for him (Manohar). I hope when I am in Delhi I will congratulate him in advance and will assure him of my cooperation," Shaharyar said.
India had cut off cricketing ties with Pakistan in the wake of the Mumbai terrorist attacks in 2008, but signed an MOU to play six series under the 2015-2023 Future Tours Programme (FTP), subject to clearance from the Government of India.
"I cannot move the Government of India but my Prime Minister [Nawaz Sharif] in New York has stated that the tour should continue despite the bitter relationship," Khan said.
"India-Pakistan relationship always had ups and downs and if it's down at the moment they would be up later. Let us use cricket as the bridge of peace and move forward.
"PCB says politics in sport should be kept separately. Political ties always had ups and downs but that should not affect our cricket series."
Khan and his wife, Minnoo, called on the Dalmiyas at their 10 Alipore Road Residence in Kolkata and fondly remembered the former BCCI president who passed away after massive cardiac arrest last month.
Remembering Dalmiya as a 'friend' of PCB, he said: "I have come to Kolkata for the sole purpose of paying my last respects to the family of Jagmohan Dalmiya, who not only was a personal friend, but I believe he was a friend of India and Pakistan cricket boards."
He and his wife had earlier visited the city in May to congratulate Dalmiya of being re-elected BCCI chief.
Recalling the 2004 Friendship Series, he said it was Dalmiya who was instrumental in holding that hugely successful series.
"When I look back, in 2004, when we were in a difficult situation and many people insisted that no team should visit Pakistan it was Dalmiya who insisted to travel.
"Two days before the tour was supposed to begin he rang me up and said we have convinced the players but their wives are not agreeing. It was an amazing tour and the welcome the team had received in Pakistan was wonderful. We did not ask to do this, it was spontaneous," he said.
"After three days in Karachi, the likes of [Sachin] Tendulkar and [Rahul] Dravid told us that they don't want security. This is the memory I carry with me.
"When we came here in 1999, we had a similar situation and fought with administration and we played and we too were amazingly welcomed by the Indian public," the 81-year-old diplomat-turned cricket administrator recalled.
"I feel whatever the relationship between the two countries we should go ahead and play cricket because that itself brings public to public confidence building measure."
Should India play Pakistan in the UAE?