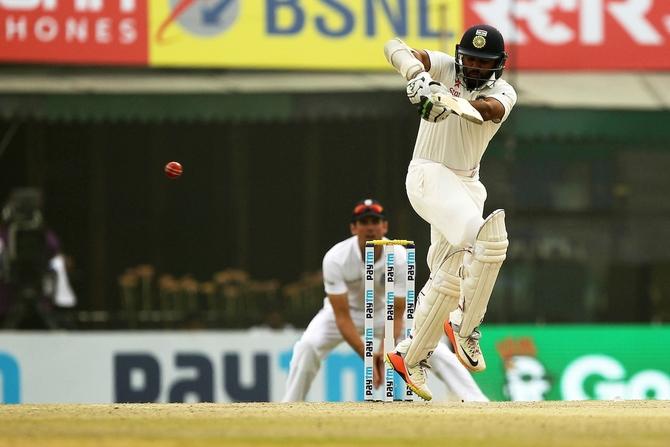 IMAGE: Parthiv Patel. Photograph: BCCI
Parthiv Patel's positive batting with scores of 42 and 67 (not out) have impressed skipper Virat Kohli so much that he did not rule out a possibility that along with second wicketkeeeper's slot, the Gujarat stumper could also be an option as back-up opener.
- PHOTOS: Dominant India take unassailable 2-0 lead
With KL Rahul's injuries, failure of Gautam Gambhir and Shikhar Dhawan still to hit a good run of form, Parthiv hashas emerged as an another alternative for the skipper.
Asked if Parthiv could be Rahul's back-up, Virat sounded optimistic, "Wow, that's a good headache to be honest. You never know, there are all kinds of possibilities. The way he approached both the innings, it was amazing to see. That's where experience from first-class level comes into play. The intent he showed in both innings deflated the opposition totally. Credit to him to go out there and counter-attack the seamers. He really stood out for me as a batsman, as a keeper as well he did well. So you never know, let's see what happens in next few days and we will take a call accordingly."
The skipper is also happy that the reserve pool of bowlers has enabled him to push his strike bowlers that bit extra.
"Obviously, it boosts your confidence up a notch, when you have quality bowlers in your reserves as well. As a captain, you always feel that you can ask your main guys to push every game that they play. Especially, we have Ishant Sharma and Bhuvneshwar Kumar sitting and waiting for their chance. Even spinner like Amit Mishra is not playing. So it's a good thing that whoever is playing is standing up and making his presence felt. That as a captain is pleasing. "Especially in a game like this, where you get opposition out for 280 on a flat wicket gives you confidence as a bowling unit that you are on top and dictating terms. As a captain, it is an added advantage."
Virat said that Ashwin's was a minor niggle sustained while taking a run and apart from the reported ones like Wriddhiman Saha, KL Rahul and Hardik Pandya, the others in the team are fit.
"All three niggles have been addressed -- Rahul, Saha and Hardik. All others are fit and fine. Ashwin is fine and it was just an exaggeration while taking a run on that particular day. All are fit and fine."
About his duel with Ben Stokes, Kohli did not want to divulge any details as to what transpired.
"See, he is a competitive player and so am I. I wouldn't like to explain or elaborate what happened on the field. It's better left to officials to understand and know what happened. These things only motivated me in the past and they continue to do so, I don't mind it."
© Copyright 2021 PTI. All rights reserved. Republication or redistribution of PTI content, including by framing or similar means, is expressly prohibited without the prior written consent.