Ganguly lauds Pant, says his time will come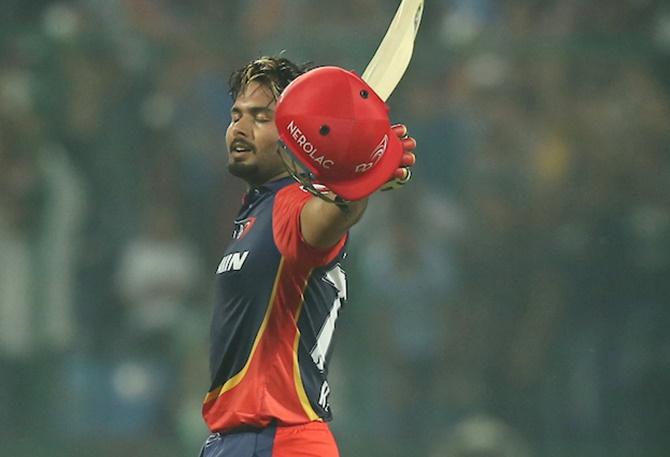 Left spellbound by Rishabh Pant's blistering unbeaten century against Sunrisers Hyderabad, former India captain Sourav Ganguly said the Delhi Daredevils wicketkeeper-batsman will get to play for the national team in due time.
Pant demolished arguably the best bowling attack of the tournament in a sensational 63-ball 128 not out, the highest T20 score by an Indian.
"For Rishabh it will happen, he will get there... I think he is the future," Ganguly said at a promotional programme.
The knock came two days after the 20-year-old was ignored from India's T20 squad for their tour of Ireland and England.
"For the likes of Pant, Ishan Kishan (who scored a 21-ball 52), time will come. They are young there's no hurry. They will get matured as they play more games with time. They will play for India in the years to come.
"But having said that consistency is important, hope it's not just one off. I was reading about Ishan Kishan after that knock in Kolkata... When you pick someone for the country, you look at consistency -- how many times does he keep doing that. Yes, T20 is different, opportunities are a lot lesser."
Defending the selectors decision, Ganguly said: "At the present moment MS Dhoni is there. You can't replace MS at the moment, then you have Dinesh Karthik who also deserves a chance in the national side, especially after what he did in Sri Lanka to win that game which was absolutely lost for India. Dinesh deserves more than anybody else because I think he is a very very good player."
Pant's knock reminded Ganguly of Brendon McCullum's 73-ball 158 not out against Royal Challengers Bangalore in the opening night of the IPL when Kolkata Knight Riders won by 140 runs at the M Chinnaswamy stadium on April 18, 2008.
"I saw McCullum knock from the other end in the first game of IPL. I was batting with him, but to see Rishabh Pant play the way he did yesterday was phenomenal."
"Delhi were struggling having lost a few wickets, he was involved in a couple of runouts and to come out and play like that for a young player was remarkable," he hailed.