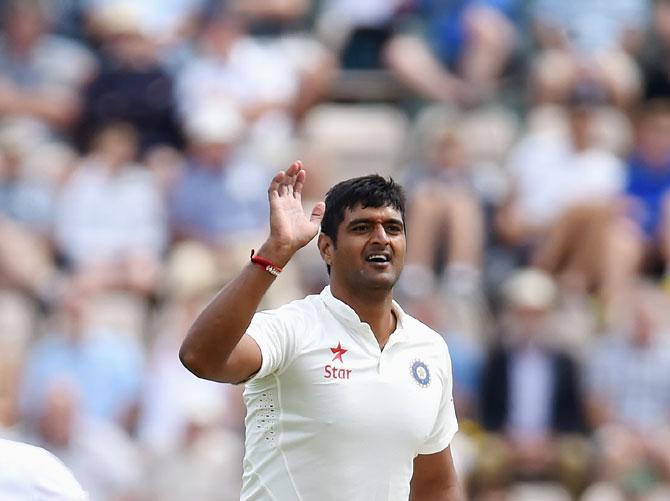 India bowler Pankaj Singh during the Southampton Test against England. Photograph: Getty Images
Pankaj Singh may not be best pacer India has ever produced, but no one can question the commitment of this lion-hearted bowler from Rajasthan.
But ask him about being distinctly unlucky in his debut Test match against England, at Southampton in July, and the lanky bowler reveals what skipper Mahendra Singh Dhoni told him during the tour.
"After I didn't get a wicket on my debut, people sympathized with me. I earned the tag of "Unlucky Pankaj", but MS told me that there is nothing called "lucky" or "unlucky". It matters how honest your effort was and I have no complaints regarding that," Pankaj said, on the sidelines of the Duleep Trophy final between Central and South Zone.
The Sultanpur-born seamer, who is trying hard to revive Central Zone's hopes after picking three early wickets against a tough South Zone batting, still looks back with disappointment post a no-show (0-179) on Test debut.
"Obviously, there was a bit of disappointment, but I had given my hundred percent. The figures obviously didn't reveal the true picture of my bowling."
He got two wickets in the next Test match at the Old Trafford, but wasn't exactly happy having scalped the tail-enders.
"It wasn't exactly satisfying, as I got wickets at the end of the innings. Also, it wasn't a classical fast bowler's wickets. I am hopeful that I will be considered for selection during the Australian tour."
'I can't change perceptions of people'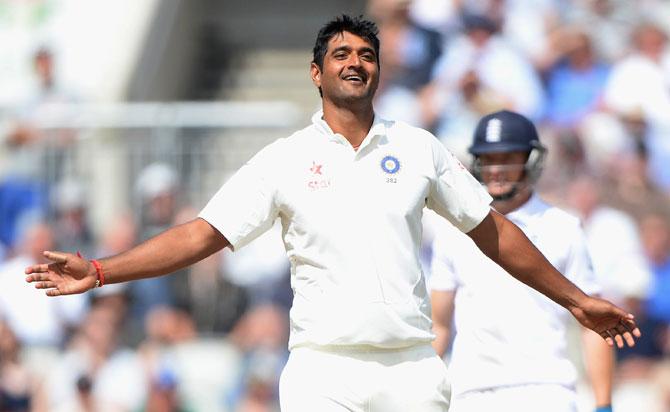 India bowler Pankaj Singh during the Old Trafford Test. Photograph: Getty Images
On being considered a bowler best suited for longer formats, Pankaj said he is not here to change perceptions.
"Look, I can't change perceptions of people who think I can't bowl with the white ball. In my hand, there's only one thing and that is to perform. I will try to perform wherever I get a chance," said Pankaj, who will be leading Rajasthan in the Vijay Hazare Trophy.
Having toiled hard on unresponsive Indian wickets, Pankaj sees this as a challenge rather than difficulty.
"I am happy to pick wickets on a bating track as that gives me more satisfaction. That's where the challenge lies."
Making an impression for Central Zone on a day that belonged to South centurion Lokesh Rahul, Pankaj felt that the ball did a bit in the last session.
"It was a challenge to bowl on this track, but during one particular phase the ball was reversing," he added.