'I am very happy to say that our search for an all-rounder has been successful in the form of Hardik.'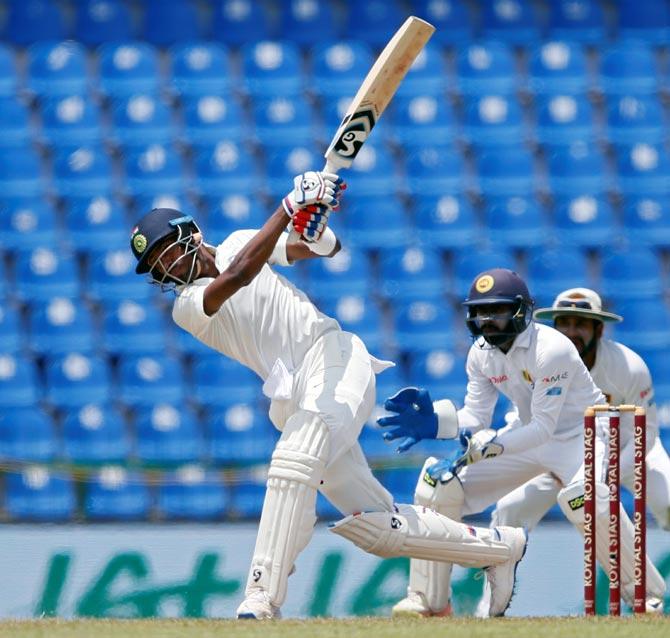 IMAGE: Hardik Pandya hits out. Photograph: Dinuka Liyanawatte/Reuters
The chairman of selectors M S K Prasad believes that Hardik Pandya has the potential to match the legendary Kapil Dev, provided the all-rounder stays grounded.

Bursting onto the scene as a T20 specialist for Mumbai Indians in the Indian Premier League, the young Baroda all-rounder marked his debut Test series with a smashing century in the ongoing third and final match against Sri Lanka in Pallekele.

"If he stays grounded I am sure we will see him being compared to the legendary Kapil Dev in the times to come," Prasad said on Sunday after Pandya hit his maiden Test century that had as many as seven huge sixes.

Since Kapil's retirement in 1994, India has struggled to find a all-rounder of his calibre.

Irfan Pathan, for his swing bowling and aggressive batting, was touted as one before injury and poor form saw him lose his way. Stuart Binny, despite his sincerity, never had the talent that Pandya possesses.

Prasad believes India's search for a potent all-rounder is over.

"I am very happy to say that our search for an all-rounder has been successful in the form of Hardik," Prasad, a former India wicketkeeper, said.

The chairman of selectors is all the more satisfied that Pandya has now established himself as an all-rounder across all formats after his hundred and fifty in this current series.

"He has already established himself in shorter formats (ODIs and T20Is) very well and this Test series has given him a good platform to establish himself in the longest format," Prasad said.

"He has utilised the opportunity given to him and came out with flying colours," he added.

Asked what makes Pandya a special player, Prasad said: "He is athletic, exuberant and very positive in his attitude.

"The best part about him is that his basics are strong in all three departments --batting, bowling and fielding. He looks so graceful in whatever he does in the three departments."

Pandya has got huge support from the team management with skipper Virat Kohli making it clear that the 23-year-old is destined for bigger things.

"I don't see any reason why he can't do for India what Ben Stokes has been doing for England," Kohli had said after Pandya hit a half-century on his Test debut in Galle.